How I Got My Confidence Back!
Although my work is somewhat physical, I was pretty much sedentary for about a year and a half due to a back injury sustained almost 2 years ago.
I immediately went to Physical Therapy along with Chiropractic care.
After PT, slowly and subtly the weight crept on along with a loss of confidence.
The additional weight did not help my joints as well.
I made several attempts on my own to work out and was in a continuous pain cycle. I would work out and then my body would inflame, then discouragement would set in and then I would stop.
I am a Clinical/Orthopedic massage therapist and had seen a handful of DSC clients on my table.
I noticed right away that their joint ranges-of-motion were incredible, muscles were supple, had minimal adhesions (knots) and problems. I was surprised to learn that most went 2-3 times per week to Dynamic.
Some were in the Women's Group and some in the Adult Co-Ed Group.
They inspired me to go too.
They highly recommended the coaches at DSC and the program seemed safe to me with their expertise.
I was happy to hear that modifications are given for members with injuries. Also it is a true judgment-free zone with members of all backgrounds and ability levels!
My number one goal is to hike again. Mainly I wanted to maintain my range of motion, reduce joint pain, possibly be able to carry a backpack again, and of course drop the weight I had gained.
I was very self conscious and my body image was very poor when I started.
I knew I had to overcome this in order to feel better. I told myself that no one else is living in this body but me and I had to get some help to be able to live in it comfortably.
I needed the accountability.
I had thought of going to a franchise gym, but was concerned about my alignment and form while performing the exercises. Besides that, running endlessly on a treadmill while looking at a T.V. screen was not at all appealing to me.
I had to get past myself, stop worrying about what others thought of me and how I look, and do my best for myself.
Pain seemed to be my best motivation. The other thing I kept telling myself is, "I am in pain whether I exercise or if I don't. So I might as well exercise!"
I wanted to feel better inside as well as out. I thought even if I was the weakest, slowest one there... so be it.
At least I would be stronger than if I did not go at all.
I am glad that DSC had a Women's Only Group and I had heard great things about Coach Renee.
My clients raved about her!
I was pleased to see all shapes, sizes, and ages in my class.
Renee is very personable and made sure I had a partner.
She gave me a synopsis of what the class entailed before we started.
Right away I felt a part of the DSC team!
I LOVE the coaching and guidance at DSC! (Thanks Delaine!)
The biggest part I love is that my form gets corrected to make sure I am safe.
The coaches know when I need to bump up my weights or when I need to back down.
The women there are very supportive and positive too! (Hi Michelle! Hi Brenda! Miss you guys!) As a week or two went by, I learned of what others were dealing with as well. The women here are amazing and the stories of what they are overcoming themselves inspire me to show up!
We all look after each other and make sure it feels like family.
The biggest things I can say to summarize this gym are: safety, encouragement, and fun! They know how to get you pumped up to push yourself and finish a rep.
The DSC culture is so positive and I love how the trainers correct our body mechanics in the gym.
Also, it doesn't matter what your starting point is. I am so uncoordinated... Can you say Lucille Ball here! I wear a baseball cap and glasses and "Erkel" my way through, but hey it's new things all the time! That keeps it fun!
By the third week I was able to perform with some coordination and added weight too!
I started DSC Women's Group I think it was mid-September with the goal of starting the Adult Co-Ed Class in January.
At the end of October I was tossing back and forth the idea of switching in December instead. About then, Renee approached me and encouraged my to start it right away.
The Adult Co-Ed classes definitely challenge me, but it wasn't long to get into the "groove" of things.
Wow! It's already been six weeks in the other class, actually.
I feel the last few weeks have been my "break through".
I feel like the inflammation has gone down in my body, pain has reduced and my feet feel better. Groceries are even easier to carry (shhhh...don't tell my husband that! Haha! ).
My confidence is coming back and I started to practice some yoga again.
My co-workers and my clients are noticing and are asking me a lot of questions and now I am the one telling them to go to DSC as part of their health and wellness program!
I am back into some of my clothes again I haven't worn in ages and in fact having to get new ones.
It has definitely given me more stamina to work on my clients.
About weight loss.....Farmer's Carry! Today I picked up 40lbs and walked 40 yards and on the 3rd set it was starting to get heavy and the light bulb went off in my head! I carried this on my body every day a few months ago!
I hate even saying the number of pounds I lost. The number is embarrassing but why worry about it.
I have lost a total of 30lbs at DSC!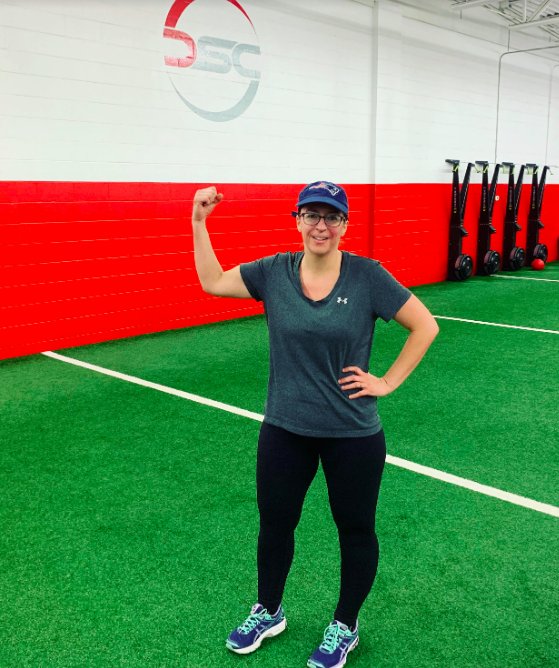 I am a work in progress and have 20lbs to go and project to meet the last pound lost end of January to mid February.
I am trying something new every week. I love the new challenges and seeing what my mind and body can do.
The trainers are knowledgeable, friendly, and make things fun. The students are great!
I love the team environment and camaraderie with each other. Barbara, Lisa, Karen, and Jen thanks for taking me under your wings! You guys have encouraged me more than you know.
Tell yourself you can do it. Don't overthink it and just go! Nike had it right "Just do it!"
We spend good money to keep up good maintenance on our deprecating cars...we should go to a quality gym to keep our bodies under good care too.
One last thing .....what you do outside of the gym is as vitally important. It has to do with what you put in your body. Also how to fuel my body for the early morning workouts. I am under the care of a MD. I weigh in every two weeks and "tweak" my macros as I lose the weight. DSC has a similar program for those looking for guidance! Having a team of health and wellness coaches makes it doable.
Follow what works best for you. Don't be afraid to modify and keep going. I believe that the workouts here at DSC have definitely sped up my weight loss goals and I KNOW they have helped me feel better!
- Donna