How I Got in the Best Shape of My Life at the Age of 64!
Joining DSC two years ago was one of my most consequential personal decisions.
The upshot is that I am in the best shape of my life!
I've increased muscle tone and definition in my upper body, arms and legs.
I'm stronger, more agile and have improved balance. I can jump up 3 feet from a standstill position!
Participation in the DSC Nutrition program taught me to adopt healthier lifestyle habits, being more attentive to purposeful training while integrating more mindful eating and drinking habits (our body's fuel).
So how did these tangible changes materialize so quickly?
We all have personal expectations and motivations for exercising. They might include improving our health, looking better, recovering from injury, or just wishing we had more energy.
For me, as a skier, biker and hiker, it is essential to stay in good physical shape. Yet, committing to working out wasn't a priority.
I wasn't inspired to push myself to an intense workout because exercise was tedious, and honestly, felt like drudgery.
There was one dependable conclusion to my workouts.
Repeatedly, I injured myself, often ending up in physical therapy.
Whether it was lifting weights, playing whiffle ball or running in Mine Falls, it was frustrating to be constantly dogged by pulling muscles in my calves and hamstrings.
In my heart, I knew I should be stretching, but I wasn't in the habit. And let's be honest – with no supportive coaching - who makes the time?
Transforming long held lifestyle routines can be a challenge. Especially if you don't know how to start.
I'd never belonged to a gym.
When I made the decision to join DSC, my objective was to break through the monotonous drudgery of my own uninspired workouts and set specific, unambiguous goals to become stronger and develop more muscle.
I sought to incorporate order, discipline and creativity into my inconsistent and unimaginative workouts.
The simplest self-assessment was that my own workouts were not focused, consistent, interesting, motivating and above all, not delivering results. But other than that, they seemed brilliant.
My initial concern was whether or not I would reliably participate. I decided to start by attending DSC's Adult Group Training twice a week.
Coach Renee welcomed me that first day, and proceeded to watch over me throughout the workout.
She helped familiarizing me with the exercises, while offering instructions and tips on proper form while not laughing at me (at least in front of me).
I'd never previously heard of the exercises: body saw, bear crawl, ab roller, TRX, RDL or trap bar deadlift.
A delightfully unexpected surprise was that I really enjoyed working out with others.
It's inspiring watching everyone arrive pumped up and committed.
From the start, everyone was welcoming and supportive. This aspect has provided an infusion of energy, motivation, and shared bonding experience.
DSC eliminated the monotony of my own mundane workouts, transforming exercise into a meaningful and personally rewarding activity.
The drills are well-organized. The coaches have pre-arranged intense circuits to work the entire body, providing variety and motivation to build muscle and burn fat faster.
The selection and creative uses for each piece of equipment keep the exercising interesting. The energy, pace and activity of these trainings makes physical exercise fun and interesting. I'm now working on more than just leg strength.
The coaches' enthusiastic and positive encouragement have pushed my strength training to higher levels than I ever could have achieved on my own.
The physical activity moves rapidly between crawling, pushing, pulling, bending, lifting, jumping, lunging, kneeling, running, squatting and stretching. I've discovered and stretched muscles I never knew existed.
After the first year, I started to attend three days a week and recently increased to five days.
Results?
I'm significantly stronger today, having strengthened my upper body, arms, lats, abs and leg muscles.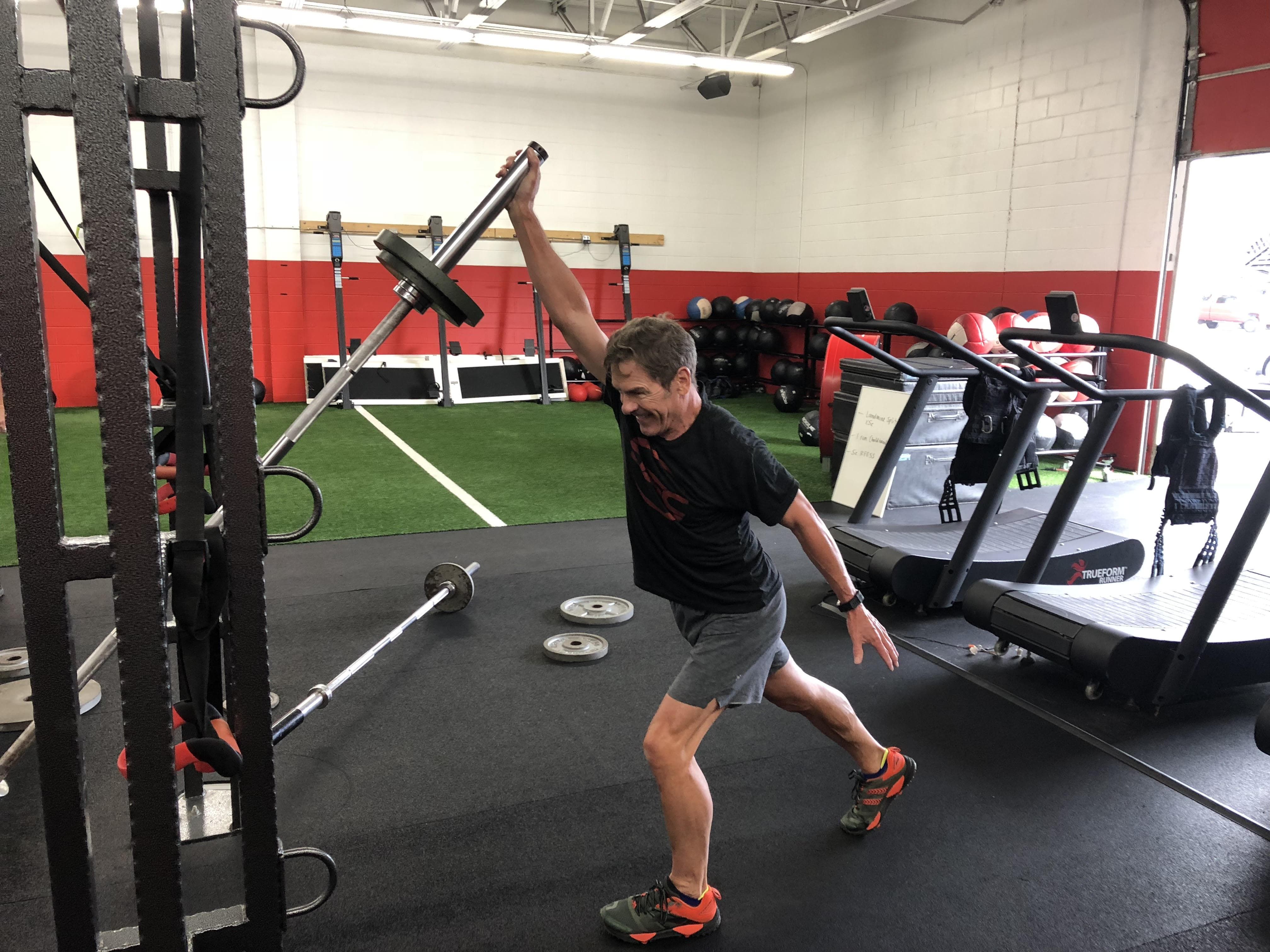 I've gained muscle definition and tone all around, while losing 2 inches off my waist. During this time, I dropped 7 pounds! My body fat is down to 11%, with a BMI around 20.
The metabolic conditioning and stretching workouts have improved my overall pliability, while also providing superior endurance for skiing.
I am incredibly appreciative and thankful for the motivation, inspiration and encouragement from all the DSC coaches. Matt, Renee, Luke, Tommy, Kurtis and Chris have put pleasure back into exercise.
During workouts one of the coaches might suggest that I can do better.
They might hand me a heavier dumbbell or replace a 20 kg kettlebell with 28 kg, or perhaps give a "thumbs up" (which actually indicates that I should lift something heavier).
They also dole out ample positive reinforcement knowing you've given your all and left it all on the turf. They continuously push me to excel.
Every week there will be concentration on most muscle groups.
Beginning and ending each session with stretches are one of the best new habits I've learned.
The days of incessant hamstring or calf muscle injuries appear to be over.
It's a phenomenal feeling to walk out of a 60-minute workout knowing you actually accomplished something major.
That feeling is complemented by knowing you have taken ownership and control, taken personal responsibility for maintaining and improving your strength, health and fitness.
You'll look better, feel better and enjoy better health.
DSC raised my expectations, increased my motivation to set higher achievable goals and helped me to get stronger, build muscle and increase my stamina.
I'm thrilled with the very palpable results I've received from attending Dynamic Strength and Conditioning. It is inspiring and motivating to come and work out. The workouts have made a remarkable impact.
Breaking a sweat never felt so good. I've never been so ready for my next trip to ski in the Rockies. Bring it.
For anyone looking to get "re-jazzed", inspired and rejuvenated; for anyone searching for a fun and creative workout, I'd urge them to give DSC a try.
If you are already a member, increasing your consistency and days of working out truly pays off.
I'm proof it works.
- Paul