How Exercise Boosts Happiness
When looking at the benefits of exercise, most data will lean on how it effects our physical health.
And there is no denying it. Fitness has a huge impact on our physical well-being.
It's been shown over and over again to:
Improve heart health and function

Improve brain health and function

Decrease the risk of various illnesses

Decrease the risk of chronic disease like cancer, heart disease, and diabetes

Improve our total-body strength, posture, flexibility, endurance, and lean muscle

Increase fat-loss and improve weight management

Decrease injury, aches & pains

Manage blood sugar, cholesterol, and blood pressure

Lower your risk of falls and improve bone health

Improve the ease of daily activities

Increase life expectancy
The list of physical benefits go on and on and cannot be denied.
What about the mental health benefits of regular exercise?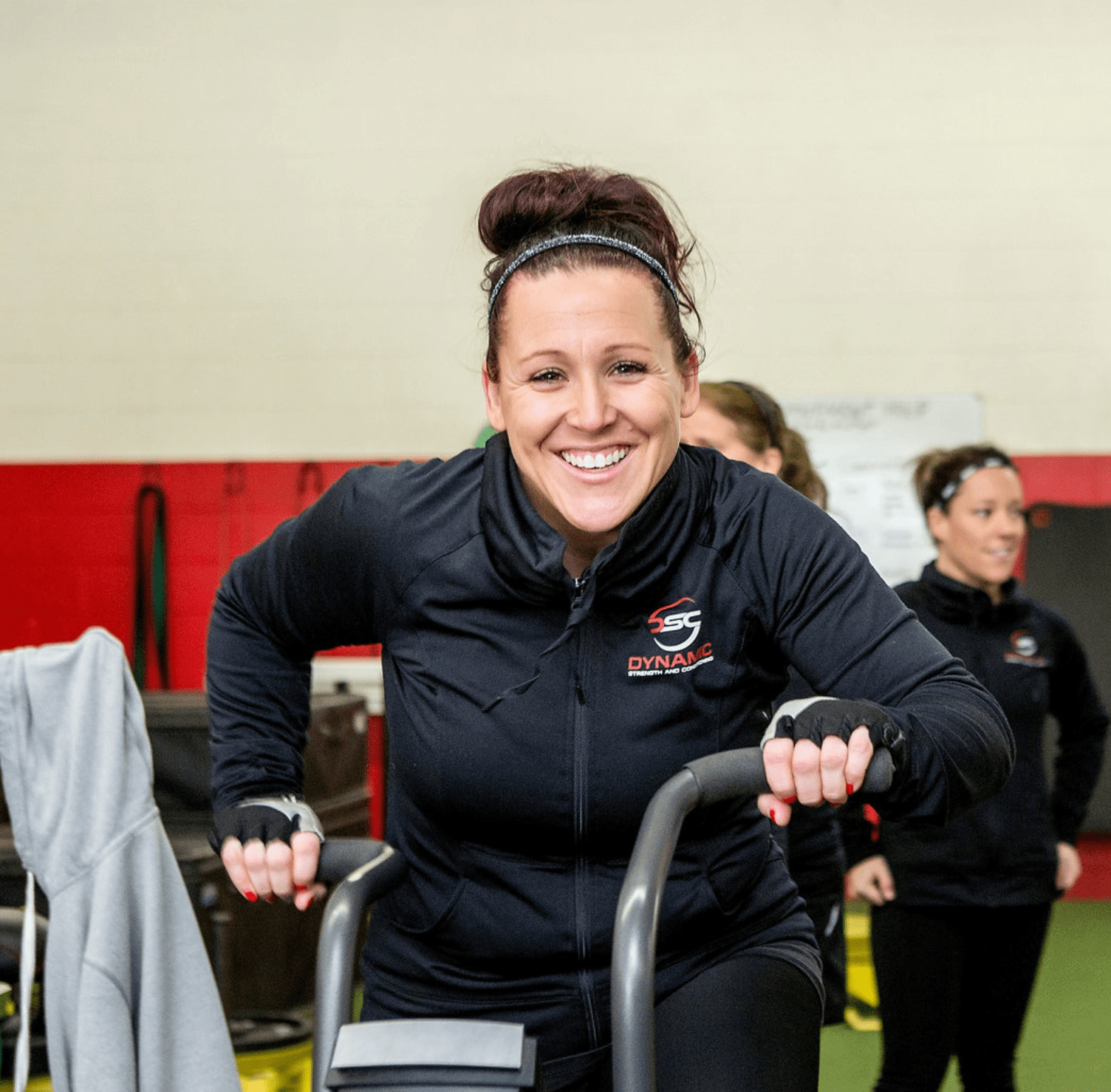 There's no denying 2020 has been one incredibly challenging year.
Not only has it taken it's toll on many of us physically (less sleep, less exercise, more stress eating, etc. ) it's certainly taken it's toll on us mentally.
When DSC closed down during quarantine and we moved our programs, fitness classes, and coaching online, our mission was simple: support our members and community as much as humanly possible. Although we were apart, our online connection was stronger than ever.
DSC members who thought they could never workout from home made it a part of their daily routine.
What we found was interesting. During an incredibly challenging and emotional time, our members in talking about our home workouts, reported things like:
"The workouts kept me sane".
"Words cannot possibly begin to explain what DSC has done for my mental health. I was mentally and physically drained. After just a few weeks I could not only feel the difference physically, but mentally. My self-esteem was improving and the overall outlook on my situation changed"
"The more workouts I did, the better I felt. Less aches, less stress, improved sleep, better moods, and a great sense of accomplishment."
"It's been such a positive outlet for me in a time when the world circumstances feel so out of control"
"I workout for my physical health, but what I've learned is that my mental health is what benefits most!"
There is one area of fitness that is not talked about nearly enough. It's not fitness' effect on weight-loss, strength, endurance, or the health of your heart. It's how fitness impacts our mental health, especially our happiness.
The good news is, exercise's benefits go well beyond just physical health improvements. Exercise directly impacts and improves our mental health and well-being.
Research shows exercise:
Decreases stress
Improves your mood
Lowers anxiety and depression
Improves relationships and social connections
Improves one's satisfaction with their life
Increases sense of fulfillment and connection with others
Exercise and movement make us happier.
Let's talk about the research.
The best thing about exercise is that its benefits are available to everyone.
Exercise has been shown to improve mental health and happiness across the world, no matter where it was studied.
It's been shown to boost mood and lower depression in all ages, genders, races, and health statuses. Research has even shown movement improves the mental well-being of those in hospice care.
It doesn't matter if you've never exercised before in your life or that you workout everyday, you will reap the reward. Exercise and movement improves our happiness no matter who you are, where you live, how old you are, or how healthy & fit you are.
The research is very clear: physically active people live happier lives.
On days that people move and exercise, they report less stress, anxiety, worry, and more satisfaction with their lives.
One interesting study, took regular exercisers and made them stop working out on to see their mental well-being wither away. In just 2-weeks, they reported a 31% decrease in life satisfaction and 88% of the participants reported feeling depressed.
So how does exercise make us happier?
We as humans are meant to move. It's in our DNA and our bodies have physically evolved to help us do so. Our bodies have evolved so that we could hunt and travel for long distances with great endurance.
On top of that, our brains literally reward us for movement. Movement causes a flood in our brains and blood with feel good chemicals like dopamine, endorphins, and endocannabinoids.
The feel good chemicals are responsible for the "runners high" that some people report, but the best thing is, you don't need to be a runner to feel it. These chemicals are released from your brain and muscles during movement and reduce anxiety, decrease pain, boost our mood, relieve stress, and make us happier.
The more we exercise and the more consistent we become, the stronger these feelings become and the longer they last. Research shows in just 6-weeks, regular exercise and movement actually causes changes to our brain, our feel good chemicals, and the receptors for these chemicals. We build a more robust feel good system, the more we exercise. Exercise literally changes our brain and long-term happiness.
This is why regular exercisers report more happiness than those who are sedentary.
How should you get started?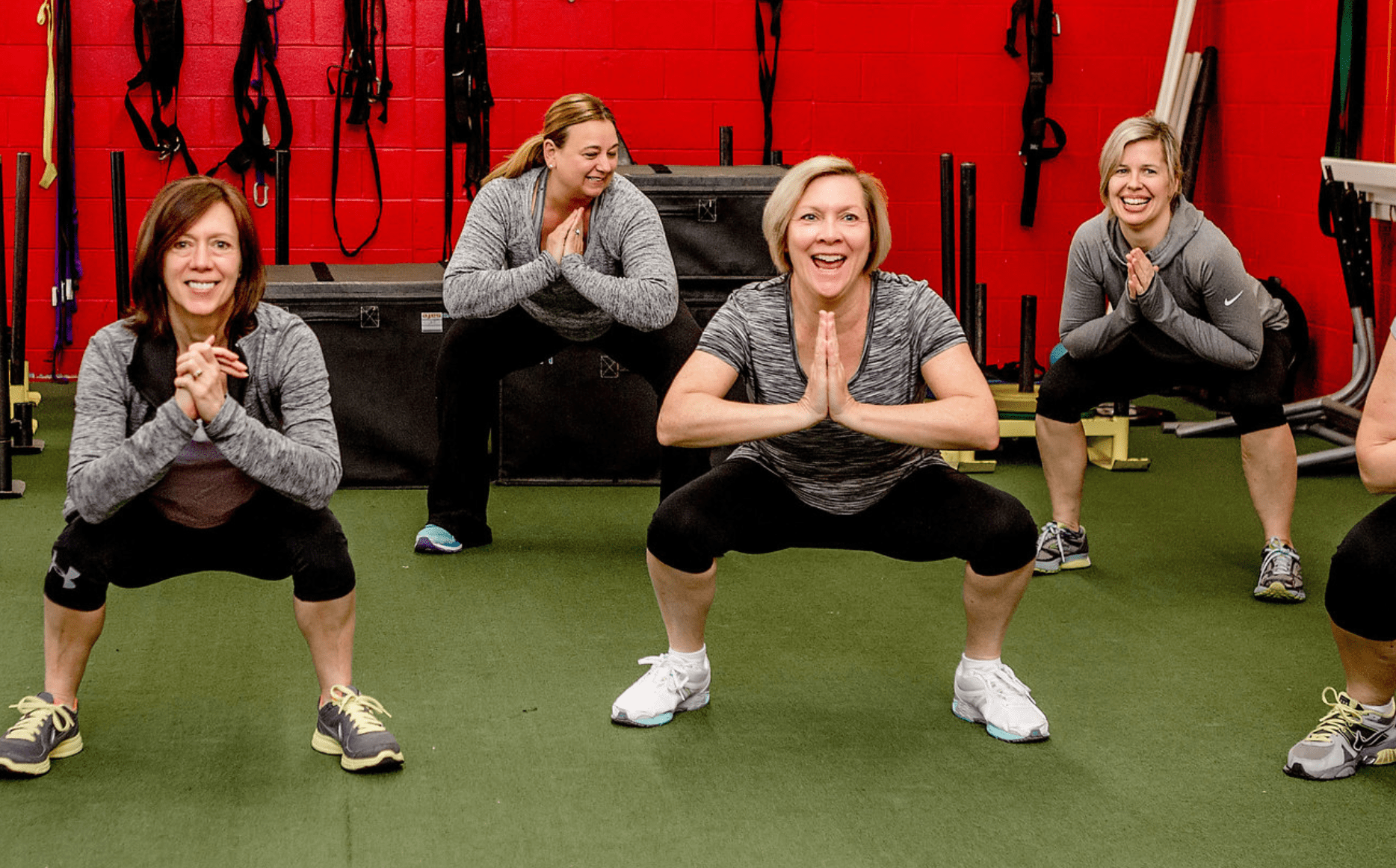 As I stated earlier, anyone at any fitness level can and should reap the rewards of exercise and happiness.
Some research has shown as little as 5 minutes of continuous movement can spark changes in mood and anxiety.
What we recommend is starting with 20+ minutes of movement 3+ times per week. The beauty is that the type of movement you do is up to you. Go for a walk or a run, go swimming or dancing, or join a fitness class like ours at DSC.
The key is to maintain a intensity that is moderately difficult for you. You work at your own pace and enjoy the feel good rush!
Schedule it in your calendar to stay committed or get your exercise and movement in when you start feeling down or anxious.
Need some help getting started?
Think about joining a gym community like DSC or have friends or loved ones join you.
Research shows those feel good chemicals are released through social connection and community so think of that as a double dose of happiness.
In fact, research has shown higher levels of these feel good chemicals, more social connection, and exercises consistency with those who partake in group exercise vs exercising alone. Researches call it "collective joy" and it's a reason people join DSC from all fitness backgrounds and THRIVE!
Are you ready to get started at DSC?
Are you ready to live a happier, healthier life?
Our 4-Week Intro to Fitness Program for Women starts Monday!
✔️ Coach-led workouts (both in-person and online) (perfect for beginners)
✔️ Easy to follow diet guide
✔️ Fat-loss meal plans
✔️ Private online community page
✔️ Results!
Click below to reserve your spot!