How Erica Stopped Yo-Yoing And Lost 21LBS!
I have been a yo-yo with both my weight and fitness patterns for the last 7 years.
I worked out at the same gym this whole time and was in the best shape of my life a few years ago, even began fitness competitions, but then I let it all go and it was hard to get the motivation back.
Boom, then COVID hit and it hit hard for me as a nurse. I needed an outlet and found the gym was that for me, but I needed a change, new motivation, and a place that could accommodate my needs.
Before starting at DSC, I was drained both physically and mentally and was the heaviest I had been in years. I was unhappy with myself and was not motivated to do anything.
A few friends have gone to DSC for years and always talked so highly of it, but I was never ready to switch my environment. Then a close friend Sharon said, "oh come on, at least just try DSC". I could see her results from going and she also had gained a group of awesome friends too. I decided to give it a try and see if it was the motivation I needed!
I joined the 14-day free trial after reaching out to DSC on Facebook. I stopped by the gym the next day and got a little tour. All of DSC's staff was so upbeat and welcoming, I was immediately motivated by both and the environment of the gym! I started that Monday!
Class number one I was nervous because it was new place and new surroundings. The coaches put me in the "rookie area" to work directly with their coaches on day one. They were able to keep an eye on me and ease into my first class.
This workout was way different then what I was used to. It is full body including cardio and it kicked my butt for a good two weeks. I had to learn all these new moves, but the coaches were always by my side and we got in a few good laughs too. I also learned I am not as graceful as I used to be, and that my posture and positioning was not the best and the coaches helped me correct it all!
The difference is the energy, the motivation to try new things, and not just being pushed to just go up on weight and lift heavy...It's the whole experience at DSC.
I love the constant check-ins from the coaches, and the encouragement to keep going. The workouts are ever changing, I finally think I know how to do everything and then it changes...keeps me on my toes!
I've gone outside my comfort zone and have even been doing the Sunday Recharge classes to stretch and breathe as well. This change is exactly what I needed, and I couldn't be happier with DSC and the motivation and energy it has given me over the last month and half.
Prior to starting at DSC I had begun changing my diet, again something I have been doing off and on for years, but was having trouble committing to it. I began at DSC and after the first week I was all in on my dieting and working out. It quickly became part of my daily routine.
I feel amazing! My energy is back, my clothes fit the way I want them, you can just see the change in my face and my mood.
I am down 21lbs since January 1st!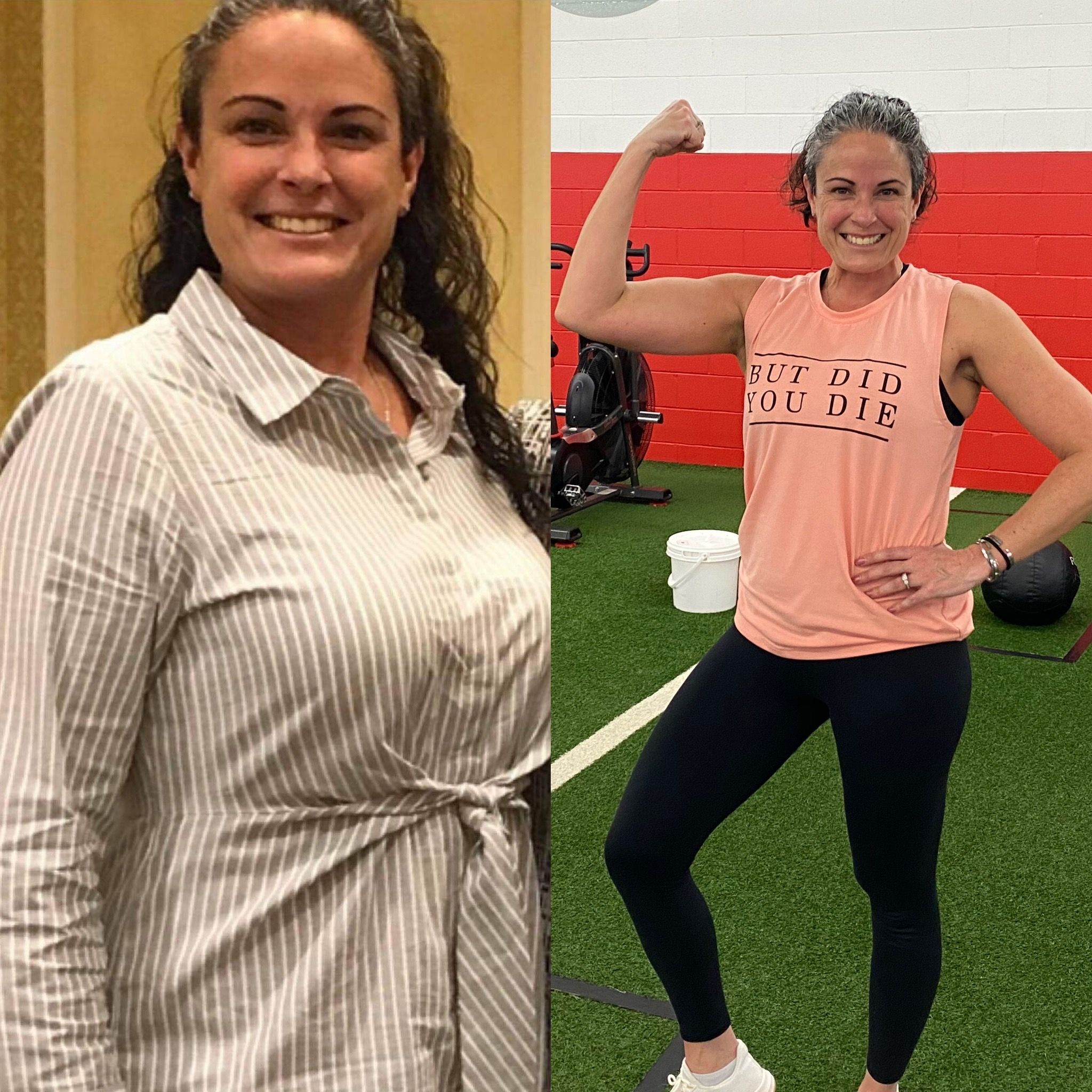 DSC was the missing piece I needed in my life!
Change can be hard sometimes. But how will you ever know if you make excuses and never try?
The advice I would give to anyone interested in joining DSC would be try the 14 days, trust me! Meet the coaches, and meet others who go there.
When I am asked now about what I am doing since others have noticed the difference in me both physically and mentally I glow when talking about DSC and cannot promote this gym enough. I'm now a part of a new family at DSC and I plan to stay!
- Erica
Ready to get your health and fitness routine started at N.H's #1 gym?
You can now try DSC FREE for 14-days!
Your 14-day trial includes:
1. Unlimited classes (in-person or online)
2. Easy to follow diet plan
Click below to get started! ⬇️