How Elaine Lost 50lbs at Age 50!
Before joining DSC my typical workout routine was...well, I didn't have one.
I had tried other gyms but with no luck. I would workout on the machines, and sometimes it would be good for a period of time but it never stuck for longer than a few months.
It felt like work, it wasn't fun.
I saw DSC originally on Facebook and had been interested but I was intimidated to reach out. I then ran into a friend at a basketball game and we got talking about exercise and sure enough, she was a member at DSC with the Women's Group and told me to give it a try.
It was the added nudge I needed to finally give it a try. The next week, we met for my first class and I was hooked from that point on!
At the time I started I had recently started exercising more and lost 10 pounds on my own but I wanted and needed more. I also wanted to do something for myself. I was going to be turning 50 in 7 months and decided it was time.
I really wanted to feel better about myself. Like many, I always put myself last after my kids, family, work, etc.
Now I had a goal to be fit for 50!
I was so nervous to get started; I was afraid I wouldn't be able to do the workouts, that I couldn't keep up with the group, that I wouldn't be able to follow along, that I would embarrass myself... you name it, I had that fear.
I was also so excited that I was finally giving this a try though.
The first class was great! Renee, Delaine and Matt were wonderful and patient as well as all the women in the group. Everyone was so supportive and encouraging of each other.
The trainers made sure that I had the right form and frequently checked in to be sure I was doing OK. I'm sure my beat red face had something to do about that (I still get red faced). I felt so proud leaving, knowing how much I had just accomplished.
DSC is like no other gym I have ever tried. I look forward to the workouts and I actually love coming to the gym! The trainers are wonderful, their energy, humor, encouragement is unmatched and they push you when they know you can do more. It is so empowering to see your own progress, to add more weight and feel the difference over time.
Since joining DSC, I have lost a total of 50lbs!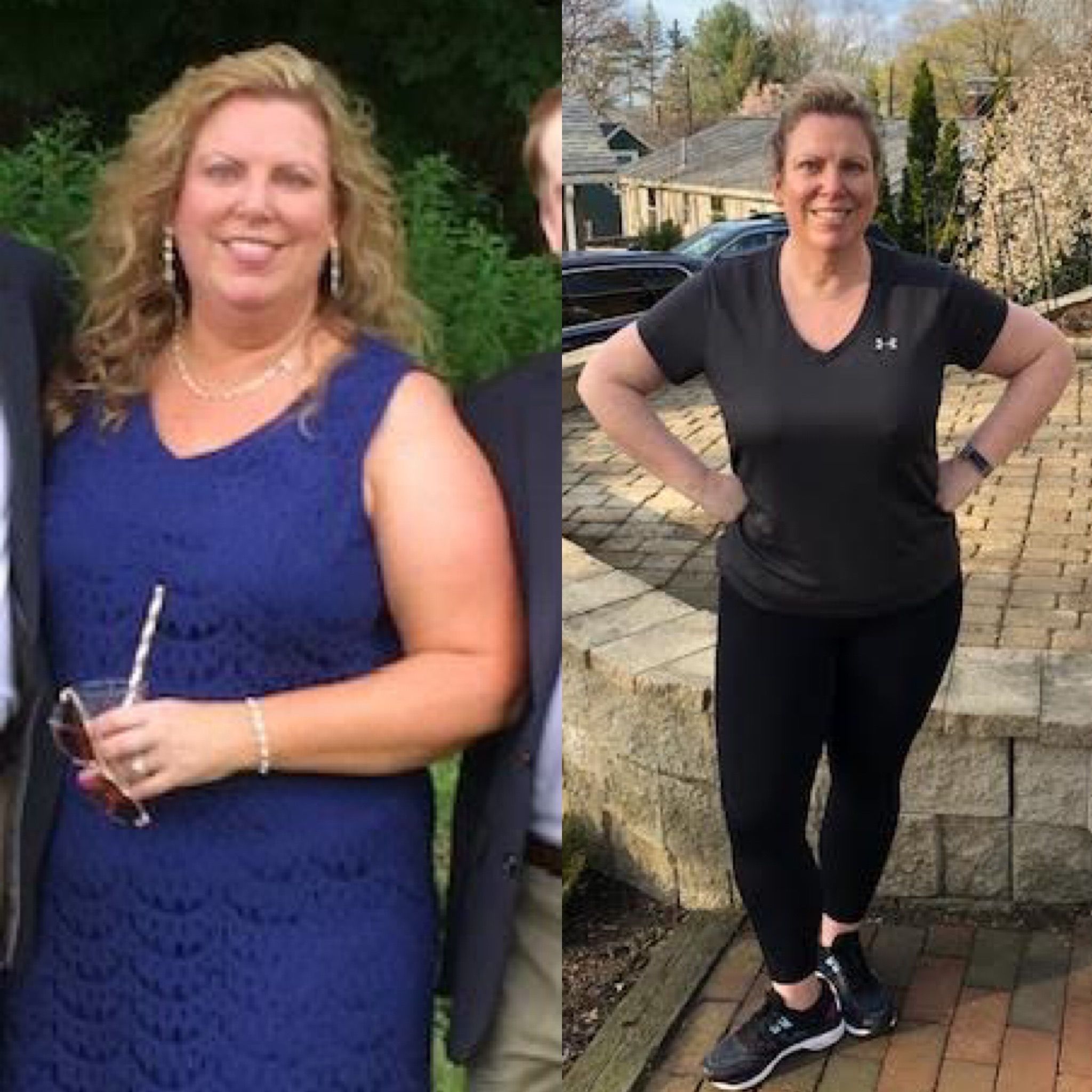 I have replaced my entire wardrobe!
I feel so much stronger, both physically and mentally!
When I started coming, I was going through a very difficult time and DSC has truly helped me heal and regain confidence in myself. If you are having a tough day and you come in and slam those med balls - boy do you feel great after!
You don't get the feeling you get at DSC at any other gym. I am stronger and am proud of the progress I have made and I am not done!
I love the camaraderie between the other member's and the trainers are the best!
I love the variety of the workouts and how they change it up every three weeks. I love that this allows you to see the progress you make over time.
Once DSC temporarily closed because of COVID-19, I was worried that my motivation wouldn't be there and concerned that my exercise and nutrition would back slide after all the hard work and commitment I have made.
It is the complete opposite.
DSC really stepped up with their daily online workouts that I can either do live or later in the day. The coaches are fantastic, watching them on video you feel like they are there doing it with you and pushing you. I swear sometime they are talking to me!
Then there is the challenge they started, that has also helped me to work to stay on track with my nutrition and fitness as well as sleep! I like the accountability of working to get those 3 checks ✅✅✅ every day, even if I miss a day. I am focused on having those complete well balanced meals!

I also like the variety of content that the coaches are also doing: motivation and mindset videos, suggested meal plans, movement breaks to do throughout the day, etc.

Then there is the hidden gem and that is the "DSC family", which includes the coaches and all the members. The support that everyone gives each other is amazing. It really helps to see how others are dealing with the same stuff and how we are all working through this challenging time.
At a time when we are so disconnected from the outside world, the DSC family helps to keep us connected and motivated which helps me to remain on track and positive for my family during this.
DSC has transformed me the inside and out. It got me outside of my comfort zone and continues to do that. Heck even having my "story" be shared is out of my comfort zone!
I am in better shape today at 50 than I was at 30. I am so happy to be a part of this DSC family!
What keeps me coming back? Everything! The progress I am making, the atmosphere is so welcoming, the workouts are tough but always fun and I always leave with a smile on my face!
- Elaine