How Cheryle Lost 43lbs at DSC!
Before joining DSC my typical workout routine was similar to a lot of people out there.
I had a membership to a box gym that I barely used. When I did go, I would maybe walk for 30 minutes on the treadmill and call it a day.
There was no motivation to do more and I had little in the way of guidance even if I had wanted to try switching up.
I first learned of DSC through another member and mutual friend, Susan!
She raved about this place and it definitely sounded like something different and fun, especially compared to my then current routine!
Despite hearing great things about DSC, I still had many fears when I thought about joining myself. Things like running and keeping up with others and doing certain exercises I thought I would never be able to do!
I was also facing some personal struggles before signing up that I was hoping DSC would help me overcome.
I have an immune arthritis condition and my weight and nutrition were causing flare-ups that I could not get under control, even with the help of medication I was taking.
My doctor said I needed to lose weight and make changes to my lifestyle if I wanted to feel better.
I knew that I was ready and definitely didn't want to continue going down a path that would continue to cause me more and more pain as things worsened.
My first class was so much fun!! I was for sure out of shape and several times thought to myself, "What am I getting myself into??"
I made it through the entire class though and was even excited to go back the next day!
I have now been a member since late 2013 I believe!
The coaching staff is incredible and sets Dynamic apart!
They are always there teaching, coaching, helping and cheering you on all the way.
I joined one of the first Nutrition Programs they offered and gained a wealth of information and insight which helped me lose additional weight beyond my initial success from working out.
My overall results from my time at DSC has been incredible!
Let me first start by sharing that I am short.
I am 5'1" and my weight has fluctuated a lot which is noticeable on my small frame.
I was wearing a size 14 pants and they felt tight and uncomfortable when I first started. Like I had to unbutton them when I sat down, tight and my shirts were all larges.
I weighed in at 163 lbs at my heaviest.
Today, with the help of the coaches, I have lost 43lbs!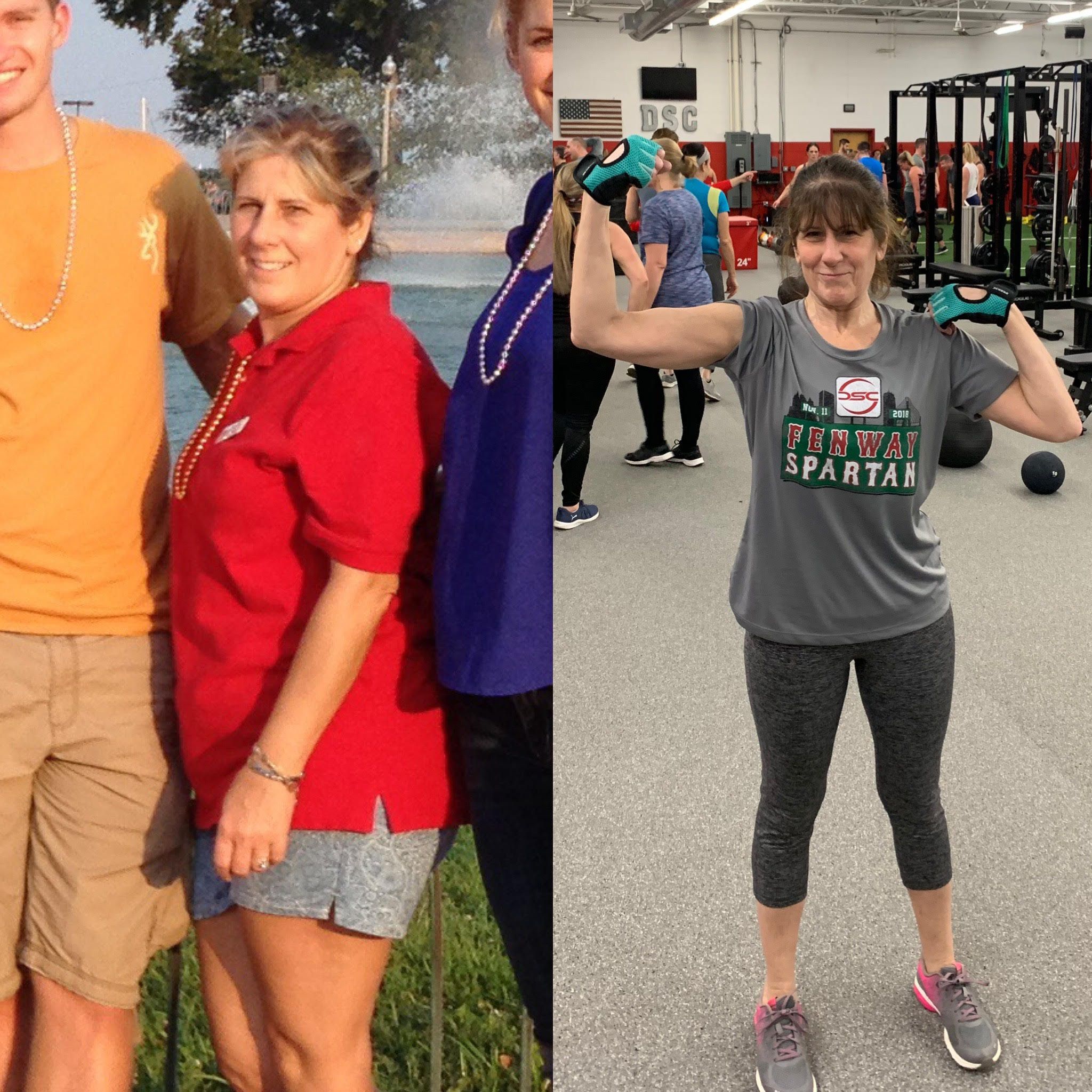 I'm typically wearing a size 2 pant and my tops are small/medium.
I finally feel good!
I love DSC and I am so happy I found them.
I love the smiling faces you will see all over the place the moment you step in the door.
I love the friendships you create and being pushed on by my peers and other members.
I love the "wow…that was a GREAT workout" accomplished feeling I get when I leave class every single time!
If you're reading this and thinking of joining I would give you the same advice that I have given to the many family members and friends I have referred who are now members here.
Don't get overwhelmed thinking about the cost. Come for the first trial week, see what it is all about and then make up your mind. Spending the money on a membership is the best thing you could ever do for yourself!
We have ALL started off in the exact same position. Intimidated and in our own unique way, shape or form "weak" in some area or another.
DSC is not a traditional gym. There is no comparison! What we have here is truly special and DSC stands alone! Between the coaching and the community, you just can't beat them!
- Cheryle