How Cathy Lost 40LBS at DSC!
Before joining DSC, I was a member at all the area gyms over the years. If I attended once weekly, that was a good week. Even when I attended the other gyms, all I would do is run a little on the treadmill or use the elliptical. I never really tried anything else. I didn't know what to do and there was no one there to show you.
I felt like I was just going through the motions.
When I joined DSC, I was hoping to lose some weight and tone.
My first day I was both excited and terrified. I didn't know a soul. My daughter was a previous member but had moved out of the area and wasn't attending anymore.
The DSC coaches set me up with a buddy on my first day which immediately made me feel more comfortable. We became fast friends and would reach out to each other to make sure we were going to be there for each other. Eventually I felt comfortable going on my own as everyone was so welcoming.
I used to go to the gym maybe once a week and saw little change. At DSC, I'm there at least 4 days a week and the results are evident!
The workouts are structured and the coaches are always there to make sure your form is correct (even when I'm trying to be a slacker). In fact, the difference between DSC and other gyms is the clearly the coaches. Someone is always there to make sure you are doing all the exercises correctly, to ensure you do not injure yourself and stay motivated.
They know everyone's name but beyond that, they know about you. They know your injuries, your strengths and weaknesses. I don't even know how that's possible! But they do it. They're just amazing!
The results I've achieved are beyond what I could have hoped for.
Since joining DSC, I have lost 40 pounds! I'm down 3 pant sizes and my self confidence has improved exponentially.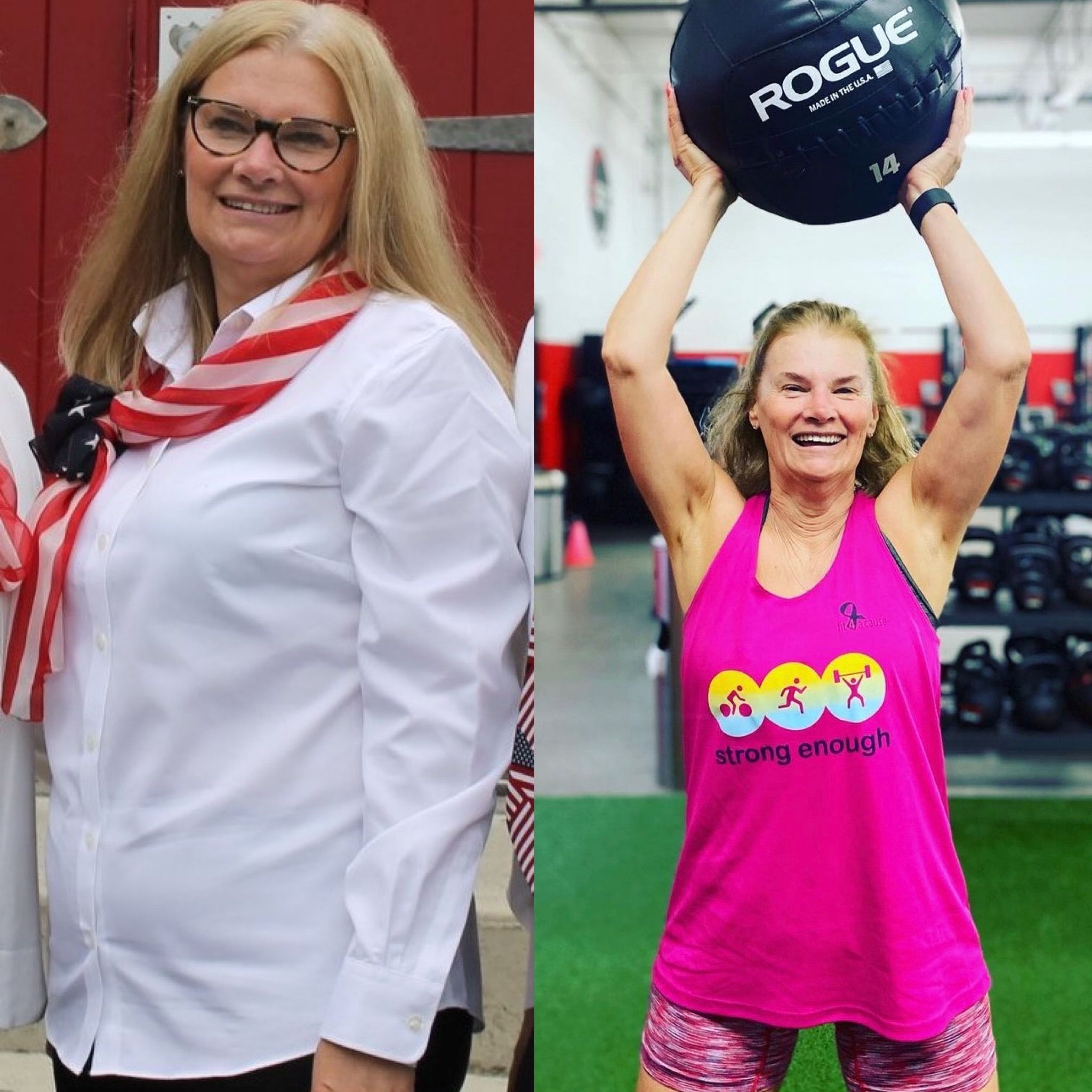 I never would have believed that I could lift the weights that I do or push the sleds like I do. Being there surrounded by all the positive energy, makes you want to push yourself. I might whine a little, ok a lot, while I'm doing it but I'm so proud of what I am able to do now when I look back on my workouts as I'm driving home.
The coaches and the other members keep me motivated and I feel good about what I've done individually and what those around me have accomplished when we finish. The camaraderie among everyone is really special. I guess the fact that I keep coming back time after time, means that I like it even more than I think I do. And of course, the results speak for themselves.
I truly believe of all the positive decisions I have made in my life, joining DSC is categorically, one of the top five. It's difficult to put into words the genuine impact DSC has had on my life.
In the past year, there have been some serious health issues in my family. My husband needed bypass surgery and it really awakened me to the importance of living a healthy lifestyle. I was a member before that, but this health scare made me buckle down and dedicate myself to it even more.
I definitely feel healthier and I also love the feeling of just being comfortable in my clothes now and not stressing about shopping for clothes. Sounds trivial, but it really makes a world of difference in my self-confidence.
If you're thinking of joining DSC, just do it! DSC is an investment in yourself. You won't regret it. DSC is more than a gym. It's like coming home every time you walk through those doors.
- Cathy