How Cathy Lost 29lbs with DSC STRONG!
After I had my daughter in 2006, I had weighed in at 287lbs. After a few years of the weight not coming off, I really needed to make a change.
DSC popped up on my Facebook feed and so may questions went through my mind.
Could I do it? What would it be like? Was I kidding myself? Was it okay that I hadn't worked out in many years? After going back and forth with myself, I bit the bullet and just went.
At that time there was no DSC Women's Group. It was all the Adult Co-Ed class. When I walked in, I was scared to death! But I was welcomed with open arms!
The coaches kept a keen eye on me and helped me to adjust and modify if needed. Encouragement was key! And boy did I get a lot of that. I joined and didn't look back!
It wasn't all rainbows and unicorns though. I made incredible progress but still struggled with eating and work/life balance. I wasn't being as consistent as I'd hoped.
Fast forward to 2020. I had made the decision in the beginning of Feb to get my butt in gear. I needed to make a change.
I was turning 49 years old and wanted to stick around for my family. My father died at the age of 56 and at the time of his death, he weighed about 450lbs.
I bought kettlebells, dumbbells, a med-ball and some resistance bands. I already had a treadmill and my husband put some flooring down for me. I went on to the DSC Youtube channel and put some workouts together and got started. Then Covid hit!
When DSC was ordered to close, I was sad. DSC is a 2nd home for many.
It's a place to sweat, work hard and laugh. It's where friendships are made, and support is like no other.
When DSC announced that they were going to create live and recorded online workouts, I was thrilled!
I was ready, willing and able. I couldn't wait!
The workouts were no joke! I got just as good a workout as I did in the gym. The support was still there and the coach's fun antics remained the same.
I knew this was it! I was going to crush it. I wasn't going to let anything stop me. This was finally going to be about me!
In May, DSC combined their online workouts with their nutrition coaching to all DSC members. This was the start of DSC's newest online program: DSC STRONG.
I was ready! I got my trapper keeper notebook and made my tabs and got started.
It was so fun to see everyone post their water bottles and I got great ideas for meals. Logging my meals was like a game to make my macros balance.
For once, I was having fun and the scale was going down.
I couldn't believe it. I was finally in the right state of mind and working out consistently 5 – 6 days a week.
I've never been this committed, motivated, and consistent!
I was able to cook my meals instead of rushing home from work and picking something up quick on the way home.
I didn't have a 1 hour and 15 min commute each way, so I was able to give the time to working out and it helped my stress level.
I made some new friends through the online group page and was given so much support. We were all in this together.
Since joining DSC STRONG, I have lost 29lbs!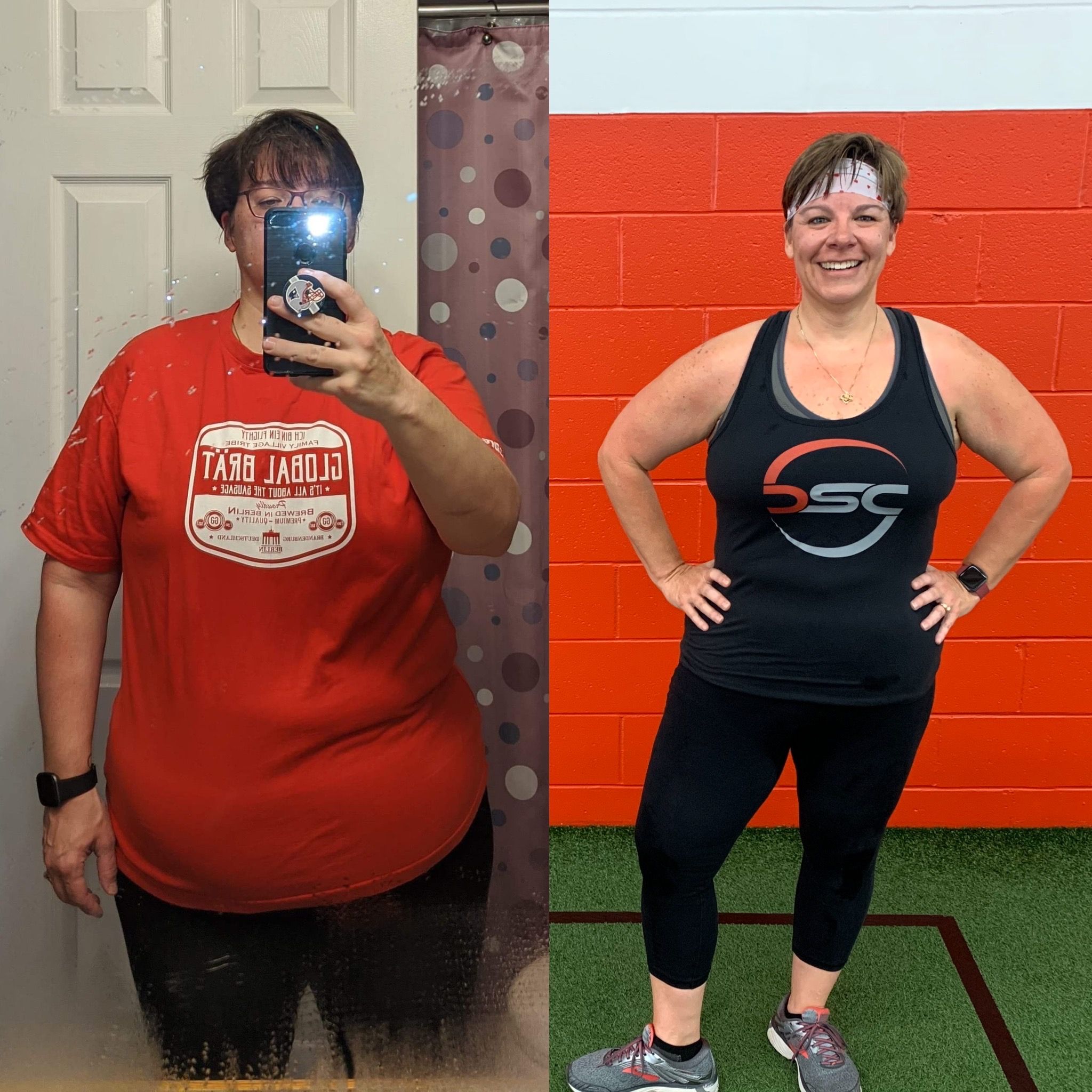 I am officially down almost 50lbs since joining DSC!
I have consistently worked out 5 to 6 days a week and I really feel amazing!
I finally feel happy!
I have a long way to go, but I now know that I can do it.
I also realized it's not that hard. I'm not starving. I'm eating good, healthy, balanced food. I have the tools and information to make better choices.
DSC is not a typical gym. It's a family. We sweat together, we laugh, we cry, we support each other, and we swear at the coaches a few times (HAHA!)
If you want a gym that gives you everything, then DSC is the place for you. If you're ready to crush it from home, join DSC STRONG today!
- Cathy
Try DSC STRONG Online today FREE for 30-days!
It's time to get into the best shape of your life from home!
Click below to get started! ⬇️