How Carrie (a Mom of 3) Got Back Into Shape
I had always been active and loved working out in gyms, boxing, or running. I worked out all through my first two pregnancies with no issues and felt great.
My third pregnancy something changed for me, and it was a serious mental struggle to find any motivation or drive. I had gained 50lbs this time, and was out of breath even walking up stairs.
I couldn't remember what it even felt like to feel like myself, but I had no desire to do anything about it. Everyday life was a struggle, and waking up every hour with an infant did not help. There are barely any photos of me with my baby because I hated everything about how I looked and felt.
It took about 15 months of living like this before I said enough, something has to change and it's not going to change if I sit home feeling depressed and making excuses.
I heard Dynamic was a great gym from people who had been. I had also seen another member, Jeremy's, amazing transformation over time, and his energy and excitement was contagious.
I knew I needed something to jumpstart me back into a workout routine, but honestly wasn't expecting to stay there long term. (I'm now on 2.5 years, and have never actually loved a gym like this before! ☺)
So I called DSC for more information about the programs, and Sara recommended I try the Women's Group class that week!
I was honestly just hoping to lose some weight. I had a number in my head that would have been my "ideal/happy" weight. I was not expecting to start feeling good until I hit that number -- I have never been more wrong!
I have learned to be happy with myself along the journey, not just waiting until the day I fit into a certain mold to feel good about myself. It has been a very transformative and mind-shifting experience.
Coach Renee said something once that stuck with me: "Don't worry about what your body CAN'T do, be grateful for and focus on what your body CAN do". My goals have now shifted from reaching an exact number on the scale, to being a stronger, happier, healthier me - consistently showing up, and working my hardest that day.
I was worried that I wouldn't be able to keep up with a group workout, that I wouldn't know what everyone was doing, and I would be behind in what everyone there had already learned.
Starting back from scratch is intimidating and humbling, especially with a different body after having my children. I felt like I was too far out of shape to get back, and angry at myself for letting it get to that point.
I didn't know anyone in the Women's Group class, so I was walking in alone to a new place, being in the worst shape of my life.
I remember thinking "I can't go to the gym, none of my gym clothes fit me". Which is so backwards, but it was a real thought and fear I had. I came to terms with the fact that it's more important that I just show up and get the ball rolling than to waste time and energy worrying about these things.
I walked in and saw Sara and Renee smiling and I was instantly at ease and not as nervous.
Renee explained what the workout would be like, and that she would help me modify anything along the way that didn't feel good.
I was introduced to the other ladies in the group and they could not have been a nicer group of people. I could see right away why this gym was a special place, and was excited to get started!
The group workouts are always SO much better than anything I would have done on my own in the past. I'm always challenged and love that the coaches are always switching things up and making fun, effective workouts for us. Their knowledge and passion to help people is refreshing.
I have gone down a few sizes in clothes. I am not yet at my original weight, but I no longer let this be the only thing that defines me or my success.
I feel a million times better, and I am stronger than I have ever been.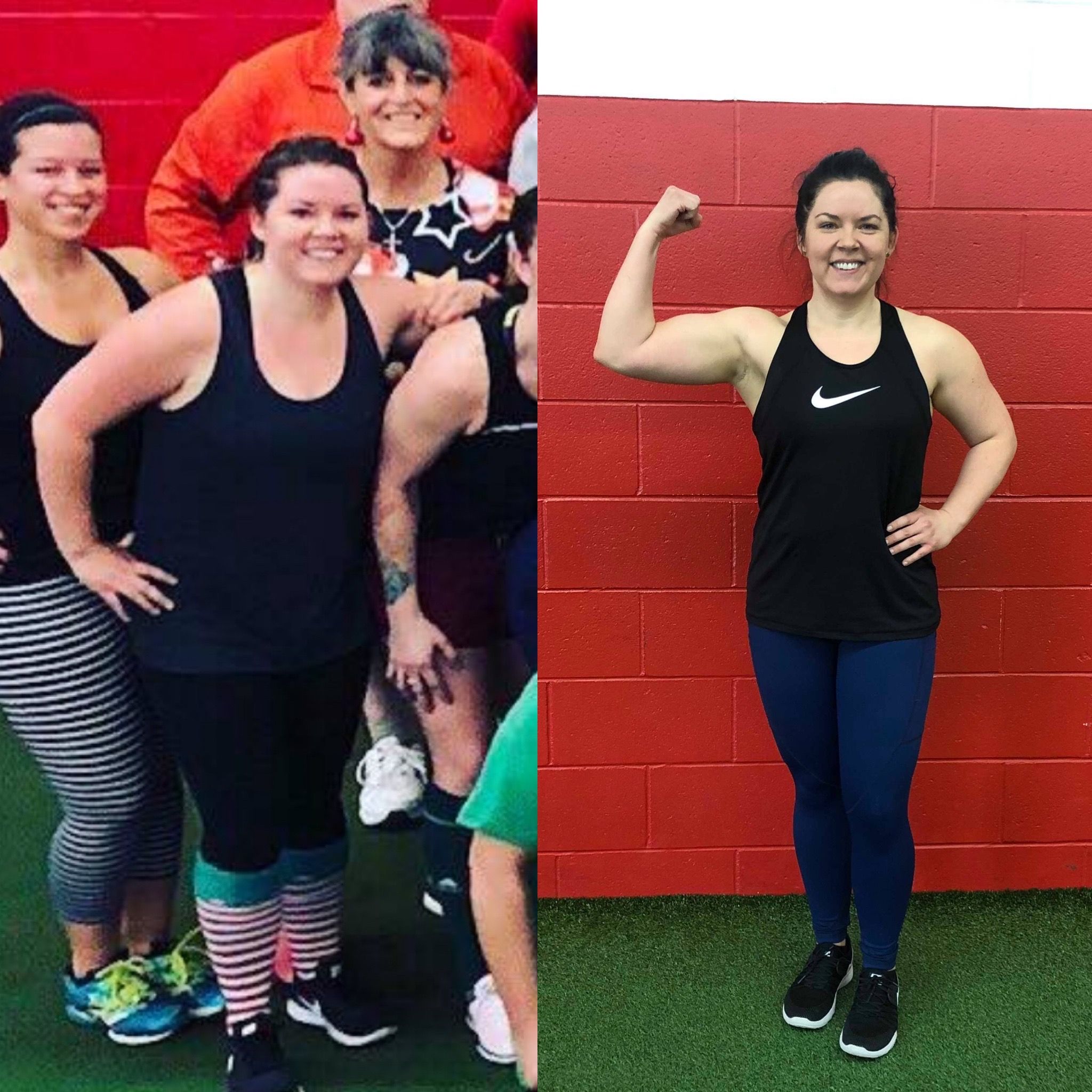 The people and the atmosphere are what make DSC so amazing.
I truly appreciate the attention that the coaches give each member – whether it is correcting your form, asking about your injuries and helping you modify accordingly, or motivating you to push 1% harder in class.
The outreach, charity events and everything behind the scenes that DSC does to help others is also inspiring and I love being part of the community.
DSC has had such a positive impact on my life. I get to be around amazing people while doing something that is great for me.
My physical and mental health have completely turned around since joining. I have met friends here that have truly become like family.
I am forever thankful for this place and how it has made me feel.
At DSC, we have fun!! I look forward to seeing my friends, the coaches and the workouts and it starts my day out in the best way, with better energy and a better attitude every single time.
Are you ready to join us at DSC?
I can say the mental hurdle of starting is honestly the worst part.
When you stop battling with yourself and break out of your comfort zone to make the call, or walk in the door, you'll be wondering why you didn't do that sooner. You deserve to feel better, and there is no better group to help get you there!
- Carrie
Are you ready to feel your very best?
Our 8-Week Transformation Challenge starts March 23rd!
✔️Unlimited coach-led group workouts (Women's Only or Co-Ed Groups)
✔️Nutritional guidance and fat-loss meal plans
✔️Unlimited email support
✔️Win a FREE 6-month DSC membership (biggest transformation)
8-weeks to get into the BEST shape of your life!
Click below to register! ⬇️