How Caitlin Lost Over 30LBS at DSC!
Before DSC I would normally drop into whatever the trendy workout class at the moment was; I did PureBarr classes, BTone, the odd yoga class but I could never stay committed. I had the most success with TRX in the last year of my undergrad but stopped when I graduated and had to move.
During quarantine I attempted to commit to an at home work out but I'm pretty awful at holding myself accountable.
Before I joined DSC, I had just come out of quarantine, had been through a furlough, been laid off, and started a new job. I felt like getting control of my physical state would make me feel better about all of the life changes that were out of my control. I needed to get out of my COVID rut and I was sick of my sister telling me how great Dynamic was and how I should give it a try (she was right).
I wanted to get into a routine, start feeling healthier, and lose weight!
I was worried about fitting in, I knew that DSC was more than your average gym and joining meant joining the community and I was worried I wasn't 'fit' enough to keep up with the other members.
My sister had been a member at DSC for years and now that I had finally signed up, I was nervous that everyone would expect me to be as fit as she is. I was worried that I wouldn't be able to keep up with the rest of the members and my level of unfitness would be embarrassing so I wanted to go in and just get through the trial.
I figured I would eventually give up like I had with the other exercise classes I tried before.
The coaches eased me into the first workout and modified it so I wasn't overwhelmed. I noticed that everyone works at their own pace, and that everyone was super supportive. So many people came up to me after the workout and told how great the gym was and that I'd done a great job. The coaches truly cared and took the time to invest in me and motivated me when I wasn't sure I could do it.
Most other classes I have been to at other gyms there's one instructor for a full class of 30 people. At DSC there are multiple coaches making sure you have the correct form to prevent injuries or offer modifications and help you get the most you can out of each work out!
Since I've started, I've lost around 30lbs and dropped 2 jean sizes!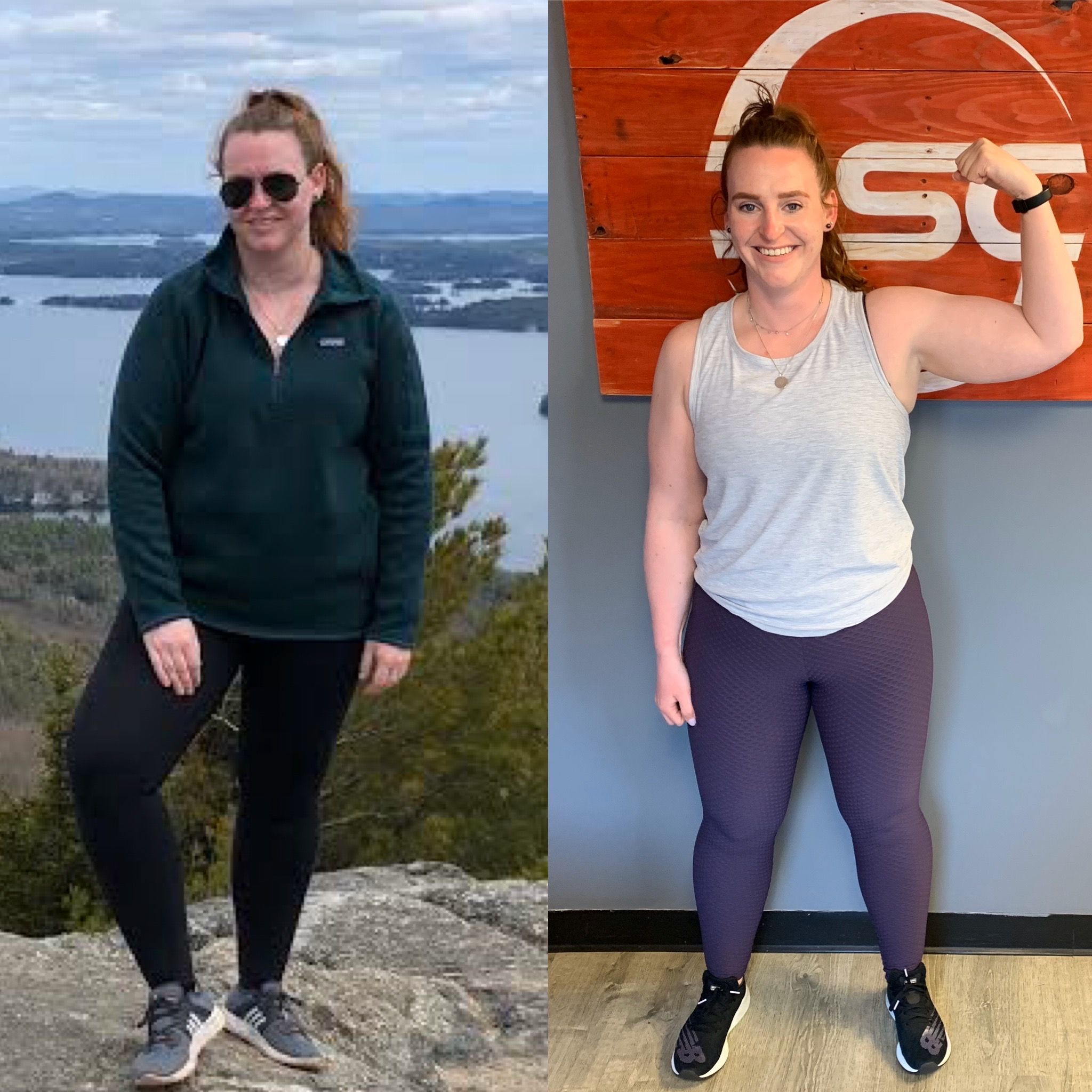 I've noticed exercises I had struggled with when I started are getting easier and I'm able to do more reps and with heavier weights! I have more confidence, I feel healthier, and I have more energy.
I really love that every workout is different and I get to learn new things. Before DSC weight lifting had always terrified me but having a coach around to make sure I'm doing the movements correctly has made me love it! I would have to say the community feeling that DSC has is the best part though, it truly feels like a family.
DSC has pushed me to come out of my comfort zone in many different ways and given me the tools to start living a healthier life while having fun!
Ironically what scared me the most about DSC is what keeps me coming back, the DSC community is honestly amazing! I love joking around with the coaches and being pleasantly surprised when I'm able to do the workout with the heavier weight I was "gifted", as well as everyone else at the gym, the members are very supportive and everyone celebrates everyone else's wins!
Trying something new is nerve-wracking but overcoming the fear of the unknown has been the best choice in my experience! The workouts, the staff, and the members are awesome, everyday is different and they are able to accommodate all workout levels.
- Caitlin
Ready to get your transformation started?
Our 30-Day Beginners Fitness and Nutrition Program starts June 1st!
This program is dedicated to getting your health and fitness routine started with our:
1. Coach-led Workouts (designed for beginners)
2. Nutritional Guidance and Meal Plans
Click below to reserve your spot! ⬇️