How Caitlin Lost 21LBS in 5-Weeks! (right from home)
Truth time, people. I can't tell you how many times I'd had gotten as far as putting on workout clothes, and then thought to myself, "Ugh. I don't feel like working out," — and didn't. I would use any excuse: didn't feel like it, not in the mood, too tired from work, too busy with the kids, too hungry, I deserved to relax for a little bit, anything. I had absolutely let myself go. It had been a solid 9 years of not working out on a consistent (read: at all or a never-ever) basis.
Life was happening around me, but I wasn't an active participant. I was just going through the motions after the miserable year of 2020 which included a loss of job, endless quarantining, and the catalyst being the heartbreak of my brother's untimely death. I was no longer feeling happy about myself and had never been so aware of death and scared for my own health and well being. I wanted and needed to be there for my family and to be an active participant.
Prior to my two children, exercise had always been a huge part of life having played both collegiate and professional soccer, and the realization that I need it consistently in my life to keep my mood regulated was a big eye opener for me. You would think it was obvious, but I was simply rebelling against all the years of endless training and commitment with soccer.
I missed being a part of a team. I missed the sense of self worth through my accomplishment.
I felt that in joining DSC's online program, I could commit to a team to do something on a regular basis in order to give myself a sense of accountability. In joining the DSC community, I wanted to feel that I could contribute, be accountable and stay the course, and hopefully in turn receive and earn results. I wanted to get healthy and to teach my own children about the importance of staying both physically and mentally fit. Most of all, after my brother's death, I just wanted to be around to enjoy life and to enjoy my family to the fullest. I had honestly come to the realization that life's too short not to be happy.
I was nervous about starting the program as it had been years since I had taken my health and fitness seriously. But, this was only because I am a fiercely competitive person and couldn't quite grapple with the fact that I just might fail and not be successful. I had tried other online workout programs before such as 21 Day Fix from Beach-body, but after just a few weeks, my spirit would waiver, my pattern of procrastination would pick up, my positive momentum would stop, and I'd flounder and ultimately my lukewarm commitment would cause me to lose complete interest in the program.
DSC's Nutritional Coach Ashley is great on checking in weekly for accountability that I am getting in balanced meals/snacks, drinking at least 64 oz of water, as well as sleeping at least 7 hours of quality sleep at night. The monthly calendar and checklist she provides helps to easily track all my stats. Coach Matt also does a great job of sending out tips on eating healthy, new ideas of workouts, and a variety of new tools to add to my ever growing toolbox. All these things really help to keep the positive momentum going instead of having your routine start to feel stale or uninspiring.
I have been participating in DSC's online program for officially 5 weeks and 3 days at this point and can already see vast improvements in my health both physically and mentally.
My measurable stats in just the short 5 weeks have been:
Weight loss of 21 pounds!

Muscle Mass increase of 6 pounds

Resting Heart Rate lowered from 72 to 55 beats per minute

Body Fat Percentage lowered by 3.2%

Subcutaneous Fat lowered by 4%

Visceral Fat Index lowered by 3

Overall BMI lowered by 1.6
But, the measurable numerical statistics only shed light on a portion of the changes. I am happier, I am more confident and my new found energy seems boundless. My clothes fit a lot looser now too, so much so, my pants literally fell down and off during a lateral shuffle during a Sunday Live session to which we all had a good laugh. Also, lead to deeper thoughts of why even wear pants when you are at home? But jokes aside, I'm feeling great and look forward to my daily workouts. I enjoy working out now rather than loathe it. Not only that, but the whole family has been unable to escape the new found positive vibes in our household. The majority of workouts are now done as a family, together.
And honestly, it's the most enjoyable part of my day!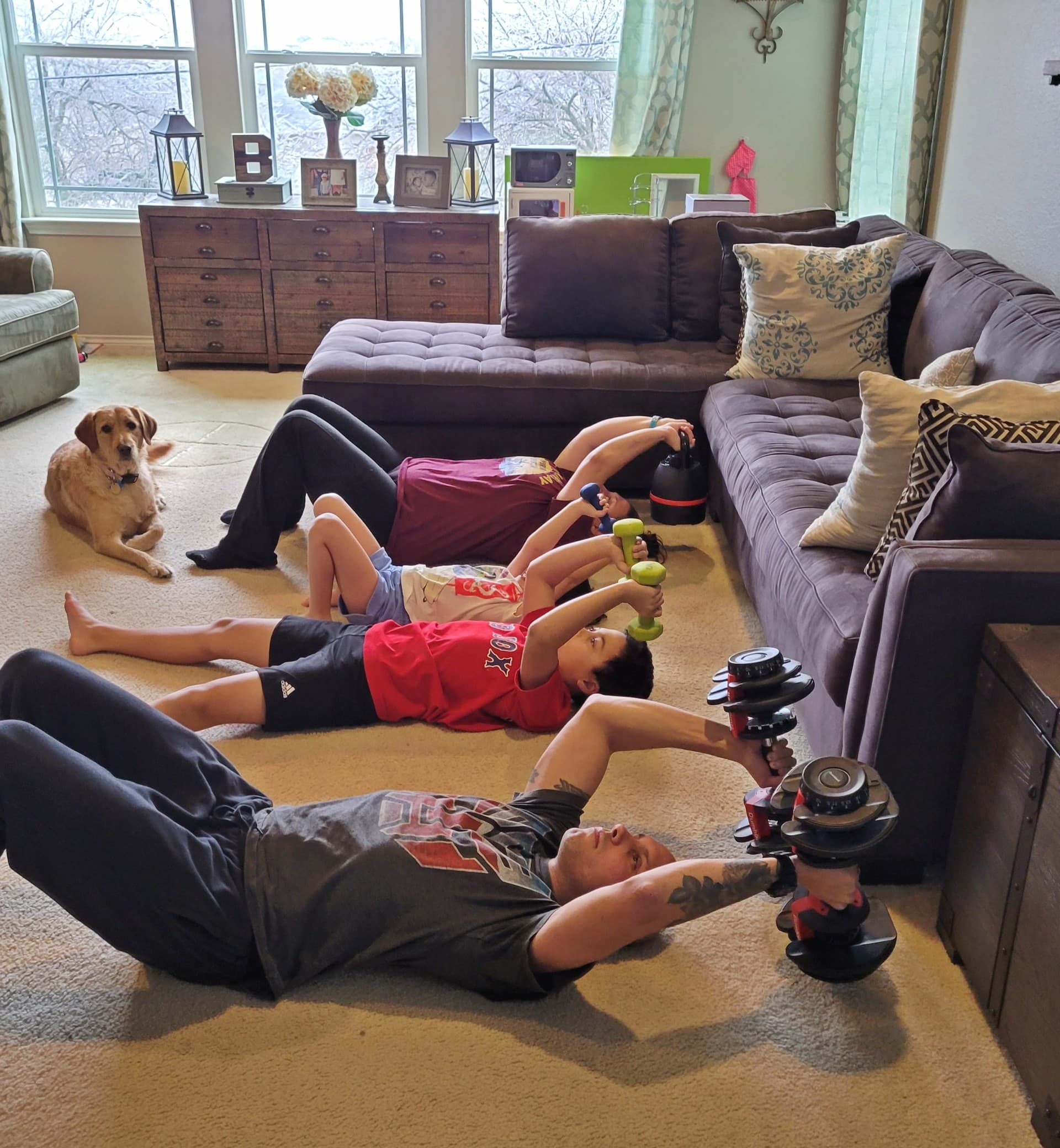 Caitlin and her family crushing a DSC home workout! 😀
My favorite part of the online program is that it's sustainable. Not only that, but Coach Matt is consistently looking to better himself and his program as well. He constantly is asking for the community member's feedback and ideas in order to improve, evolve, and enhance the program. He listens to the members. Don't have enough time for hour-long sessions each day? Well, Matt's got that covered after feedback from the community, DSC now offers 30 minute workouts for the time crunched. Feeling like you need to recover better on your off days? Well, now they've introduced a Live Recharge class on Sundays.
DSC helps you to set goals for yourself. Goal setting is an integral part of any weight-loss journey because it gives you milestones and small accomplishments to celebrate along the way. And who couldn't use some positive reinforcement when they're working their butt off to make changes in life? Coach Matt is constantly checking in on my progress throughout this wild journey that I'm on. Sending encouraging messages and motivational thoughts my way. We, together, celebrate the milestones. Even during the Live Workouts, he never misses an opportunity to personally mention our names or to individually push us to give it our all, and then a bit more.
DSC is not only an amazing gym with outstanding coaches, but it is an awe-inspiring like-minded community of people who are all committed to helping you to stay the course and work harder than you thought you possibly could. You'll lose weight, become mentally tougher, and in turn take a big step towards a healthier future. And really, isn't that what it is all about? With an improved health comes a sense of well being and an absolute lessening of stress. You'll now think of your morning run as a chase after your healthier self and pick up the pace! Like me, you'll only wish you started earlier.
- Caitlin
Our 30-Day Women's Only Jumpstart Program starts February 22nd!
This program is specifically designed to help women jumpstart their health in fitness in 2021.
Our program includes:
1. Unlimited coach-led workouts (at DSC or online from your home!)
2. Easy to follow nutrition plan
3. Results!
Click below to register. We only have 30 spots available!