How Bri Found Her Motivation at DSC!
Before joining DSC, I didn't really have a fitness routine. I was chasing two toddlers all day and we occasionally took our dogs for a walk but that was the extent of it.
Physically, I was in a tough place after enduring some medical issues and went from being an active Kindergarten teacher to being stuck at home during quarantine. Gaining the weight definitely added some mental struggles as well.
I had some medical issues over the last year and a half that left me pretty inactive. I slowly gained 20lbs without even really realizing it.
I was tired all the time, incredibly unmotivated, and feeling pretty bad about myself.
I was browsing a Facebook group when I came across a post about DSC. I went to the website and I figured why not give it a shot? My goals in joining are to lose the 20lbs and hopefully by doing that increase my energy and improve my mental health.
Before my first class I was so nervous!
Patrick actually had to reach out to me almost a week into the program to force me to register for a class! I was dreading it beforehand but my daughter yelled, "You're going to crush it!" before I left for my first class and that gave me the motivation to just do it.
After my first class at DSC, there was no doubt in my mind that I made the right decision. Coach Elizabeth was basically my personal coach that first day and adjusted every exercise so that I could do it successfully. I was tired (and definitely sore!) but in a really good way that made me want to come back!
I can't say enough good things about DSC!
First, the coaches are amazing…like how do they remember everyone's name?! You just feel so welcomed each time you go to a class. They're so helpful during each class – correcting form and suggesting ways to make it easier but they also know your abilities and will push you to add weight and "go all the way to the beep" when they know you can.
The classes are awesome and really cater to all level! I always know there is going to be a slightly easier option and a more challenging option for each exercise. When I first started we were all on our little spots and the coaches brought us our equipment…even at that time I felt like the classes were still always changing and engaging. Of course I was nervous again when I found out we were rotating circuits and adding in treadmills and sleds. But without fail, all these changes came with such support from the coaches - it's so easy to catch on!
Then I joined DSC's Nutrition Program. I was majorly struggling with portion controls. My husband and I eat relatively healthy foods but I didn't really know the extent of how much I ate in a day. I was also very guilty of picking at my children's food – when I was making it, when I was cleaning it up – a handful of goldfish here, a bite of mac and cheese there. I knew before working with Ashley that this was a problem but I didn't realize it was adding up like it was.
Tracking my calories and checking in with Coach Ashley have been the most helpful areas of the nutrition program. Using the app to track my intake and calories really opened my eyes to how much I was eating. It's been helpful to see how many calories I was consuming previously. Now, by making better food choices I can be within a set number of calories but still be full at each meal. Knowing what proteins, fat and carbs do for my body and how to balance them has been really helpful when planning meals. Tracking has also made me think twice about snacking on my kids' food. If I know I need to put it into the app I ask myself is it really worth it?
Checking in with Ashley has definitely kept me accountable. She also had access to my app so I always had this accountability…like maybe I want to binge eat but I have this commitment to track it and someone else is seeing it too. That eventually led to this internal sentiment of I'm only cheating myself if I eat this and don't track it so it's not worth it.
I'm fueling my body in a way I didn't before and that gives me the energy and motivation to work out more often and try harder during each workout.
Since joining I have lost 11lbs and gone down 1 pant size!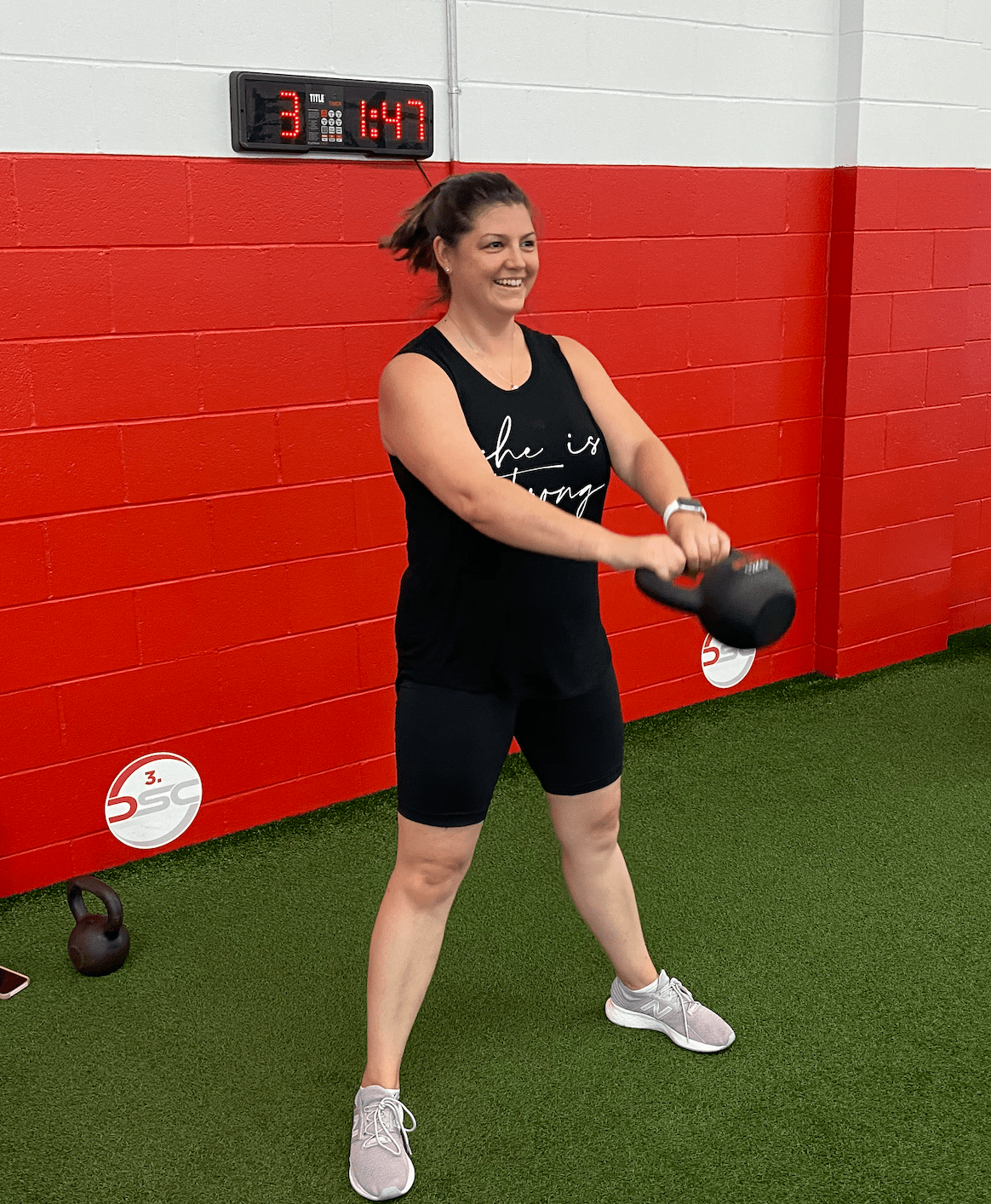 My muscle mass went from 58.6 to 61.1 and my body fat went from 42.2 to 37.5 all in just 8-weeks!
I've lost weight so of course that helps with confidence! But more importantly, I feel like I have so much more energy. That means a lot to me since I have 2 little girls that want me to run around and play with them! Improving my eating habits has also impacted how and when I work out.
I would say if you're thinking about joining DSC, just do it! You will not regret it. The gym alone is worth it for sure but combining the two programs (workouts + nutrition program) is just a recipe for success!
- Bri
Are you ready to look and feel your best?
Right now, you can try DSC FREE for 14-days!
Our 14-day FREE trial includes:
1. Unlimited coach-led classes (PERFECT for all levels)
2. Nutrition starter kit (meal plans, recipes, tips, and more!)
Click below to get started NOW! ⬇️