How April Transformed Her Health At The Age Of 60
Before I joined DSC, I didn't have any consistent workout routine. I have a large collection of workout DVDs that I used to do, which at least got me moving, but they didn't do much to build strength or improve my conditioning. I've also belonged to several different big box gyms over the years, but without any specific guidance, I'd usually just go and get on the bike or the treadmill for a bit. And since no one was holding me accountable, I'd often let myself off the hook with shorter workouts than I had planned.
I've had a lot of orthopedic issues in the past, another reason why it was hard for me to stick to an exercise program. When I joined DSC, I had just graduated from PT after rotator cuff surgery and was just about a year out from my second hip replacement. Needless to say, I felt physically fragile – clumsy and uncoordinated, like I didn't know where my body was in space anymore. I was also very nervous. It seemed like every time I had tried a new exercise regime, I would injure myself and I was really worried that would happen again.
My husband joined DSC a couple of years before me and loved it. His progress was undeniable, so although I had my doubts about whether I'd really be able to do it, some little spark of hope made me give it a try.
Initially, my goals were very small. I just wanted to get comfortable moving again, and hopefully to lose a little weight. I didn't really have any specific goals beyond that. To be honest, I don't think I believed I'd really stick to it.
To be honest, I was terrified to start. I was very nervous about coming in. I started with private coaching to continue my shoulder rehab and start to get comfortable with the gym. My initial sessions with Coach Chris were fantastic. He was patient, 100% non-judgmental, and highly focused on proper technique, which I really appreciated. To this day, I still remember specific form cues that Chris gave me back then, as I do the various exercises.
Even though I'd met all the coaches, I was still pretty nervous again when I moved into the Women's Group. DSC's coaches were tremendously supportive and encouraging (as well as downright hilarious). They made the workouts fun! And the women in the class were just so welcoming! I remember that everyone introduced themselves and checked to make sure I had a partner if we did paired workouts. I really appreciated that. Despite everyone going in different directions since the pandemic began, many of us have still kept in touch. Some true friendships were absolutely born there.
When the gym reopened after the pandemic shutdown, I made the jump to the coed classes. That was scary all over again, but if the online home workouts during the shutdown had taught me anything, it's that I could do more than I thought I could - and by then I trusted the process.
As always, the coaches were super supportive. Even with all the craziness that was going on when they reopened, they recognized that I was new to the coed class and were right there to help with exercises that were new to me – giving me modifications to help me get started and keeping me focused on my own individual progress, rather than what my neighbors were able to do.
Then it was time to improve my nutrition.
Joining the nutrition program was the second-best thing I ever did in my health and fitness journey (after joining DSC in the first place).
It taught me about macronutrients (carbs, fat, and protein) and how to focus on the ratio between them to properly fuel my body. The nutrition coaches designed customized plans for each one of us in the program based on our individual starting points, eating habits, and nutrition goals whether it was to lose weight, build muscle etc. And it worked. I lost 20 pounds during the 3-month program, truly without always feeling hungry and deprived like I did with other diet plans. More importantly, the program is sustainable. It's been 18 months now, and while I've shifted from trying to lose weight to "maintenance/strength building" mode, I still follow the plan.
As of today, I'm down 55lbs and 3 pant sizes!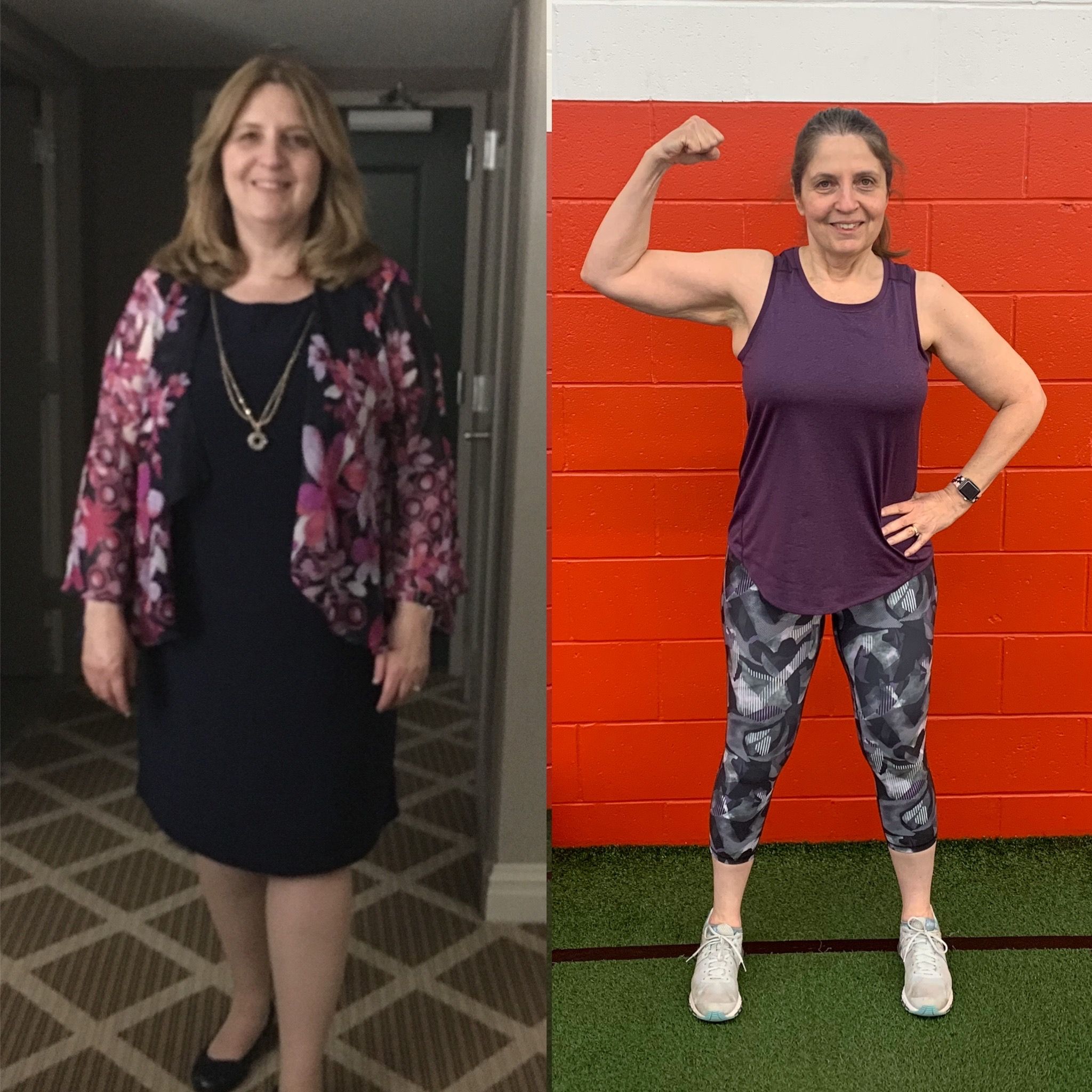 And I've been able to keep the weight off for 6 months without difficulty.
I have literally had to replace my entire wardrobe. And for the first time, I don't feel the need to keep any of my "fat clothes", just in case.
Because of the pandemic, months went by without me actually seeing many of my friends and extended family in person. One thing that's been interesting, is that when I do finally see people, they often don't just comment on my weight loss. They're saying that my "entire body composition has changed". And it's true. I'm leaner than I ever was before. And stronger. The scale only tells part of the story.
It's hard to pick just one thing that I like best about DSC.
I like that every workout includes a variety of exercises and that every day is different. It keeps me interested, while still always giving me a full body workout each time.
I like that the classes are fast-paced and I don't have a chance to think too much about what's coming next. There's no time for negative self-talk, so I don't end up talking myself out of trying. It's always go-time and I find that I just do it.
And I especially like the coaches, who literally know every member by name and support and encourage each of us based on where we are individually. They celebrate just as much when I move from a 10kg to a 12kg kettlebell, as they do for someone else who is doing much more.
If I think back to how I felt mentally and physically when I first joined DSC, it's like night and day compared to now.
After years of orthopedic challenges and multiple surgeries, I'd pretty much resigned myself to a life of chronic pain and limited activity. I felt clumsy and awkward, like I'd lost any semblance of graceful movement that I might have had when I was younger. Before I joined I would have said that I'm "not a gym person" and I simply could not understand people who talked about how good they felt after working out.
Today, I look forward to going to the gym. Sometimes I actually feel guilty if I skip a day, even though I know my body really needs the rest. (My friends often muse that I've been abducted by aliens and ask what I've done with April.) I feel stronger and more fit than I have in decades.
The most important thing I do to stay on track with my fitness goals, is to make working out part of my routine. Having to sign up for class on the app helps, because once I've made the commitment, I won't go back on it. My gym clothes are laid out the night before and my alarm is set so I have enough time to eat and stretch a little before heading to class. There isn't any room for second thoughts. It's simply what I do.
When I first started at DSC, I worked out twice a week and my primary goal was to build more endurance. Over time, I've increased to going four or five times a week. I'm not saying it's easy…. it often wipes me out… but I feel pretty good about the progress I've made toward that goal.
Now I want to focus on building strength. That means pushing myself a little bit to increase the weights I use (which also wipes me out). So, my current goal is to figure out what the right balance is for me between workout frequency and strength building. How many days can I go in a row before I need a break? And what combination of days and classes will work best for me as I work toward that goal?
It can be very scary to join a new gym. I think every one of us would have described ourselves as somewhere between anxious and terrified when we first walked in.
If you want to make a difference in your health and fitness, you couldn't make a better decision than to join DSC.
Of course, all the coaches are very knowledgeable about form and technique, but it's so much more than that. They care. It sounds kind of silly, but they really do and it makes such a tremendous difference!
Every one of the coaches can greet every member by name.
Think about that for a second. They each know every single one of us! And not just our names. They remember where we are in our fitness journeys. They know which members may need an elevated surface for some circuits and which exercises may be new to us if we've just moved from one class to another. They're also acutely aware of any injuries that people are dealing with, and have all the necessary modifications planned out in advance so there's no time lost during the workout. You don't get that kind of support in a box gym.
- April
Our 8-Week Summer Ready Nutrition Program starts April 26th!
[Register before April 5th and SAVE 10%!]
It's time to eat great and lose weight -- just in time for summer!
Our nutrition program includes:
1. Customized nutrition plan and coaching (learn exactly how to eat to reach your goals)
2. Unlimited workouts (at DSC or online)
3. Fat-loss meal plans and recipes
4. Support and RESULTS!
Click below to register! ⬇️