How April Lost 49lbs at DSC!
I've never been athletic. I didn't play any sports in school. I've never run a 5K. And I've never been one to go for a hike on a Saturday afternoon.
It's just not my thing. I'm more of a "curl up with a good book" kind of girl. So, if improving my athletic performance wasn't one of my goals, why join a strength and conditioning gym?
I wanted to lose weight and get in better physical shape before I retired. Sure, I had a few years to go, but I figured it was going to take some time for me to get where I wanted to be, so I'd better get started. But how? I'd tried a lot of things in the past but none of the box gyms, workout DVDs, or weight loss programs had done the trick for me.
Clearly, it was time to try something different.
I chose DSC because I knew that it worked. I'd watched first my step-daughter and then my husband, grow fit and strong attending classes there. So in the summer of 2018, I took a chance and signed up myself, though if I'm being honest, I have to admit I still had my doubts.
I have a somewhat "difficult" orthopedic history. It's one reason why I was never able to stick to an exercise program before. Two knee surgeries, two hip replacements, and a rotator cuff surgery to name a few. I'd heard that the coaches at DSC were adept at modifying workouts when people have injuries, but that didn't mean I wasn't scared. After all, it seemed like every time I joined a gym and started working out, I always hurt myself again.
Now if you read the testimonials from other members, you'll see that just about everyone says they were extremely nervous walking in the first day. So was I. Most of them go on to say that they immediately felt at home and were "hooked" after the first week. That's where I was different. It took me a little longer.
Don't get me wrong… everyone was super nice! And the coaches were (are!) incredibly supportive and helpful. (And patient, God bless them…) I think I was just so worried that I wouldn't be able to do it, or worse, that I'd injure myself again, that it took me a while to trust the process.
I started with private coaching since I literally had just been discharged from PT after my shoulder surgery. The coaches were really good about meeting me where I was, and I learned a lot about form and technique in those sessions that I still carry with me to this day.
After a few months (and a lot of encouragement), Matt and Renee convinced me to transition out of private coaching and give the Women's Group a try. There I found an incredible group of ladies who welcomed me, encouraged me, inspired me, and who have now become true friends, not just "gym buddies".
I started looking forward to going, partly for our pre-workout gab sessions, but also for the workouts. In fact, I don't know exactly when it happened, but at some point, I stopped being afraid. I realized that I'd finally crossed over to "hooked" when I told a long-time friend that I was disappointed I didn't get to go to the gym one day and she responded with "who are you??!!".
I used to say that I planned to take my fitness journey in four stages. Hey, it sounded good and it gave me an excuse to take things slowly. But as it turns out, it had a good bit of truth to it.
Stage 1 was to build confidence. I needed to believe that even with all my aches, pains, and former injuries, this was something I could actually do. That the coaches were experienced in dealing with people who had histories like mine, and that I could trust them to guide me on my path to fitness.
Stage 2 was to build endurance. When I started at DSC, I was going twice a week and I was so tired after the workouts that I would literally fall asleep in my chair midway through the afternoon on gym days. (Okay, I still have the "nap attacks" sometimes, but that's another story.) I knew I'd need to increase my stamina if I was going to achieve my goals, so it became part of the plan.
Stage 3 was to build strength. I figured that once I had a little endurance, I could focus on building some muscle. Made sense, right? And it was easy to include in the master plan because it was way too far in the future to be actionable. Just something to think about later.
Stage 4 was to join the Nutrition Program. When all of the above was done, then I would tackle my diet. I imagined shedding the extra pounds and magically revealing the sleek physique and bulging muscles hidden underneath. LOL!
Okay, so I didn't really believe that would happen. The truth is that I was putting off addressing the nutrition part of the equation because I truly love bread and pasta (and ice cream and basically all carbs), and I didn't want to give any of that up. I guess part of me never really thought I'd make it to stage 4 anyways, which meant I wouldn't have to worry about it.
But somehow, I did! My injury history had forced me to focus on my form when I first started out, and because I had that foundation, my confidence quickly grew. My endurance increased as well and in May 2019, I added a third class to the rotation - a metabolic conditioning class to supplement my twice-a-week strength workouts.
Soon I stopped falling asleep every afternoon. I started to feel stronger, which in turn made me more motivated. With the support and encouragement of my Women's Group workout buddies, I started increasing my weights. And suddenly, there I was, standing at the precipice of Stage 4. Gulp! It was time to either deal with my diet or resign myself to a lifetime of "almost there".
So, in September 2019, I took the leap. I joined the Nutrition Program at DSC. And that's when everything changed.
Without going into a lot of detail, I'll just say that I'm a very picky eater. (The people who know me best are chuckling as they read this because that has got to be the understatement of the century.) Before I signed up for the program, I emailed the nutrition coaches a (long) list of all the things I would not eat and asked them if they truly thought they could help me given these limitations. I mean, I'd been down this road before. I'd lost weight, but I was always hungry. Always feeling deprived. And you can only maintain that for so long before you go back to your old habits.
I didn't want to waste my time or money if the program was going to require that I do things that I simply wasn't going to do. After all, this was called a "nutrition program", not a diet, and my "acceptable food list" is very limited.
But DSC's Nutrition Program doesn't focus on specific foods that you have to eat. There are guidelines, of course, but the focus is on the ratio of each macronutrient (carbs, fat, and protein) that you need to eat each day to fuel your body. The nutrition coaches designed customized plans for each individual in the program based on their starting point, eating habits, and nutrition goals whether it was to lose weight, build muscle or even gain weight.
And it worked! During the 3-month program, I lost 20 pounds.
More importantly, I learned how and what to eat (within my limited repertoire) to meet my goals without constantly feeling hungry. Seriously, I didn't think that was possible. But by changing the mix of macros (more fat and protein, and yes, sadly, fewer of my beloved carbs), I consistently lost weight without feeling deprived. And the program is sustainable. I continued to follow the plan after the 3-month program ended.
I have now lost a total of 49lbs!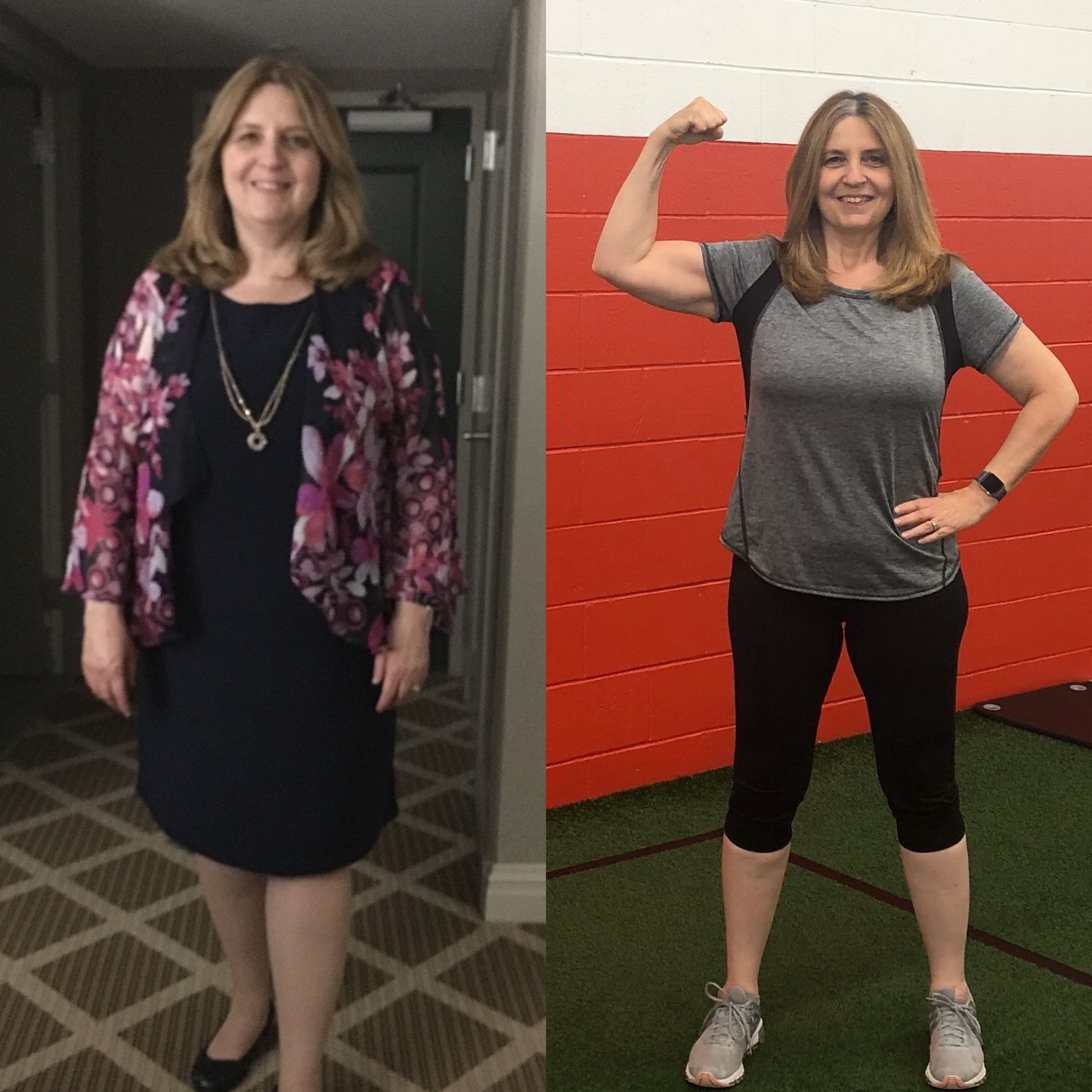 I've been going to DSC now for about two years. Around the beginning of this year, I started thinking seriously about moving from the Women's Group to the Coed classes. The problem was that I didn't want to leave my peeps. They'd become more than just people at the gym to me. They are my support system, my cheerleaders, my accountability partners, and friends. I began trying to persuade them to make the jump with me and thought maybe I was making some headway when COVID-19 hit and the gym was shut down.
That was tough. The change in routine when I had just started to get into the groove, the uncertainty of … well, everything! It definitely threw me. But somehow, Matt and the amazing coaches at DSC managed to seamlessly shift to twice-a-day, live online workouts, and they were great! One coach led while two others did the entire workout right along with us – one demonstrating the advanced version of each exercise and the other showing a variety of modifications so that each workout was truly accessible to everyone.
Suddenly I was working out at home three or four times a week and you know what I discovered? I could do a lot more than I thought I could. Sure, I still modified a lot of things, but I actually could hang with the "advanced" version on more of the exercises than I expected. It was really eye-opening. Maybe the coed class was within my grasp after all.
Fast forward to today. DSC has reopened and we've made the transition to yet another "new normal". Class sizes are limited to ensure proper social distancing and new processes have been put in place to keep everyone as safe as possible. But the coaches, who are the heart and soul of DSC, continue to keep it fun as they lead us through a different workout every day.
With everyone making decisions about when to return to the gym based on their own personal situations, I'm usually not in class with my old workout buddies anymore. But we still stay in touch, encouraging each other over phone, text, and Facebook. And I often see new friends that I made during quarantine when we were all supporting each other online. Why? Because that's what the DSC family does.
If you're looking for a gym:
… where all the coaches know you by name
… where you'll learn proper technique
… where they'll modify any exercise on the fly if what they planned doesn't work for you that day
… where a coach will notice if you have a support brace on and ask you what's up
… or will remember that you had an injury the last time you were in and ask you how it's doing
If you're looking for a gym that you'll actually want to go to every time you're signed up (and believe me, I never thought I'd say that) then DSC is for you!
Go. Sign up. Try not to be afraid (but know that it's okay if you are because they'll have your back).
- April
Ready to get your transformation started?
Join DSC before 7/31 and your first month is FREE!
We have both in-person and online workout options to fit your needs!
Click below to get started! ⬇️