How Amber Lost 70LBS With Her New Year's Resolution
Before DSC I would join a standard gym go for a couple months and then just stop going.
I didn't really know what I was doing so I'd just hop on different machines and leave after an hour.
I had no motivation to push myself to workout alone and got bored of the same old machines over and over again. Needless to say I never made any true progress from my lack of knowledge.
When I joined DSC my main goal was to get into a consistent workout routine and lose the extra weight I gained. Along with losing the weight, I wanted to learn how to properly gain muscle.
One of my biggest fears when I first joined was if I'd be able to keep up. I knew I was out of shape and it had been a year since I stepped foot into a gym. I also feared that I wouldn't fit in, which was due to my lack of self confidence.
Thankfully after joining those worries quickly went away!
Before joining I wasn't in a good place physically. The number on the scale terrified me, I knew I had hit rock bottom and needed to take control. I made a New Years resolution for 2018 to start focusing on myself and gain confidence while getting my life back together. Which is what lead me to joining DSC...the BEST decision ever!
Walking in for my first class was nerve-racking. My worry eased up after meeting Coach Matt and Renee, they were so friendly and welcoming! Despite my fears my first class went great, it was a challenge but in a good way that I needed.
It comforted me that both coaches kept checking in on me throughout the workout! After trying out my first class I signed up that night, I felt comfortable and knew I'd be in good hands at DSC!
I have nothing but amazing things to say about every coach at DSC. I love how they are all focused on every individual and are right there to help us when needed. I fully appreciate that they give us that extra push to up our weights; I know I for one need that extra push out of my comfort zone.
When the gym temporarily shut down due to covid and quarantine I loved how they all went above and beyond right away to provide us with daily workouts at home. I never would have experienced that at previous gyms, and they made it entertaining to say the least! Even now with the new health guidelines DSC has gone above and beyond again keeping it super clean and safe for their members.
Since joining DSC I'm now officially down 70 pounds!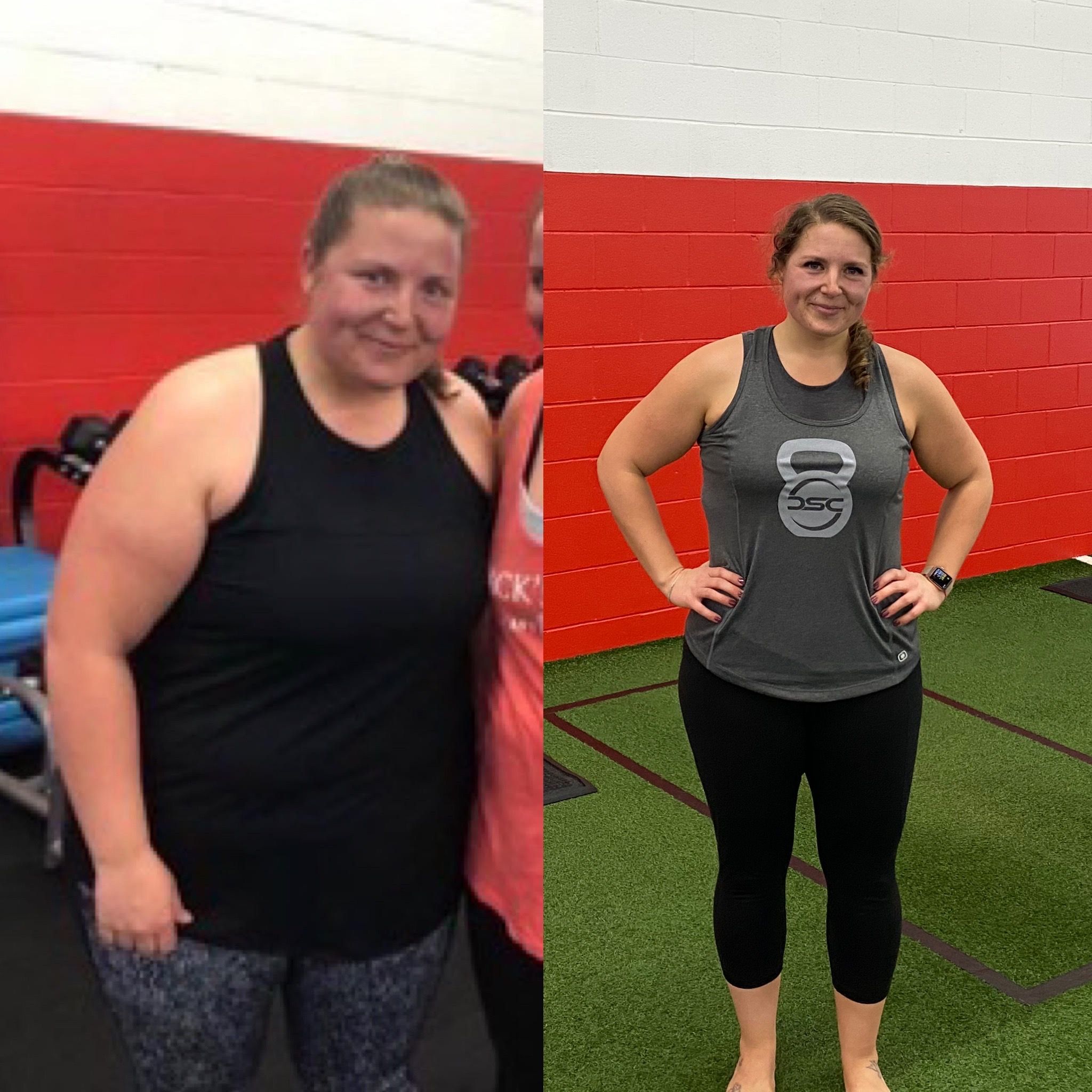 At the end of 2019 I had lost 50 pounds but I hit a road block, so I joined the nutrition program in January 2020. That was eye opening and helped me stay on track throughout the shut down and lose another 20 pounds in 2020. I've dropped down another 2 sizes and had to buy a whole new wardrobe. I actually have more energy now I don't feel all sluggish, and I've felt my strength improve a lot.
I love all the positive energy you find when you walk into DSC!
It really does feel like a community here. Every day brings something new and we all encourage each other to push to new limits. I've made a lot of great friends at DSC, it truly is one of the highlights of my day coming in for a workout.
Never would I have thought I'd actually enjoy coming to workout daily. I love that the workouts are always challenging to your own level.
Over the past 3 years at DSC I've been able to take back control of my life and gain back my self confidence. Throughout my journey I've gained helpful knowledge on how to properly fuel my body.
I feel more fit now than I ever have and I'm happy to continue on with this healthy lifestyle.
Honestly what keeps me coming back is the whole community here at DSC. The coaches are all amazing, they make the workouts enjoyable and bring humor through out the class. The DSC family page alone shows you all of the amazing support the community as a whole has for each other.
My best advice to someone considering is to definitely give it a try, you won't regret it. It is not as intimidating as it looks. You have the comfort to go at your own pace with amazing coaches by your side and a community of members for support as well!
- Amber