How Ally Lost 16 Pounds In Quarantine!
The first time I walked into the 6:30PM class at DSC I was pretty intimidated by the workouts. My friend had invited me to a couple of Thanksgiving workouts before but I didn't make the jump to join.
At that point, I never really made exercise a priority and wasn't sure where to begin. Before I joined, I didn't like how tired and weak I felt at only 21! I tried going to a couple other gyms and really didn't know what I was doing so it left me feeling bad about myself and really unmotivated. I feel like that has completely turned around for me!
All of the members and the coaches at DSC are so welcoming and helpful! The coaches all took their time to walk me through each exercise and made sure I was comfortable with what I was doing. They also pushed me during the workouts and really motivated me to work harder! My first goal was to be able to do pushups not off a bench (I had trouble doing 1!). I look back at that now and see how much stronger I am!
When DSC closed I was devastated! I was really worried I would lose all the progress I had made. I thought I wouldn't want to work out at home and I would be back at square one. I would have never thought I would be where I am now.
I was worried at first the shift to online would be hard. I was nervous that my schedule didn't line up with the workouts and I was worried I would do an exercise wrong and hurt myself.
DSC made it so easy! I do the workout videos still at my usual 6:30PM time and the recorded workouts allow you to do them at whatever time works for you. I really enjoy the online workouts! I like that the advanced and beginner versions of each exercise are shown by the coaches so I can switch it up if I need to. The coaches also give you so many exercise options on how to do a certain exercise and how to modify the exercise if needed so it works for you.
My DSC experience online has been awesome. The workouts have been challenging and fun! I really enjoy the coaches doing the workouts with me. The coaches and the DSC Community page has really kept me motivated. Seeing everybody work so hard at home motivates me to work hard, too! I look forward to doing the videos at home and checking off my DSC Challenge calendar each day.
Most importantly my nutrition has changed drastically since going online. The nutrition calendars have been really been keeping me accountable. The nutrition program has taught be so much about how to build balanced meals and snacks and all about portion sizes! I learned so much about how to make healthier choices! I love to cook so the meal plans have also been really helpful!
Since going online I have lost 16 pounds!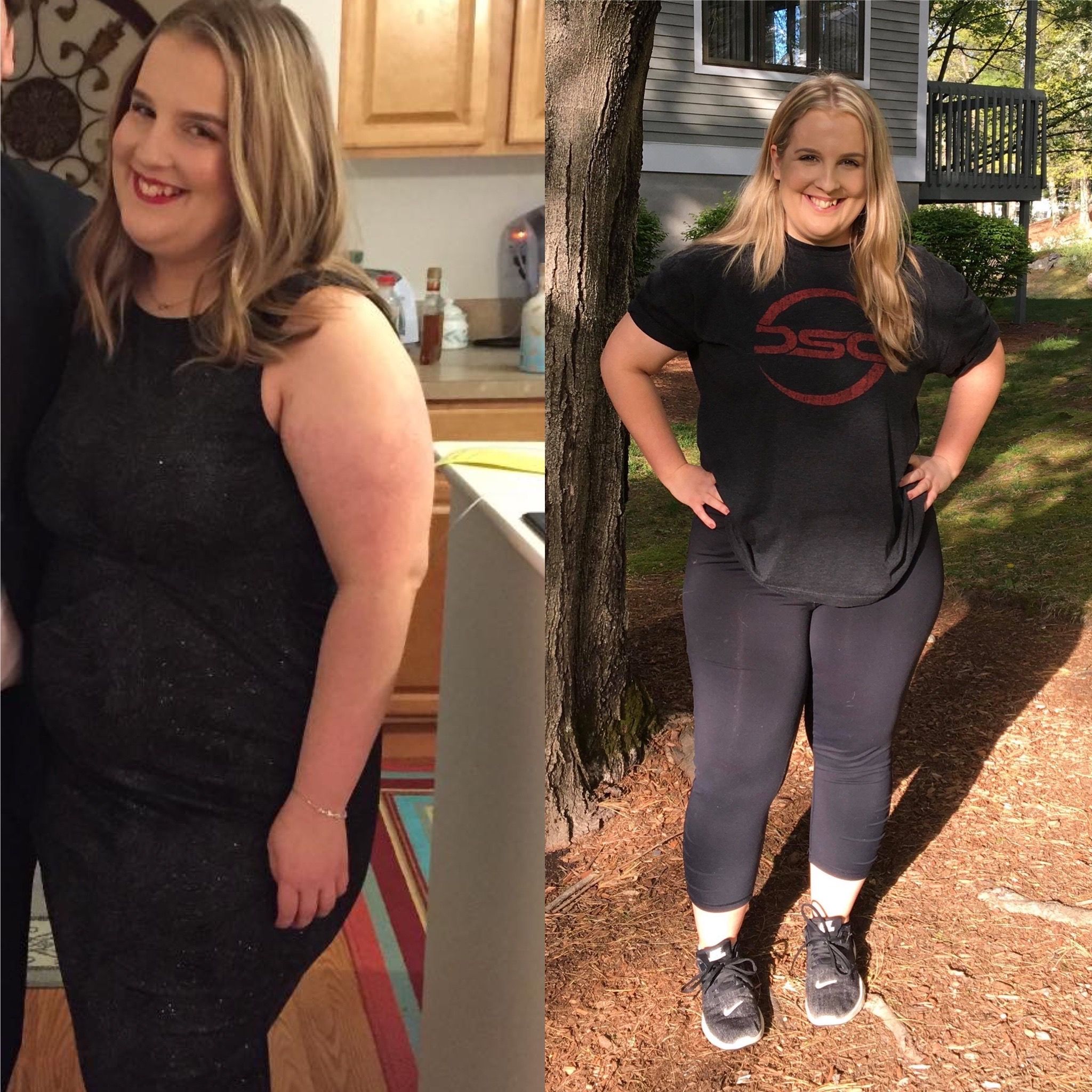 I moved up my weights during the workouts and can do most of the advanced exercises now! I also picked up other fitness habits like biking and yoga in my time at home.
I feel stronger and healthier than I ever have before!
The nutrition program has had the biggest impact on my results from home. MyFitnessPal has been a great resource. It's so easy to use and I can really see what my eating habits are. The calendar has also been great! Seeing it on my fridge every day reminds me of all the hard work I have put in!
My advice for those thinking of joining is to do it! Once you take that first step you won't look back. I've tried a couple of other gyms before DSC. The community here is like no other out there.
I think to be successful you have to give yourself some wiggle room. There are days where I don't get my fitness check or days when I eat a burger and fries for dinner and that's okay! I remind myself that it's all about moderation and I am making a lifestyle change, not dieting!
- Ally
Are you ready for some at-home motivation?
Are you ready to look and feel your best this summer?
Our 6-Week Online Summer Ready Challenge starts May 25th!
Only 30 spots available. Click below to reserve your spot! ⬇️