How Alli Got Her Confidence Back at DSC
Before joining DSC, I did not have much of a routine.
I had gym memberships to various gyms like Orange Theory and Planet Fitness, but could not bring myself to continually go to either.
Physically and mentally I was exhausted. I would go to these gyms for one day, become sore, and then take the next day off. Those gyms provided no accountability.
Early on in the pandemic I could feel myself gaining weight and becoming very uncomfortable in my own body. So I would try and try to go to the gym, get up before work, or go after and nothing seemed to stick.
Then I heard about DSC through co-workers, and knew I had to give it a try!
I instantly knew that DSC was the place for me!
I joined DSC hoping that I would be able to stick with it and hold myself accountable for an hour a day. Just one hour a few times a week. And instantly I knew that I had found the perfect gym for me.
My goals, as silly as it sounds, were to be that strong looking girl while losing some unwanted areas of fat, and proving to myself that I can do this!
During my first class I remember Coach Renee being my 1 on 1 coach and telling me that "I fit right in," and everything from the moment I walked in was different than any other gym I have ever been to. The coaches are one of a kind. Everyone is so motivated to help you reach your goals and push you along the way. So many times I have been told, "one more rep" or "go get something heavier." And it's great to have that extra push, because at the end of the work out I can say I didn't know I could do that.
Even though I was seeing some awesome changes in my body I was really excited to also join DSC's Nutrition Coaching Program.
At first, I was thinking...great, all summer I can't eat anything good. And now, I can't believe the progress I feel like I am making! I have always struggled with my weight and healthy foods to eat.
Bottom line, I am super picky! However, DSC's Nutrition Coach Ashley broke this down step by step.
It's crazy knowing what I know now and how much I used to eat in a day. Or how much I'd eat in one meal/sitting at a restaurant.
The most helpful thing I can say for the Nutrition Coaching Program is seeing these numbers. I think what is most helpful is that someone is checking in on you and meeting with you weekly about the strengths and weaknesses of that week.
On other diet plans I have never sat down with a nutrition coach and talked about anything before. So sitting down, seeing my numbers on the InBody scan, and finding an appreciation for different foods/seasonings throughout the process not only has broadened my horizons but made me excited about eating and not feeling guilty about it.
My confidence since joining DSC has skyrocketed! I love that all of my clothes are fitting a lot better or some are loose. I had these "goal dresses" for years hoping one day I'd be able to wear them out somewhere.
My energy has increased and working out has become part of the daily routine. I get upset when I can't make it for class one day, and going to DSC has become my outlet. It is essentially that thing that I do just for me! When I first joined DSC I couldn't do a push up, and now I can!!
Since joining DSC and the nutrition coaching program I have lost 16 pounds and noticed such a change in my confidence, my appearance, and my workouts.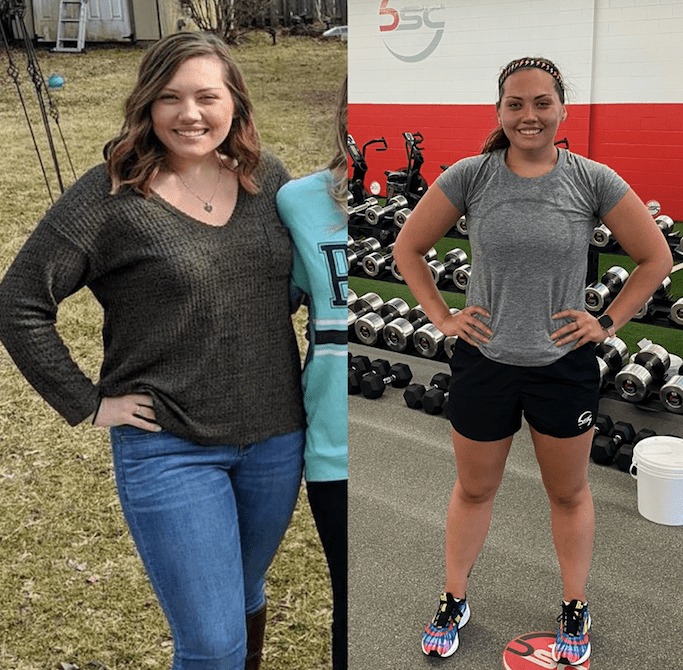 If anyone is questioning if they should join DSC, they should not question it! Join!
Regardless of your fitness level you will succeed!
Ready to get started?
Join DSC during the month of August and your first month is FREE!
Click below to get started today! ⬇️