How Al Went from a Doctor Scare to the Best Shape of His Life!
My typical workout was going to the gym once a week and lifting some weights, or running a bit on the treadmill.
I have always struggled with consistency and commitment to my fitness.
I had joined a crossfit gym near my office thinking the convenience of it would make me to go more often. Unfortunately, I ended up with a shoulder injury due to my lack of knowledge and coaching.
I found out about DSC from my wife, Hester.
She was looking for a new gym and came across Dynamic Strength and Conditioning (DSC), which had great reviews.
From day one she told me I should give it a try. I was reluctant because of the distance from my office and not really understanding what DSC was all about.
My fitness goals when joining DSC were to become healthier, shed some weight, and be part of an amazing community of like minded people (and of course to try to keep up with my wife)!
I certainly had some anxiety about DSC, I wanted to be able to fit in and to be able to perform all the exercises without looking like a dope.
I quickly found out there are no issues with egos at this gym, everyone is very humble and willing to help.
If you have ever been to a mixer, weird Wednesday or a themed workout, you will definitely see what I mean.
I was nervous going into my first class, not fulling know what to expect.
I was so out of shape, during the warm up I was completely winded and my legs were on fire. I thought to myself "what have I got myself into."
During that class, all the coaches were aware it was my first time and were very attentive.
They made sure I was thinking about my form and learning how to perform the exercises correctly, unlike my previous experience at another gym were I ended up getting injured, my anxieties and fears quickly went away and I felt like I was part of something amazing.
The training and coaching at DSC is like no other gym I have experienced!
The workouts are always challenging no matter what level you perform at. Afterwards you always feel like you have had a fantastic workout. The coaches are always there to guide you through, they make sure everyone has good form, and make sure you are not doing anything to injure yourself.
I feel the entire staff has a great way with encouragement and support.
The coaches have great senses of humor and make you feel like part of their family.
Sometimes when I'm busy at work or having a hard day, I may not feel like working out. I might have to force myself a little to get there on some occasions.
But, once I'm at the gym I never regret coming.
When these days happen my wife Hester and I always say, "We have NEVER left DSC and said I wish I didn't come today".
The stressors of the day seem to melt away when I walk in the door.
Before coming to DSC I had been to the doctor for a routine physical.
My doctor told me my weight was up considerably and my blood pressure numbers were in the danger zone.
After receiving my blood work back, he found my cholesterol was also in dangerous territory.
I was told that he was going to have to put me on multiple medications to help regulate this.
I was given 6 months to get better on my own after telling him I didn't want meds.
At that point I became a bit nervous about how I was going to handle this.
My next visit to the Dr. 6 months after joining DSC I was given a clean bill of health.
My blood pressure was normal and my cholesterol had dropped considerably, and I had lost a bunch of weight.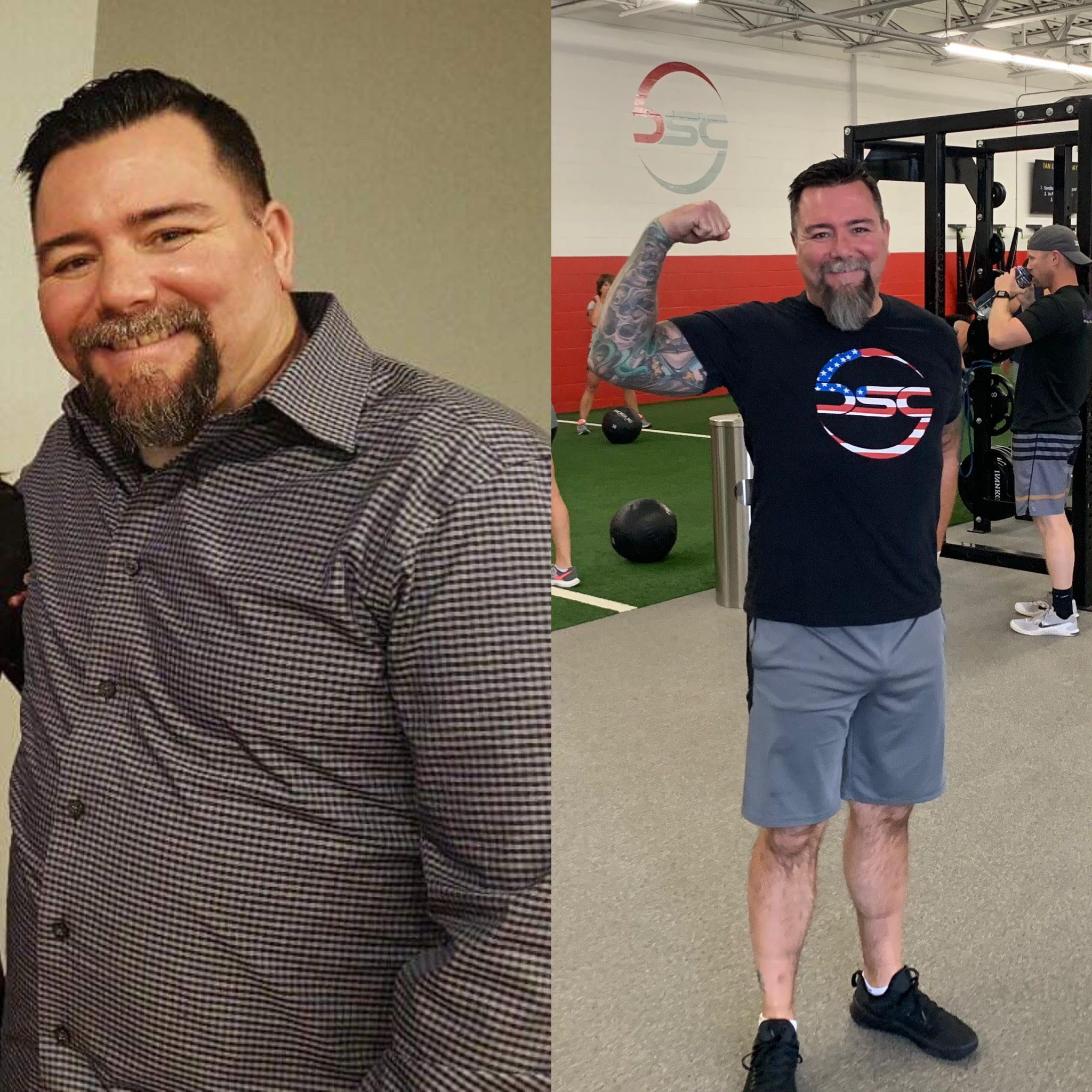 To date I have lost 20lbs, and have so much more energy!
Not to mention I don't snore anymore (happy wife, happy life!)
My favorite part of DSC workouts are that they are predetermined.
Trying to workout on my own proved to be impossible.
I would come up with a routine and get bored of it in a couple days causing me not to go.
I love being able to go to the gym and not have to put too much thought in to what I am going to do. Its already set up and all I have to do is show up and work!
The staff has done a fantastic job of making you feel like you are part of a team whether it's your first day or you have been there for a year.
DSC FAMILY = true statement!

Advice to anyone thinking of trying out DSC, just give it a shot!
Speak to members and the coaches and you will soon find out it is truly like a family, you will not be disappointed!
- Al