From not working out in years to 25lbs down!
My workouts had been non-existent for several years.
I had always been someone who was sporadic with my gym routines.
I would go regularly for a few months but then would take a few weeks off and have to eventually start over. This cycle of events happened pretty regularly.
As I got older and life got more complicated with work and family though, the few weeks off turned into month-long breaks and then eventually into years off from the gym.
I heard about DSC from the friends and co-workers I knew who attended and spoke highly about the fun and intensity of the workouts and the results they achieved.
I was ready to kick myself in the ass and spring board into better habits.
I felt like I had fallen into a rut of making excuses as to why I didn't have time to workout.
The biggest issue I had was that I often felt guilty about taking time out of my already busy schedule for myself to spend time at the gym.
I realized at some point though, I was instilling a lack of priority on fitness with my kids. As a father, I was doing a disservice to them by not setting a foundation of fitness in their lives by my poor example.
I felt really good knowing I was finally getting to what I said I would do, after putting it off for so long.
My first class went well but I felt totally exhausted at the end.
This quickly led to the realization that my overall fitness had dipped more than I had actually thought.
I had always been a person who if I just pushed myself, I could will myself through the discomfort. My mental toughness could typically override any lack of ability.
I however realized that this was no longer the case and my threshold of failure was lower than I cared to admit.
I can say with all sincerity that regardless of your fitness level or familiarity with the style of gym that Dynamic is or your own personal level of social interaction, the staff seems to connect and reach everyone at their individual level.
As a collective group, the staff engages members in ways that seem responsive to each individual and his/her own needs, ie encouragement, allowing independence or thoughtfully placed challenges to encourage gains.
I think the staff is exceptional in delivering the product they intend.
Since joining DSC I have lost 25lbs!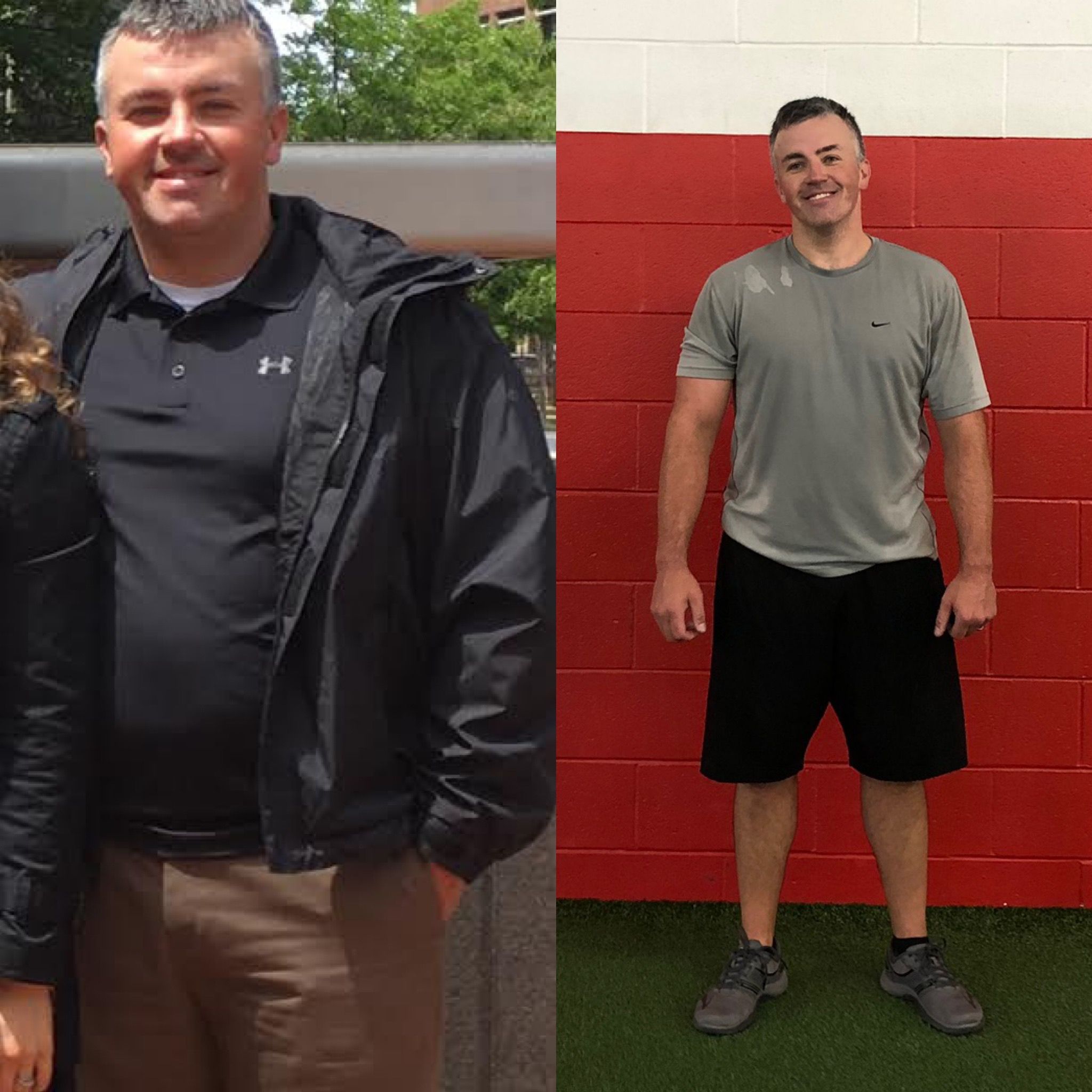 I've noticed that my clothes feel baggy and my overall strength has significantly improved.
My sleep has drastically improved since joining as well, which has been of poor quality the majority of my adult life.
I have also noted that while at other points in my adult life I have just lost weight in an effort to get in better shape, this time I have felt my body actually being slowing reshaped.
Strength and wellness are at the center, not simply a number on a scale.
I would say that my favorite part of DSC and my favorite part of the workouts would be the same thing. I find the gym comfortable but challenging.
I have found the circuits incorporate a lot of the same fundamental exercises/movements but they're done in different ways that keep the programs interesting and challenging.
I have additionally found the programs are well balanced and promote core strength over singular muscle groups. I also believe the stretching routines they incorporate pre and post-workout are essential to longevity and staying on track.
I would tell anyone thinking of joining to give it a shot and you won't be disappointed. After being a member for approximately a year I would sum up DSC in this way:
Like any business, they need to deliver a product or service. While it would be expected to say that they deliver a fitness membership, I believe their actual business model is more about delivering an individual's wellness.
This is evident in the culture they cultivate among staff and members.
Each staff member seems to care about every gym members' goals, health, wellness and successes, both big and small.
- Tim