From Intimidated to the BEST Shape of My Life at Age 61!
I'm 61 so I've tried a lot of classes over the years (jazzercise, step aerobics, recess, big box gyms and even tap dancing), mostly for heart health due to family history, but it had been years since I did anything organized.
I got bored pretty quickly.
I drove by DSC 2-3 times a week and in the summer of 2015 the sign out front was about a new Women's Only Class starting in the fall.
I emailed Matt and he almost immediately wrote back explaining the program and welcoming me to attend that week!
Whoa, now I was committed.
Every summer I waterski at least once, just to say I can still do it.
That summer though, my upper body strength was so poor, I couldn't lift myself up on the skis.
I felt old and out of shape and figured my skiing days were over.
My goal was to see if I could improve my upper body strength, as well as get some heart healthy activity.
I am not a social person. In fact, I'd say I have social anxiety.
So besides the fear of not being able to do the exercises, fear of getting hurt, and fear of looking stupid, I had the fear of having to talk to strangers.
I was extremely nervous before my first Women's Group Class!
I think I was actually shaking a little.
I had signed up earlier in the week and met Matt. I was more than a little surprised when I went to that first class and Matt welcomed me by name!
That's just one of the many aspects I love at DSC.
There are hundreds of members, and the coaches know all their names!
After that first class with DSC's Women's Group Director Renee, I was hooked.
It was a small class back then, and I think we did sleds at the end and everyone was cheering each other on. Renee was so welcoming and the coaches made sure my form was corrected as necessary.
I'm a stickler for correct form. I'd rather do an exercise with no weights and proper form than try to lift as heavy as I can.
The coaches are super helpful with proper techniques.
They make sure to have a coach at each station to make sure you are doing the exercise properly, and with as much weight as THEY think you can handle (which is usually more than YOU thought you could handle but somehow they are always right.)
Ironically, I became so comfortable in the Women's Group that I stayed for 15 months.
I was afraid to move to the Adult Group even though most of my new Women's Group friends had already made the jump.
When I finally did move to the Adult Group, I changed my membership from 2 days to unlimited for the flexibility. The first few weeks were hard.
So many new exercises. So many more people.
Two years later, I'm still here 3-4 days a week and loving it!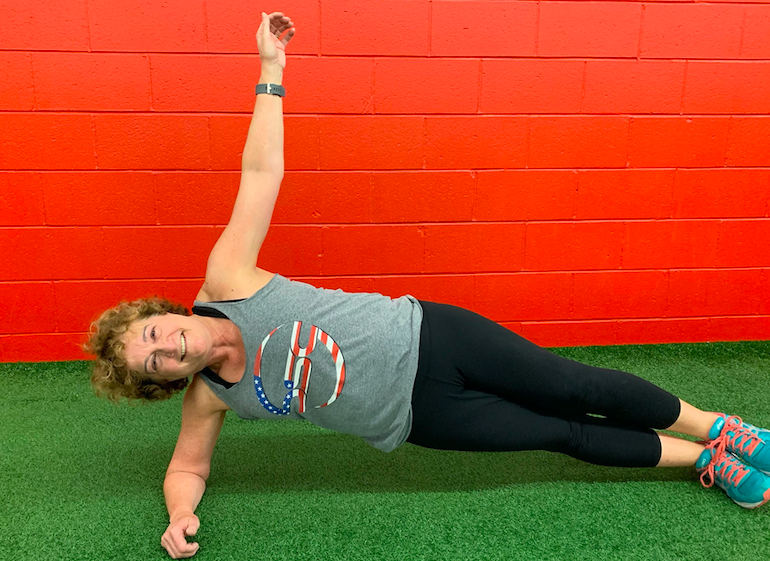 I'm stronger than I have ever been.
I am also more confident in what I can do both in and out of the gym. 40 lb. bag of pellets to bring inside? No problem.
My clothes fit better and I no longer hate sleeveless tops!
But I have to share the rest of the story, as Paul Harvey used to say (I said I was old!)
Almost 2 years ago I started having pain in my left knee that was preventing me from working out.
Getting up from my desk was painful. I actually cried walking through an airport in May of 2017.
I went to the orthopedist and over the next year had 3 cortisone shots, 2 gel shots and was prescribed an unloader brace to wear for what turned out to be osteoarthritis.
I had a pre-knee replacement appointment and was ready to make the commitment, but Matt suggested I see Jamie Morse at Altitude Physical Therapy at DSC first.
Jamie wanted me to try strengthening the muscles around the knee before going the surgery route.
She suggested I meet with the coaches for private sessions that would really focus on movements needed to work those specific muscles. Coach Luke and the team devised a plan and I added once a week sessions to the mix for 3 months.
I am happy, amazed, incredulous to say that 9 months later I have zero pain/discomfort in my left knee 95% of the time.
I continue to modify when necessary, and the coaches are always there to point out what to do to keep up the knee work.
I'm still stiff in the morning, stairs can be challenging if I'm carrying groceries, and if I do too much jumping it's a little sore the next day. I find myself testing the knee on harder exercises and so far so good.
I am so confident in my knee that I've planned an 11 day "physically active" tour of France for this Spring. Oh, and I waterskied like a champ the end of last summer!
Everyone says the coaches are their favorite part of DSC because it's true!
I love getting a great workout without having to think about what exercise to do next.
The routines change every three weeks so we never get bored. I have also met some fabulous, hard working women (and men) and we have a lot of laughs together in class. Shout out to the Mod Squad!
It took a lot for me to take that first step. But now I can truly say it's the best thing I've done for me, probably ever.
I saw this quote that resonates with me and my experience at DSC – "Your body can stand almost anything, it's your mind that you have to convince".
- Bonnie