From Intimidated to Inspiring (Todd's Story)
Before joining DSC, I wasn't very active.
Since the pandemic when my favorite workout of playing organized basketball disappeared, I just did some occasional walking. When I did try and go to the gym, I tried working out with friends who were at a higher fitness level than I was. This caused frustration as I rarely saw the results they got and did not have a defined routine that worked for me.
Prior to joining DSC, I was unmotivated and didn't feel good mentally or physically. I knew I needed to make a change and try something new. I had tried various exercise programs before but I lacked consistency and usually gave up after a few weeks of not seeing the results I wanted.
My goals in joining DSC were primarily to lose weight to manage my diabetes. I also wanted to finally get into a consistent workout routine where I would see results and be motivated to continue.
The only hesitation I had about joining DSC was that I was so out of shape. I was self-conscious of how people would view me and my ability to keep up with everyone else. I was excited to start but secretly a little nervous.
My first class was awesome! Right from the get go of being welcomed to my first class, to all the awesome trainers helping make sure I was set up for success with the exercises. Right away I could see myself doing this long term and that with DSC's help, my goals were not insurmountable.
DSC is the perfect blend of personal training and a group class.
The workouts are always evolving, they are fun and challenging. I love that all I need to do is show up and be ready to work. The coaches here rock! All of the coaches actually know who I am. They are high energy and fun and I like how they motivate me to push myself as well as check in to show me the proper form or help with a modification whenever needed.
There is no comparison to any workouts I have tried previously!
I also joined the DSC Nutrition Program because I needed a serious lifestyle change. I was overweight with diabetes and unmotivated to change my situation. Then my friends, who are DSC members, encouraged/challenged my wife and I to try the program. This program helped us with changing our eating habits to sustain a healthier lifestyle.
The most important concept I was taught was that the scale is not the only success factor. How your clothes fit, how strong you feel and changes to your energy level all are great signs of success.
The combination of the workouts and the nutrition plan helped me the most. I liked having access to the meal plans to use as a guide. Nutrition Coach Ashley was a great resource to guide me, help me to be accountable and not beat myself up if I deviated from the plan. When I saw results from the workouts, I wanted to double down on my nutrition. This cycle has had an effect on how my wife and I plan our family meals and what foods we decide to keep in the house.
I've always been a big guy at 6' 5" but my weight, 320 when I started, has always been a struggle.
Since joining DSC, I have lost 28LBS!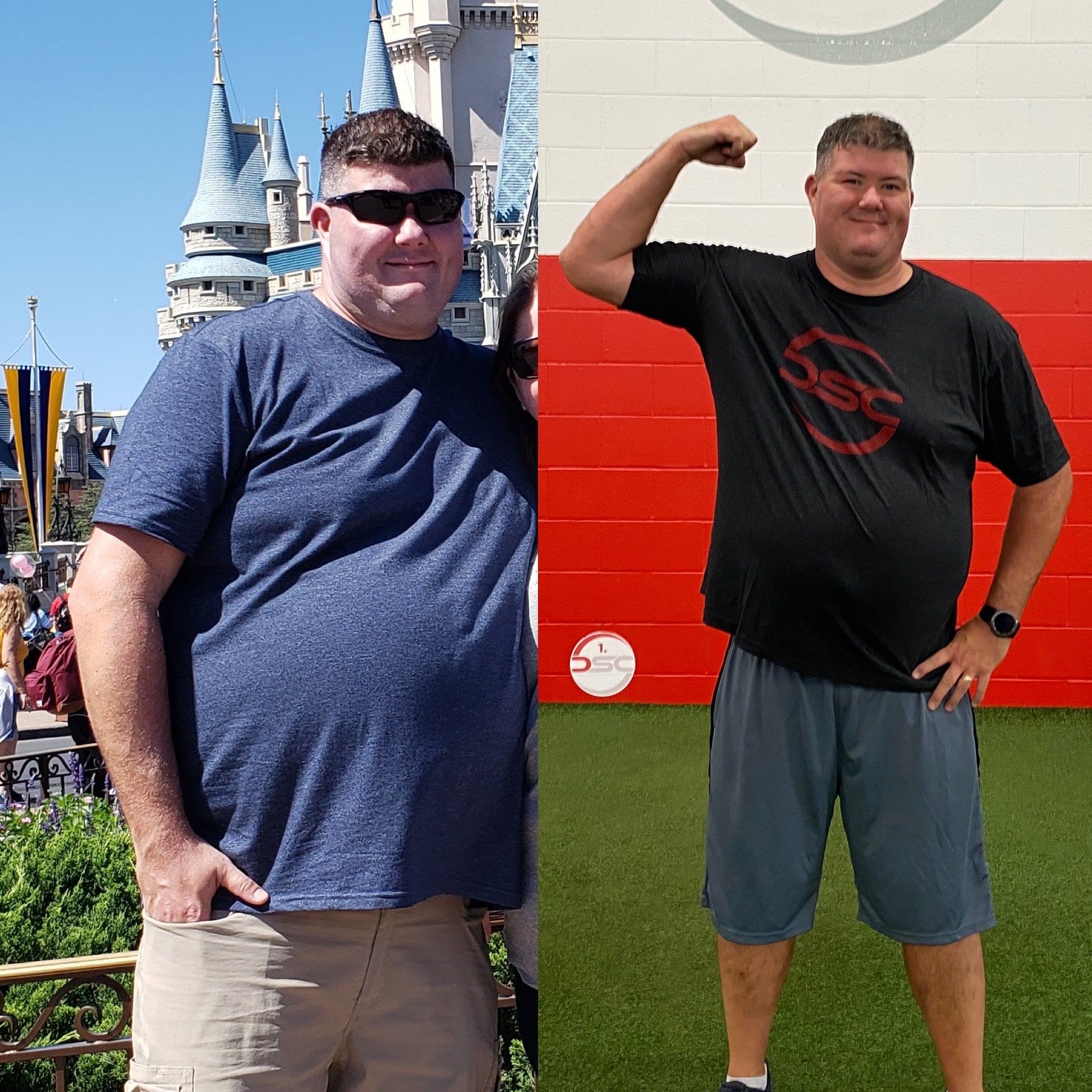 I am under 300LBS for the first time in 15 years!
This motivated me as I have never experienced results like this!
I feel more like myself, I have more energy than I've had in years, my clothes fit differently (no more buying extra baggy clothes!) and I see the efforts of my consistency with the workouts when I look in the mirror everyday.
My favorite part is the community at DSC. Everyone at the gym, regardless of their fitness level, is there to do their best. We encourage one another and that motivates me.
I also enjoy that there is always a great workout ready for me to do. No need to think about what exercises, machines or weights I am going to use. Just show up and get ready to work.
I always just do the best I can. I need to modify it sometimes, I still do some pushups on my knees, but I can do more now than I could at the start!
What keeps me consistent is my wife. We both are on similar journeys at DSC and we keep each other accountable and motivated. We have seen positive changes in one another and this drives us to be consistent even when we don't want to be sometimes.
If you are in a place where you want to change, to transform yourself into the person you want to be, then DSC is the place you need to be!
You will need to come ready to put in the work. However, know that you will become part of a community that cares about you and your success in achieving your goals.
Joining DSC is one of the best decisions I have ever made!
- Todd
Are you ready to look and feel your best?
To get you started, you can now try DSC FREE for 14-days!
Click below to schedule your first class! ⬇️