Fit After 60: How Linda Lost 30LBS At The Age Of 63
Before joining DSC, I had a cadaver ACL in my left knee that had not rehabbed well, and the surgeon suggested a total knee replacement. At that time, I was kind of doing my own thing working out at the purple gym (Planet Fitness). They showed me the equipment, then when I had questions, no one had any advice.
So, I just watched other people and didn't make any improvements or see any results. I also hurt my knee a few times while trying new things with no guidance so I was nervous to continue.
I watched the success my friend, Jenn was having at DSC and decided to give it a try. I was so awkward and felt like a broken doll at first. I couldn't do much of anything, yet kept coming back to DSC's coach Renee's smiling face and Matt's kind words of encouragement. The years of being a college athlete, rugby player and runner seemed so far ago, I truly didn't think I would ever get back to any kind of shape, except round.
Soon after joining, I needed my rotator cuff rebuilt and suffered serious hearing loss. After rehab, I reached out to DSC's owner, Matt to try to figure out what was next. He reassured me DSC could help - and they did. I settled into a nice, safe, comfortable routine. Then COVID hit.
Stuck at home alone most of the day, I watched DSC make some serious efforts to keep us connected, interested and working towards our goals with video workouts, emails, recipes and tips. All of the coaches worked hard to insure our home workouts were safe and entertaining. At that point, I decided I should put forth more effort and invest in myself, step out of my comfort zone, and joined DSC's Nutrition Coaching Program.
I learned how to track my food, what macros are and why they matter, and began consuming more water and less junk. Meals started looking more colorful and I started noticing changes in my shape. Coach Jake readily answered questions about foods I had never considered eating before, and kindly explained why Pop Tarts aren't the best breakfast food. Coach Delaine always smiled, and Renee had modifications readily available when I asked and Sara was always there when I forgot something. DSC helped me stay connected and boosted me when I felt discouraged.
Since last April I have lost over 30LBS!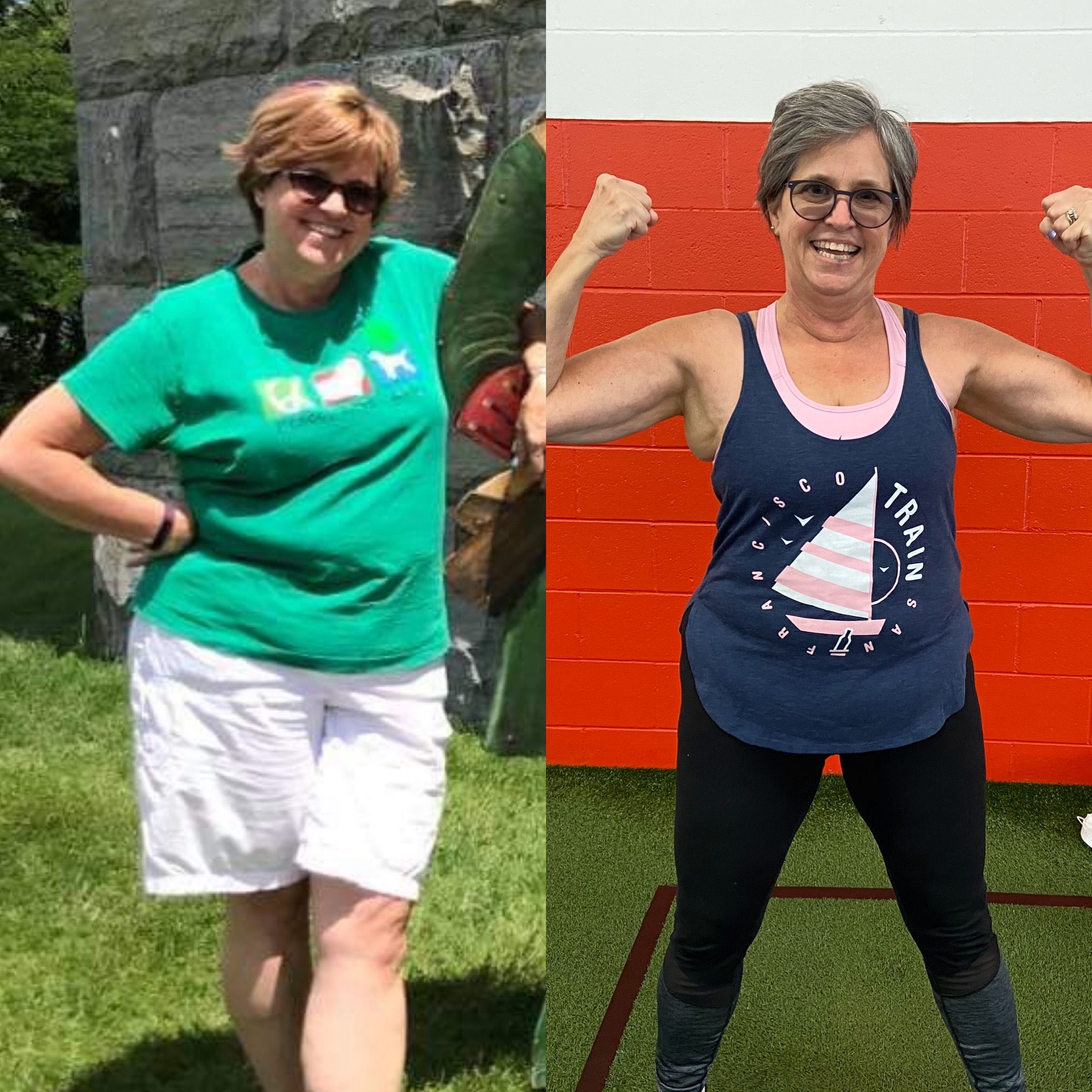 I have shrunk from a size 18 to a size 8 and dropped 8 inches off of my hips and 5 off my waist.
I am sleeping better and walk further than I ever did.
Now that we have returned to regular classes at DSC, I enjoy seeing our coaches in person. I am incredibly proud to be part of such a progressive, forward thinking establishment.
DSC is perfect for me. All I need to do is just show up. Their coaches take care of the rest.
If I just want to show up and be there going through the motions sometimes, the coaches encourage me to just try a little harder and support me -- if I'm in it to win it that day, they are there to help me up my game and push me a little further. It's on me to just show up and I do exactly that because DSC is such a welcoming and supportive environment.
If you are thinking of joining DSC, my advice is to be serious - you are worth it!
I will be rocking my size medium bathing suit this summer, not covering up with my husband's XL t-shirt!
Thank you DSC for helping me find my smile again.
- Linda
Are you ready to get your transformation started at DSC?
Our 8-Week Summer Ready Nutrition Coaching Program starts April 26th!
In just 8-weeks, you can expect to:
1. Make healthy eating a regular part of your life
2. Get into a consistent workout routine
3. Lose weight and improve your energy
Click below to reserve your spot! ⬇️