"DSC's Nutrition Coaching Program Will Change Your Life!"
Before joining DSC's Nutrition Coaching Program, I knew I was not eating healthy.
On top of that, I was getting upset at not seeing any weight loss for a few months. When I joined DSC's classes I definitely started losing weight.
After some time, the changes I was noticing started to slow down.
I knew working out was only half of the equation.
I wanted to lose 20 more pounds but most of all, I wanted to understand how to do this by eating healthy so I could not only take the weight off, but keep it off.
Doing something that wasn't sustainable was of no interest to me.
That's when I joined DSC's Nutrition Coaching Program.
Honestly I was scared of the unknown but I knew I would have the support of the coaches.
Before joining the program, I really just didn't have enough understanding of nutrition to make the right food choices.
This program has made me think of everything I wanted to eat and learn how I could make better choices while still enjoying what the foods I like.
I have done Weight Watchers before and this program worked so much better for me because it also taught me the "why" behind making better food choices. Not just eat this or that, but actually understanding the differences.
The thing that made the biggest difference for me though was the support from the coaches.
They would send out easy to understand videos that explained every part of the program, various topics we covered and ultimately how to make better nutritional choices to fuel our bodies.
The weekly check-ins with the coaches were also very helpful!
Getting their personalized, direct feedback and guidance was huge and I really knew they were rooting for me to succeed every step of the way!
The program went above and beyond my expectations as well as the coaches. They were truly so awesome!
In just 8-weeks, I lost 20 pounds and 2 pant sizes with DSC's Nutrition Coaching!
I am also down 45lbs total since joining DSC!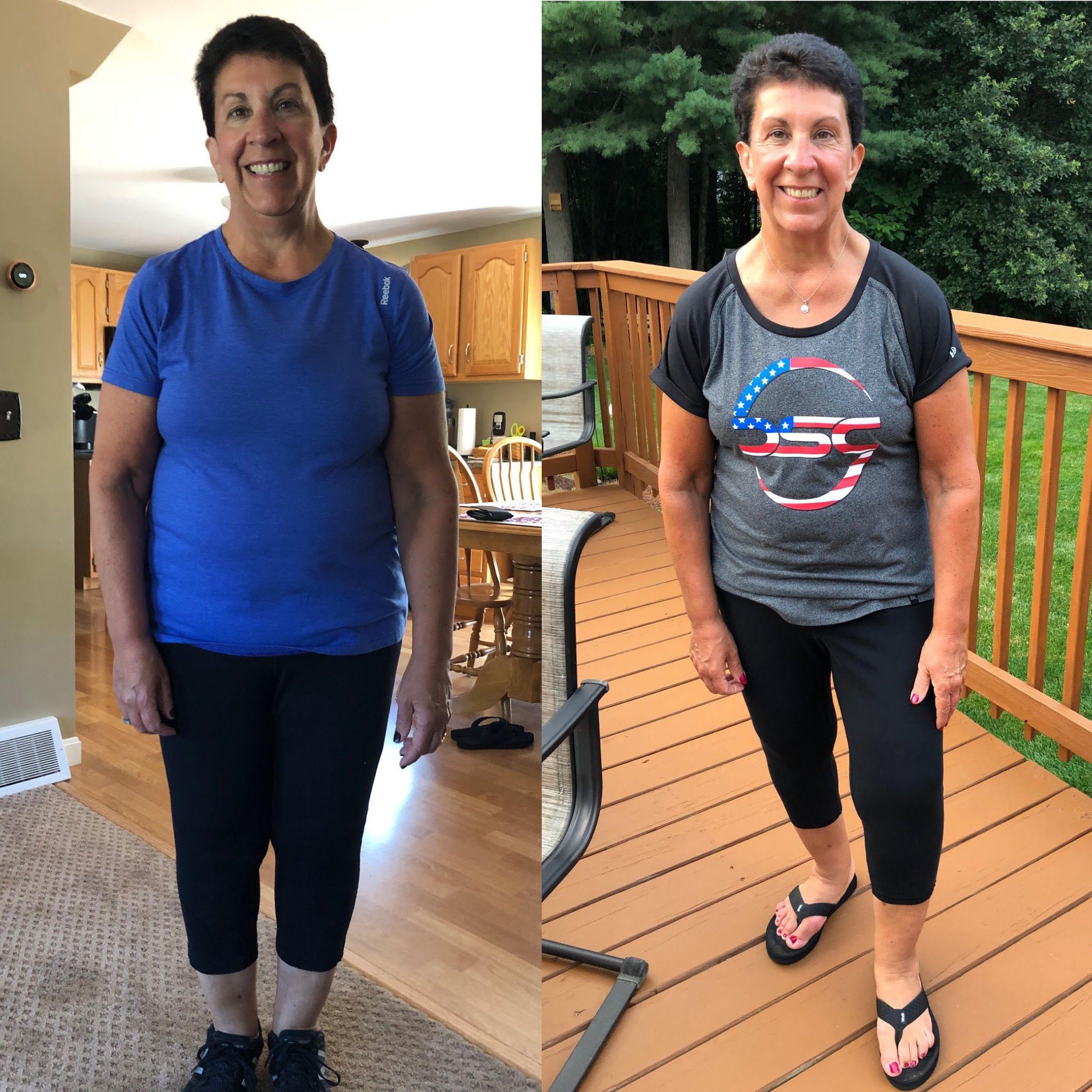 My energy is so high now!
I've noticed a big difference in my workouts as well and have been able to "up" my weights and intensity!
This is a win-win because it allows me to burn more calories while in the gym and now my nutrition allows me to fuel and recover properly while outside of the gym!
I seriously loved everything about the program!
Aside from all that I learned, the best thing to come from it is feeling good about myself! At the end of the day that's what it's all about and all I could ask for!
DSC's Nutrition Coaching Program will change your life!
It will make you think about living a long and healthy lifestyle and how proper nutrition can help you achieve that.
It gives you the energy and the strength to reach your goals and more.
I cannot thank this program and the coaches enough!
- Mary
Our next Nutrition Coaching Program starts September 16th!
It's time to feel your BEST!
Click below for more information! ⬇️