"DSC STRONG has changed my life!"
Before joining DSC's STRONG Online Program, I was extremely inconsistent. I averaged 2x a week at a fitness center...walking two miles.
I joined DSC STRONG because I was not happy with my inconsistency and lack of toning. I could not find camaraderie either. I pretty much had to rely on my own motivation to go to the gym, and if I didn't go, there was no one to know or help hold me accountable.
I was worried about my lack of motivation, causing self-induced mental/physical stress before joining. My flabby arms and stomach were simply "not me". I knew I couldn't blame it on my age, but didn't know where to turn to start making changes.
Then I found DSC STRONG, an online option I could do right from home.
I decided to give my first online DSC workout a try and I immediately knew I was hooked!
Simply put...the DSC STRONG online program has changed my life!
Since joining I am so much happier. I now walk tall and proud and I look forward to every workout!
And all the coaches are fantastic! They all not only keep me motivated during the workouts, they seem to be watching me somehow because I hear what I need to hear at the exact time. "Push your shoulders back...proud chest...belt buckle down...lower your hips...keep hips forward...only 10 seconds left, you can do anything for 10 seconds...if you're getting tired, switch over to the less impact coach and come right back, etc."
Seriously, I could never say enough... ⭐️⭐️⭐️⭐️⭐️!
I have never, ever finished a DSC workout feeling as though I wished I did not...never. It's the exact opposite actually. My endorphins are usually exploding!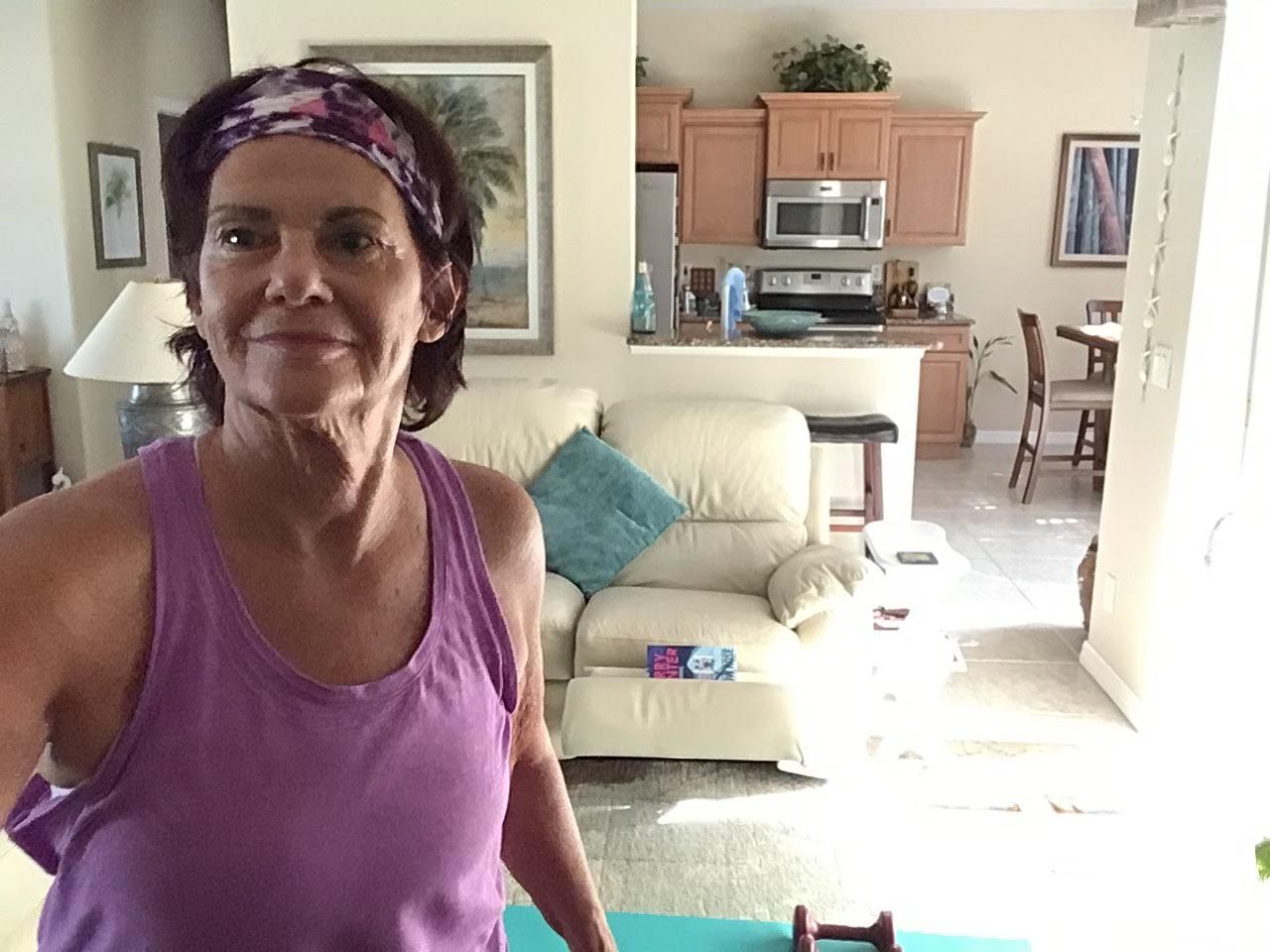 Here's a picture of my DSC STRONG home workout area.
My results? Wow...do you have hours to read?! Since joining DSC's online program my clothes now "just hang" ( as a friend told me yesterday) and it is a great feeling.
My energy level is very, very high! I usually go for a walk, after stretching from a DSC online workout, to use the flat landscape to cool down. I also have energy to go in the pool...sometimes motivated to scrub the sides while I'm in there!
I've never been this consistent with my workouts. I went from inconsistent to completing DSC STRONG online workouts 5x/week and never felt better!
Prior to joining DSC online, I had constant hip pain and was diagnosed with bursitis of the left hip. Therapy was suggested right about the same time I discovered DSC. At the very beginning (maybe just 3 workouts in)...I babied my hip. I soon realized though I no longer had ANY pain in my hip! Prior to DSC workouts, bursitis would wake me up every night. I'm not an orthopedic doctor, so I can not explain why I have zero pain now...only to say, I am positive this is due to consistently working the program!
Prior to DSC online workouts, I was what I now believe to be in a scary depressed state. I have always needed to exercise, but did not put much effort into it, as fitness centers I went to just did not motivate me and I had no one to work with me. My "mild depression" is now under control, and I can "feel it" when I do not workout for a day which helps keep me on track.
DSC, with the extremely caring, motivational skills, and humor give me more than just exercises...they are now my family!
My favorite part of DSC STRONG is the coaches! I love the choices they give of working at the higher more advanced level or following along with the coach showing the modified level or switching between the two. The motivation is second to none. You can tell the coaches all respect one another and love what they do. I would sometimes think that they must think "is this really my job...I love it". And they should because they are all so good at what they do! Oh, and my favorite quote is when the coach says, "and...everybody rest"! HA!
Don't walk...run to join! I can promise you this will be the best thing you have ever done for yourself!
- Patty
It's time to get into the best shape of your life right from home!
Join our DSC STRONG Online Fitness and Nutrition Coaching Program today!
✔️Coach-led home workouts (perfect for all levels)
✔️Easy to follow diet and meal plans
✔️Personalized nutrition coaching and support
✔️An awesome online community
Click below to join today!