"DSC Has Given Me Back My Life!"
Before DSC and before Covid, I would go to a gym approximately three times a week. My youngest daughter would go and swim while I worked out on the elliptical for an hour. Then I would cool down by walking around the track. My weight and health were OK, but not great.
Then everything changed with the pandemic.
I was no longer going to the gym and early in March I broke my foot and all attempts at trying to maintain any semblance of an exercise routine ended.
No gym, no walking easily, no exercise at all.
I was anxious and down about how I was feeling physically and mentally. I was always tired and spent a lot of time sleeping.
Then I saw DSC was offering a free 14-day trial and decided to give it a try.
My goal was to see if we could make it through the two week trial getting up extra early and still being able to function all day for work and caring for the family.
Getting exposed to Covid-19 was my biggest fear. Four out of six members of my family have asthma and I have been caring for my mother who is 79. I could not risk bringing it into the house.
All my worries were for nothing though. The Dynamic crew have a GREAT system in place to keep us all healthy and safe.
I was nervous because I did not know what to expect in my first class. My good friends Cristin and Lindy who both love DSC told me that the coaches are great and they will work with me and my needs.
The first trial class was great! We had a coach working with us the entire class making sure we knew what we were doing and doing it correctly so we didn't get hurt.
The workouts are challenging and different every day. I have been going 7 days a week and I am amazed with the creativity of the coaches with the workouts. Along the way they have had to come up with modifications for my knee, my foot, and my back.
The coaches are all invested in my doing the best that I can do. Some days that may be with modifications and others not. I have done group classes and done workouts on my own in the past. Most of the group classes that I did were cardio focused. I love that DSC alternates strength days with conditioning days.
Since October I have lost over 20lbs!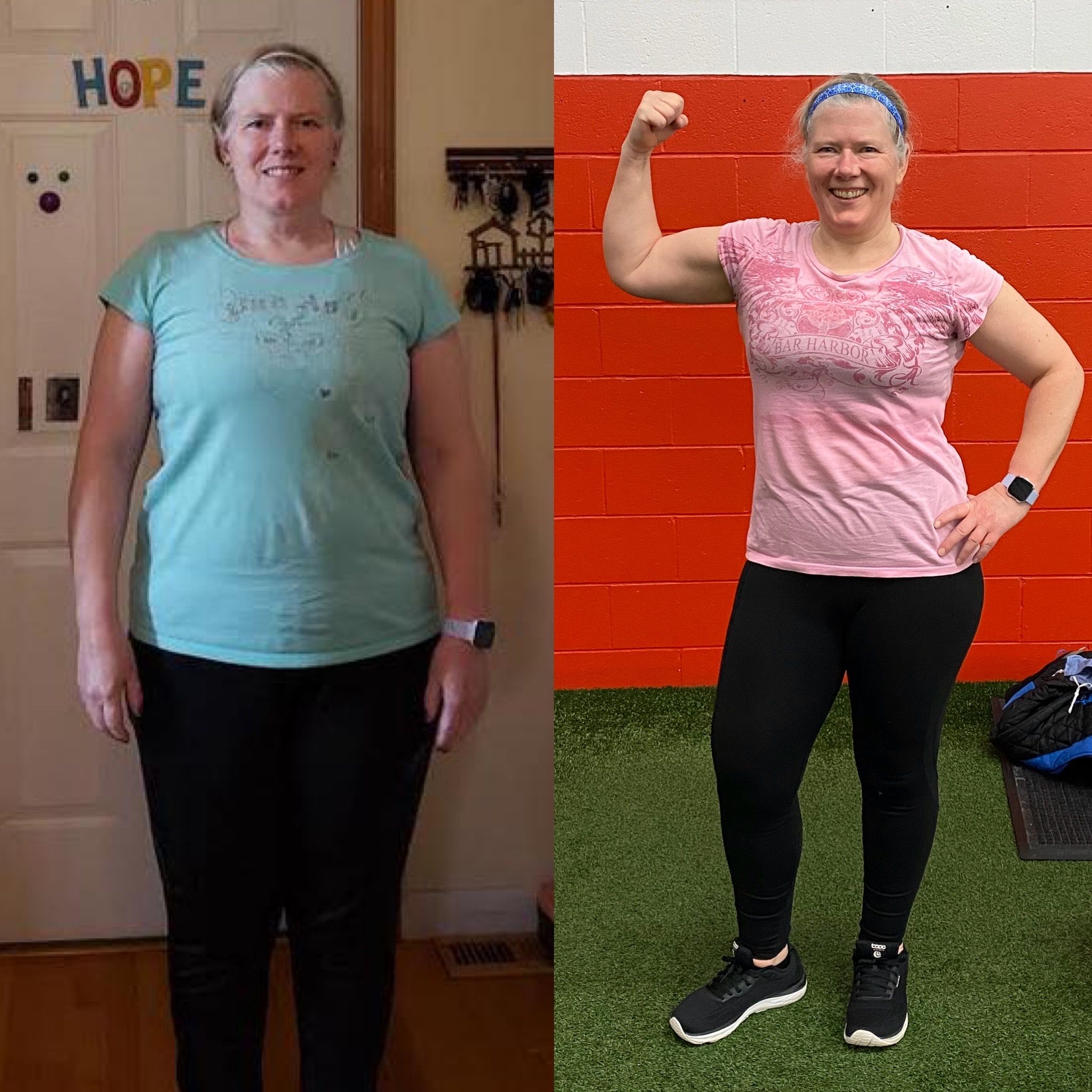 I have gone from a size XL to a L in my clothes.
My knee which has been an issue for decades is stronger than it has been since I had surgery in 1997.
I am fitter than I have been in years and I am looking forward to running some road races this summer. I am stronger than I have been since I was in my twenties.
Overall, I have more energy and I am proud of all of the positive changes that have occurred in such a short time. I may actually reach my goal weight that I have been trying to reach for over 27 years!
I like the variety of DSC's workouts and the weights. I like that we don't do the same thing twice and I LOVE the music.
DSC has given me back my life!
I now have the energy, health and strength to do the things I thought I couldn't do anymore because of my age. Turns out it wasn't my age, or bad knees. It was that I needed more strength.
I start my day at at DSC and I feel like I can do just about anything for the rest of the day.
Take advantage of the free trial. Try different days and times to see what works best for you. In two weeks you will know if DSC is the right fit for you and your schedule.
- Marianne
Ready to get your health and fitness routine started at N.H's #1 gym?
You can now try DSC FREE for 14-days!
Your 14-day trial includes:
1. Unlimited classes (in-person or online)
2. Easy to follow diet plan
Click below to get started! ⬇️