"DSC Has Changed My Life!"
Before I joined DSC my workouts would be sporadic and I was inconsistent. I would go for runs when I needed to prep for a fitness test for work and I would do push ups and sit ups. On occasion, I would lift weights in a gym that I have access to 24/7.
I was a workaholic and when I was stressed about anything in life, I would just work more. Mentally, I had no idea I was so exhausted and physically I was so unhealthy with my sleep, eating habits and overall weight gain.
My goals when I first joined DSC was to regain control over my life. I wanted to start prioritizing my health and start working out regularly.
I did not necessarily have any fears about joining, however walking into a gym that is packed with people I have not met, coupled with the fact I was out of shape and overweight, I had to put my pride in my pocket and take the chance. That first class was the start of a life change and the best decision I've made for myself and future. I was so sore for about a week following the first two sessions. The soreness was from using muscles I hadn't used for years. The soreness was a reminder that the muscles were still there, it was actually a refreshing sore.
My overall experience has been better than I imagined. In 2018, I had two knee surgeries and worked with both Coach Matt and Renee for six months, one on one. That was the first time in years that I was out of work for an extended period of time. Working out became my stress relief. Coach Matt and Renee became my mentors and motivation to find a new outlet, a healthy outlet.
I continued working out at that point, I was introduced to an amazing amount of supportive and good people through DSC. Working out was finally fun again. However, I hadn't taken control of my self-care entirely. Matt had told me that working out is important, but nutrition is the overall key to the optimal health and that I needed to grab ahold of both.
Then COVID struck and life slowed down. I was spending more time with my immediate friends and family and looking forward to the summer months. The pace of life allowed a new and deeper reflection.
I started working out more regularly, and found a new outlook on life. That outlook helped me prepare for an unexpected medical scare at the end of June 2020 and eventually I had to get some testing done that prohibited me from working out at DSC for quite a few weeks.
I could not wait to return to that environment. I grew up the world of athletics and I thrive on the team aspect of things. DSC renews that sense of team every time I walk through the door. Once I could return, I was grateful they were still able to accommodate all of us during the pandemic and maximize our workouts.
In September of 2020, I could finally workout fully again and I grabbed onto my future. I was regularly scheduled for the group co-ed sessions for a minimum of 3 classes a week and I am now up to 5 sessions a week.
I took control of a few life changes and started eating every 2.5 hours and I always had water available. I had taken DSC's nutrition program in the past and I kept all the material to help prep my meals.
Within a week, my energy level skyrocketed! I started sleeping better and I was on a new journey.
I have lost 28lbs since September 9th when I made a commitment to my health.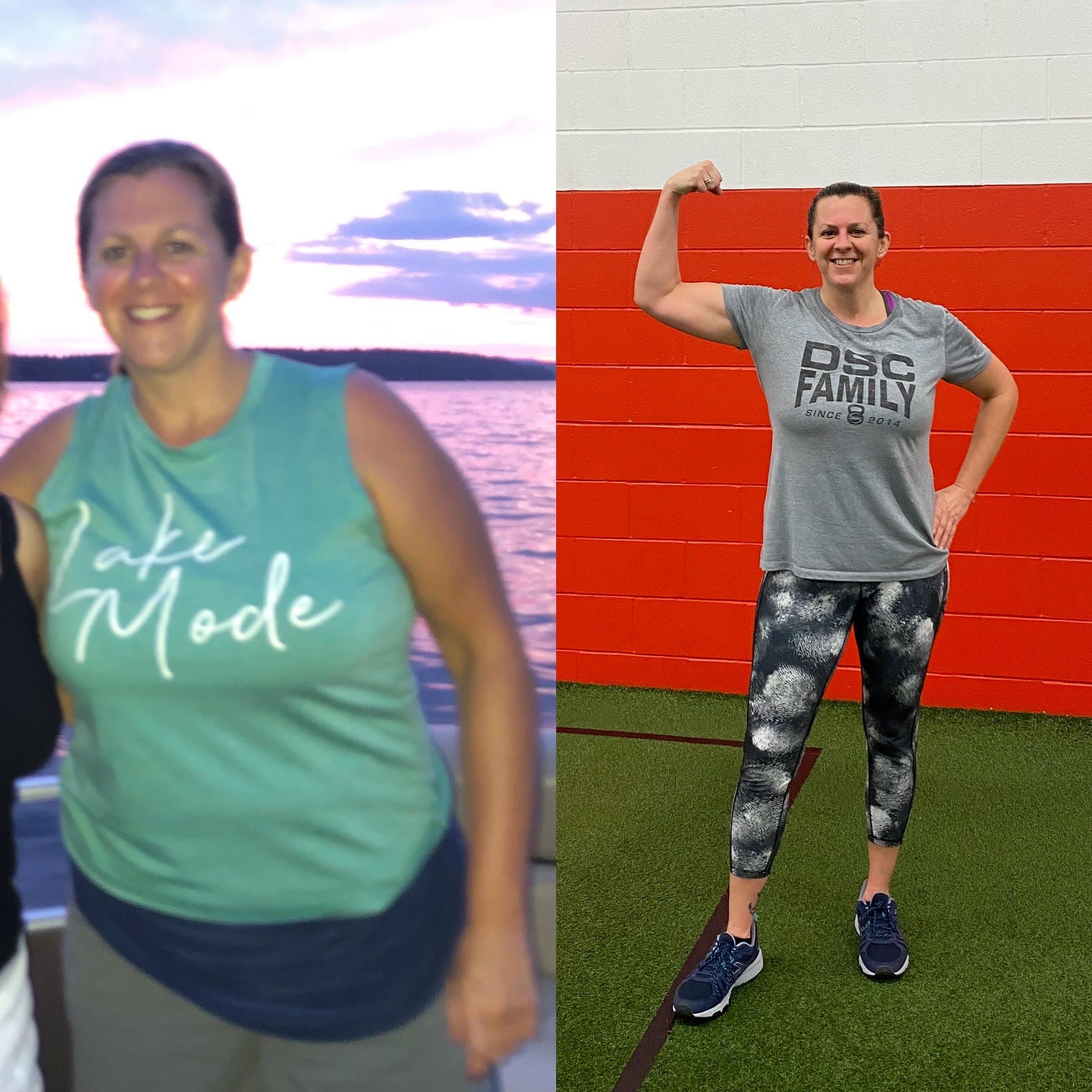 I have lost a total of 25 inches between my first measurements on September 9th compared to today's measurements on February 4th!
I went from a size 16 to newly fitting (this week) into a size 10!
I feel stronger and I look forward to showing up to DSC and getting challenged mentally and physically during each session!
My favorite part of the workouts is definitely the fact that we keep moving the entire time we are there. I think DSC has done an awesome job putting together challenging workouts that can be accomplished in our designated spaces. They prioritize our safety while still allowing us to prioritize our health and workouts!
I love the fact that the exercises change and we hit different muscles or areas that are slowly toning up. It's always a full body workout!
Summarizing DSC in 1 to 2 sentences – DSC coaching staff empowers each member individually through a supportive and challenging environment.
DSC has changed my life!
It's renewed my clarity on life through a new lens of fitness and health! I am grateful to be a part of this team. Thank you!!!
My advice for someone that is thinking about joining DSC is to just "walk through the door!"
Once you take that element out, you are going to find an environment that caters to everyone, regardless of your age, weight, profession… Renew your own sense of purpose "self-care."
- Anne
Ready to transform your health and happiness in 2021?
Our 30-Day Women's Only Jumpstart Program starts February 22nd!
This program is specifically designed to help women jumpstart their health in fitness in 2021.
Our program includes:
1. Unlimited coach-led workouts (PERFECT for all levels)
2. Nutritional guidance (easy to follow diet guide, meal plans, weekly coaching, and more!)
3. Results!
Click below to register. We only have 30 spots available!