"DSC gave me my life back!"
I always exercised through my whole life, not because I needed to lose weight but because I enjoyed it. But then unfortunately due to multiple surgeries and the passing of my mom, life changed and I stopped.
We have a full gym at home with lots of machines and weights, but I couldn't get into a routine. So I signed up to a regular box gym, paid for the whole year, and I went three times. I did the treadmill, the bike, and another time some weights but was totally lost with zero guidance to help so I stopped going.
The fact that you're "alone", with no one to motivate you or push you or cheer you up, it's so easy to quit.
I totally lacked energy.
I had gained so much weight that my knees hurt and I was tired going up a flight of stairs to the point I had to catch my breath.
I was depressed.
I heard so many good things from my friend about DSC. I was ready to change my life.
I didn't like the way I felt, nor the way I looked. I wanted to be healthy, feel better, get more energy and live a better life for me and for my family.
I was very nervous before my first class. I feared that I couldn't keep up with the class and that I would be too big, too out of breath, and too achy. I feared I would get embarrassed and quit once again.
The first day I had a lot of emotions. As I said, I didn't exactly know what to expect of the class, and didn't know if I could keep up with everyone. I was worried that everyone would be better than me, but I was pleasantly surprise to see I wasn't the only one that felt that way. I wasn't the only one that was new in the class. There were people of different ages, shapes and ability levels.
I felt welcomed, comfortable, not totally out of place, and I even had a little "fairy godmother", Coach Renee, helping me.
She never left me, modified exercises for me, and helped me work at my own pace! She showed me how different exercises can work on the same parts of the body with less emphasis on my knees. I loved it and and came back!
I still love coming to DSC because of the coaches.
Every single one will help you, modify exercises, explain to you if you're doing something wrong how to do it right.
I have problems with my knees and I fell last Christmas Eve hurting my rotator cuff, and they modified the exercises for me when I came back.
They remember you and your background; the first time I came back after the pandemic, Kurtis remembered about my shoulder. You don't find that in other gyms. We are not a number here we are human beings with names and they remember us, that is the difference.
You make friends here also that will text you or message you to find out how are you doing, or what is wrong, I haven't' see you are you ok?, etc. It is so nice to have that sense of community instead of going at it alone!
After getting into a good workout routine, I was ready to take the next step and improve my diet. I was ready to learn how to eat right, and be healthy.
I had lost weight doing the exercises but I was still missing something. I was skipping meals and not fueling my body to be healthier or have more energy. The Nutrition Program has taught me so much, like looking at the food labels and understanding them, the importance of balancing calories, carbs, proteins and fat.
I learned about the right foods to eat prior to exercising; I wasn't aware of how important it is and now I have way more strength when I exercise.
I love the DSC family and how we share recipes, how we can post our questions or thoughts and that there is always someone that will share their experiences too so we don't feel alone.
So far I have lost 30lbs since joining DSC!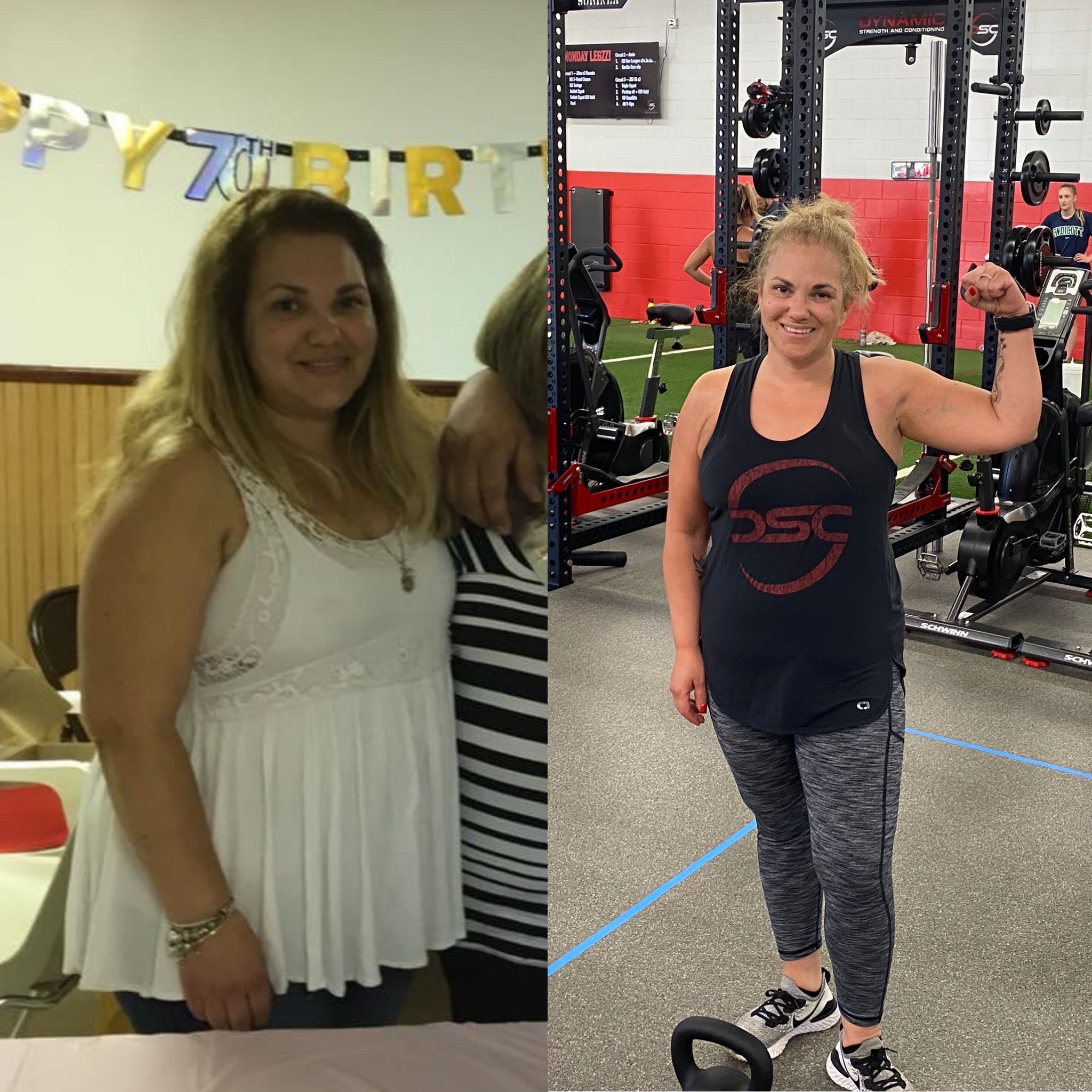 I have more strength and feel so much better overall!
When I don't go for whatever reason, my knees hurt more and I have lack of energy. I'm not at the point where I want to be, but I'm slowly but surely working to get there. To me it's not about losing all this weight and then not being consistent and gaining it back.
I tell myself slow and steady wins the race. I want to win this race.
My favorite part of DSC is that it feels like a big family.
We are all at different levels, and it's ok. You get encouraged at whatever level you are. I like the challenges, even when I feel like I can't move anymore, I somehow manage some strength to do them and always feel better after.
DSC gave me my life back!
Before joining DSC I was going on a path that was not healthy at all. It affected me physically and mentally, and DSC changed that. I now love to exercise again.
The way DSC makes me feel both physically but mostly mentally is what keeps me coming. The family oriented gym, the coaches and how they go above and beyond to help you either at the gym or at home, how easy it is to connect with other members and that you always feel like you belong you are not alone.
I think the best advice I could give someone just starting at DSC is give yourself time. Don't come once or twice and say I can't do it. When you are sitting on the couch and think I'll go tomorrow, tell yourself let's go.
You can do it.
We are all at different levels, and that's ok. Do it for you, your kids, and your family but do it, because you are going to love the way you will feel after.
- Ana
Our 4-Week Intro to Fitness Program for Women starts August 17th!

This program is available 100% online from your home and is specifically designed to help women get their fitness routine started!
4-weeks of coach-led workouts, nutritional guidance, support, and results!
Click below to join now and save 10%!