"At the age of 53, I'm in the best shape of my life!"
Before DSC, I had not actually worked out (other than walking) for quite a while.
Like so many stories I've heard from other members, I had joined Planet Fitness a couple of times over the years, taking advantage of their "deals". I would go maybe 3 times and then start making excuses.
There was no accountability, no motivation and really no help or guidance provided. And, let's face it, where's the fun in running on a treadmill or riding a stationary bike for an hour?
I had also purchased various at home equipment. I honestly hate to think about how much money I wasted over the years. It was always, "oh, this will be great, and if it's in the basement, I can use it anytime I want!" Blah, blah, blah. Again, because there was no accountability and nothing to motivate me, I would use it a few times and then it would start to collect dust.
I lived in Maine prior to joining DSC and some friends from NH had been members of DSC for a while and talked about how great it was. I did some research on the website and started looking in my area for something similar, without much success. But within the year my husband, Dan, and I ended up moving to New Hampshire for his work. When our plans to move first came together, I had already made up my mind to try DSC.
We moved in February 2018 and I started the Women's Group in March. At that time, I was at about the heaviest weight I'd been in my life, and I was approaching 50 years old. Up until that point, I had just been so busy with life that I hadn't really taken time to keep myself in shape. And being out of shape physically takes its toll mentally as well.
I was ready to make some serious changes. My goal at that time was simply to lose some weight and get more fit.
I remember that first class at DSC. It was definitely intimidating before I walked in. Everyone at DSC was very friendly and helpful though.
I was out of shape. I didn't even have true workout clothes. I had to buy a pair of sneakers before that first class, because I didn't even have any. When the class started, I remember thinking that even the warm up exercises were a struggle. Oh boy, what was I in for? With the help of DSC's coached I survived the class. I then came back again, and again.
The coaches are wonderful and so encouraging, and the other members were so supportive and friendly. After the first few weeks, it got a little easier. So many things were new for me. I had never even used a kettlebell before. I remember thinking I would never be able to do some of those exercises.
I started with 2 days a week in the Women's Group. My husband joined the coed group a couple of months later, and after a few more months, I found the courage to try the coed group with him a few times. Eventually I moved to the coed group and bumped my membership up to 3 days a week.
I was hooked at that point. Even though I hadn't lost any weight according to the scale, there was definitely a difference in how I felt physically. I was stronger, and everyday household chores were easier for me. I remember moving furniture into our new house that summer after joining DSC, and I was amazed at what I was able to lift.
The pandemic hit and Dan and I were faithful to our home workouts, but we were so glad to get back into the gym again. We both made the decision to bump our memberships up to unlimited last year. Even though we might not go every day, it gives us the option to go as much as we want. And it has been so worth it!
Last September I joined the nutrition program, because I needed to take it to the next level and lose some weight. While I don't love food tracking, it clearly makes a big difference. I have always considered myself to be a pretty healthy eater, but two things became very obvious when I started tracking. First, I wasn't getting close to the amount of protein I needed in a day, and second, I was eating too many calories most days. It is eye opening to see how many calories are in foods that we may generally think of as healthy. It is very easy to underestimate how many calories we are eating. Ashley has been very helpful with providing tips and keeping me on track, adjusting my calories when needed.
The nutrition program has made a big difference in my workouts as well. I feel more energized and am able to bump up the weights when I'm eating right and actually fueling for my workouts. And, when I'm eating the right amounts of everything, I don't feel hungry or deprived. It's a win-win!
Overall, I have lost 27 pounds since joining DSC!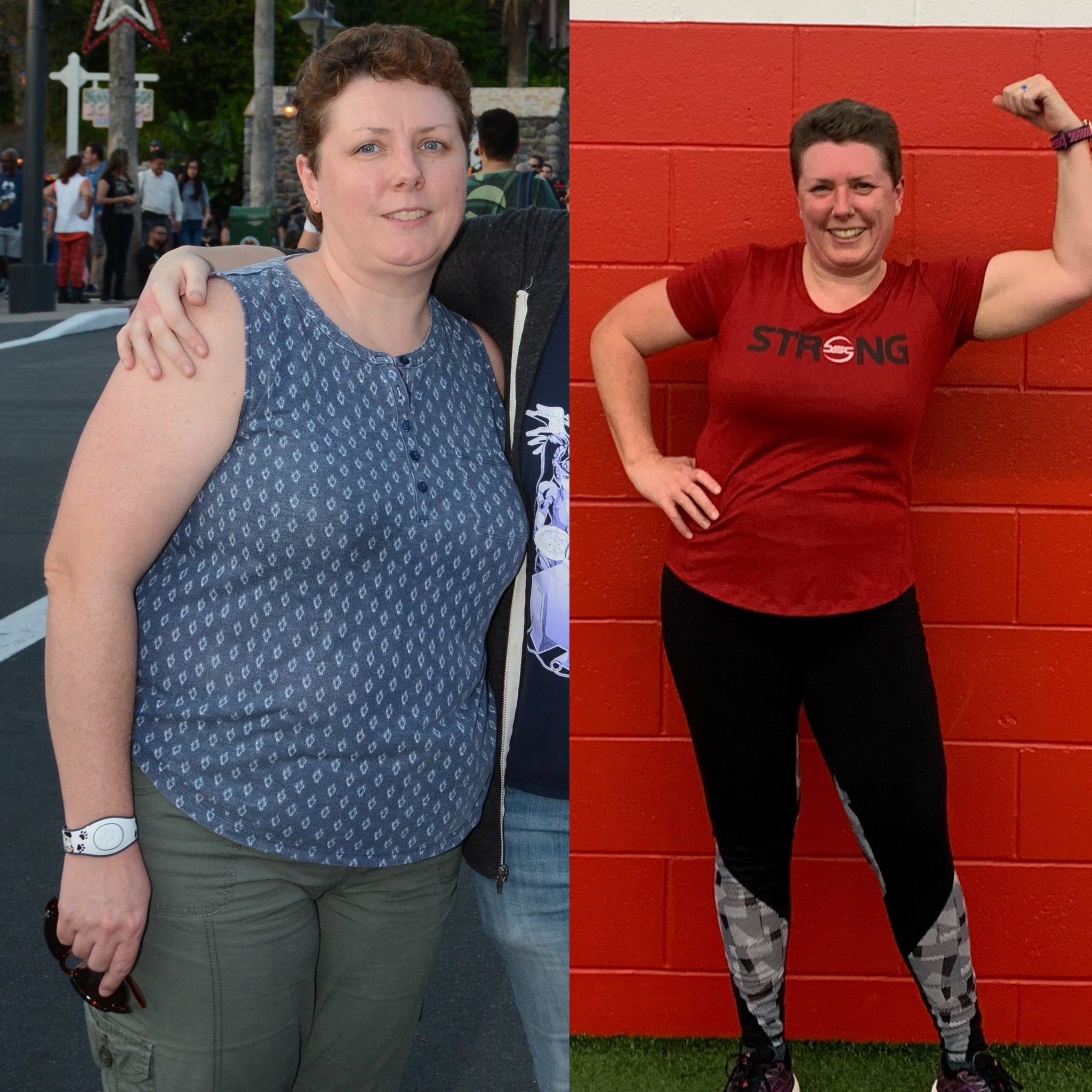 What is amazing to me is that it feels like I've lost so much more than that because I have also built muscle and increased my strength!
My clothes fit so much better and I have actually dropped down a size in many items.
I have gotten so much stronger. I remember using a 6kg or an 8kg kettlebell to do squats in some of my early classes, and struggling with it. I just used a 24kg KB for squats two days ago. I would never have guessed I was capable of that when I first started 4 years ago.
What keeps me coming back to DSC is the structure, the coaches, and the other members.
The class format is perfect for me. I know that I just need to show up and do the workout. The coaches are great, providing feedback, modifications and encouragement. The members are supportive of one another, and it's so nice to see the familiar and friendly faces every day even if I don't know everyone's name. It also helps to have someone, a friend or family member, to do this with. My husband, Dan, and I look forward to working out together. We support and push each other, and maybe we compete just a little. :)
Losing weight and getting in shape isn't easy and takes a lot of work, but DSC provides the tools, environment and support to make it easier so it seems a little less like work.
At the age of 53 I am absolutely in the best shape of my life and stronger than I have ever been!
- Sue
---
Ready to get started at DSC?
You can now try DSC FREE for 14-days!
Your 14-day trial includes:
1. Unlimited coach-led classes (perfect for all levels)
2. Easy to follow diet plan
Click below to get started! ⬇️