Ron's Incredible DSC Nutrition Coaching Results!
Are you ready for the body you deserve?
Are you ready to never diet again?
Are you ready to have a better relationship with food and get rid of the confusion?
And are you ready for results?
Join our next 8-week Nutrition Coaching Program starting August 1st!
[Space is limited!]
---
I have been attending classes at Dynamic Strength and Conditioning for a few years now.
I've already written one testimonial based on the strength and conditioning, but this testimonial is for the Nutrition Program that is now offered at DSC.
I can honestly say that before joining the nutrition program, my work outs were "beer maintenance".
Seriously.
In my last testimonial, I stated "I have dark days, I have light days. But I know when I walk into DSC, that early morning crew is there, and they are supporting me, even though I'm swearing or complaining about push-ups an awful lot."
My weight and wellbeing are a roller coaster ride, and that I tend to "go off the reservation" here and there. This causes the work outs to be more of a bother than an enjoyable experience.
Quite frankly, I wasn't putting much thought into what I was putting in my body, and the scale was showing me the error of my ways.
Something really needed to change.
When I wrote that first testimonial, I weighed 218.
When March 1st 2017 rolled around, I weighed 235.
When I was asked if I would like to join round two of Phase One, I jumped in.
Before the start date, I had blood work done to see where I was at, and get a baseline of what needed improvement.
I wanted to be able to give real results beside actual weight loss, as I wanted more than that, I wanted real hard numbers of improvement, specifically in cholesterol numbers.
So let's get to the baseline data:
Measurements and Data from initial assessment made on 3/20/2017:
Weight: 229 pounds
Body Fat %: 26.99%
Lean Mass: 167.2 pounds
Fat Mass: 61.8 pounds
Blood Work Data from 3/4/2017:
Total Cholesterol: 206mg/dL
HDL: 42mg/dL
LDL: 144mg/dL
Triglycerides: 99mg/dL
The program in itself is accountability-based with some homework, online social interaction and instructive videos from the coaching team via Facebook page as well as food logging through MyFitnessPal.
The workouts were/are every day I could get in to the gym, which was typically 6 days a week, which I enjoy tremendously to begin with.
The bonuses were the recipe sharing, the camaraderie as well as the accountability.
I stuck to the plan as much as I could, with a little slip here and there, but nothing like the off script eating and drinking that I was doing before the program.
I pushed pretty hard through this program, and it was awesome that my work out buddy, Steve was also in the program (phase 2) as well.
Steve pushed me (and still does) pretty hard, but the coaches pushed pretty hard as well, ensuring that there was no sandbagging on my part.
Results?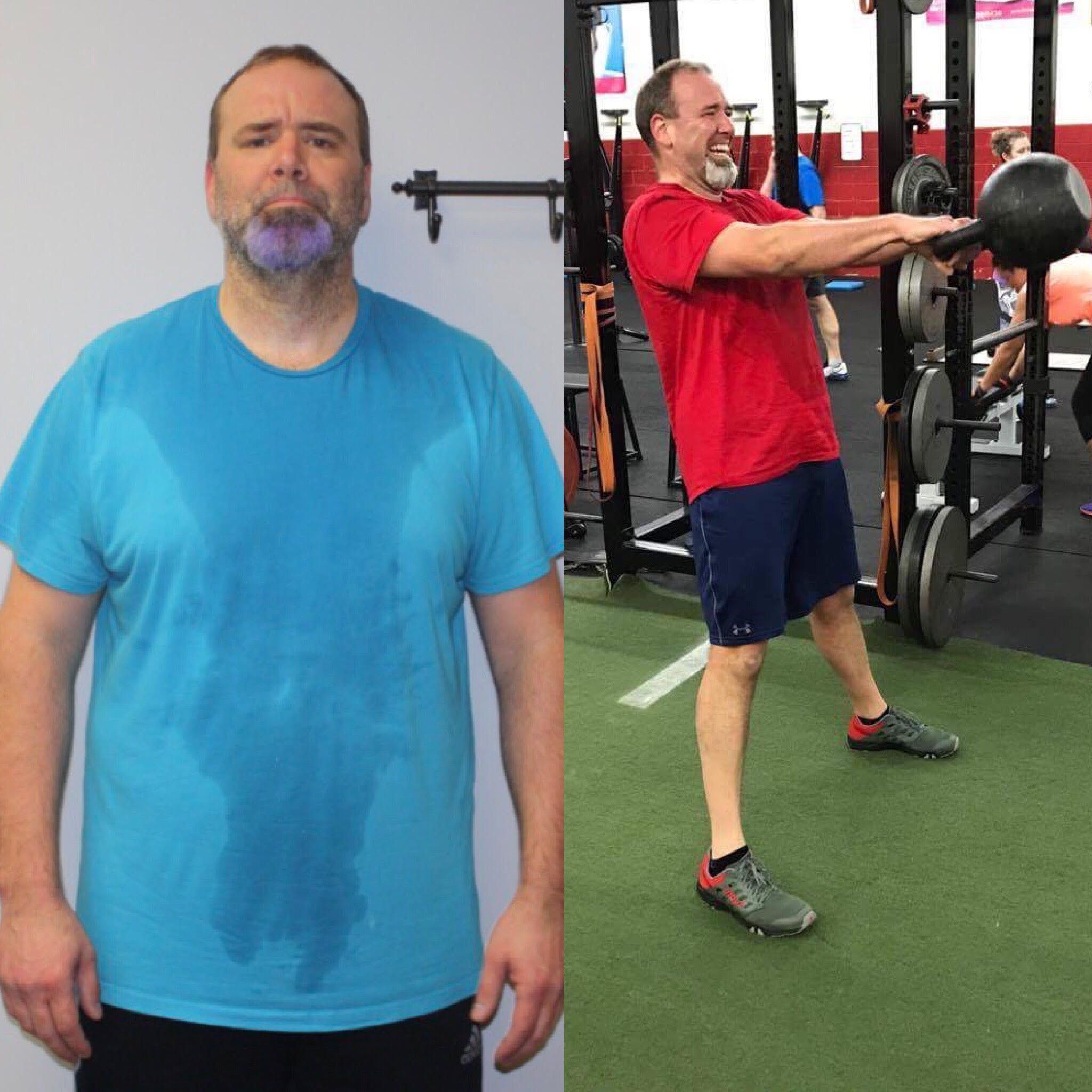 Well, I am wearing clothes that have collected dust in the back of my closet for a few years.
My tailored pants fit comfortably (size 36), and everything else seems to be baggy at this point.
I'm tucking in my shirts and wearing a belt.
I find that I am more comfortable, energetic, and most of all, healthy!
My strength is up tremendously.
I say this because I no longer complain about burpees or push-ups, my shoulder strength is up and the pain is gone too.
One other thing: I am drinking less now than I ever have, and when I do imbibe, I do it in a healthy manner rather than trying to destroy my well-being.
While this is completely subjective in nature, here is the end data:
Measurements and Data from Phase One conclusion assessment made on 5/13/2017:
Weight: 201 pounds
Body Fat %: 19.11%
Lean Mass: 162.6 pounds
Fat Mass: 38.4 pounds
Blood Work Data from 3/4/2017:
Total Cholesterol: 176mg/dL
HDL: 50mg/dL
LDL: 114mg/dL
Triglycerides: 60mg/dL
Final results:
Weight loss: 28 pounds
Body fat % loss: 7.1%
Total Cholesterol loss: 30mg/dL
HDL (good cholesterol) increase: 30mg/dL
Triglycerides loss: 39mg/dL
Talk about natural medication! Hard-work, good nutrition and exercise!
Here is my advice to anyone looking to improve their health and lose weight the right way:
The Nutrition Program at DSC is the way to go.
Jump in!
Look at the numbers!
While everyone is certainly different in biological makeup, my testimonial is not the first singing the praises of the Nutrition Program, and it most likely will not be the last.
I enjoyed the program so much, I have continued to the next phase.
The best part of the whole process (beside the weight loss and improvement in overall health) is the mutual support that everyone in the program, including the coaches, freely give to each other.
Again, I'll repeat what I stated in my first testimonial: Make no mistake, like anything else you do in life, if you slack off, there are repercussions and it was no different for me.
However, I believe I am well on my way to correcting a lot of bad habits, behavior and mindset.
Thank you DSC.
Thank you Coach Rene, Coach Tommy, and more recently Phase 2 Coach Eirikur.
These results wouldn't have been possible without your drive to push my drive.
Thank you Coach Matt for talking me into it, and thank you to coaches Kurtis, Luke and Chris for being hard on me when I needed it most.
- Ron
Are you ready for the body you deserve?
Are you ready to clear the confusion surrounding what to eat?
Join our next Nutrition Coaching Program starting August 1st!
[click below for more information]