Karen's Incredible 50lb DSC Transformation!
In August of 2015, my BFF (and one of my biggest cheerleaders) Colleen Ducharme had posted on Facebook that she had signed up for the Spartan race at Fenway.
She had done one in the past, and I expressed interest in someday doing it with her.
I commented on her post and she said I could do it with her and her gym.
When I said I wasn't a member, she told me "It doesn't matter...they will welcome you on the team."
So in November of 2015, I participated on the DSC Family Team, wearing a DSC shirt, as a nonmember of the gym and the rest is history!
I have battled weight issues my whole life.
As an adult, I have yo-yo-ed far too many times.
For about twenty years, exercise has been a part of my life. I started being more consistent in 2004 when I joined Jazzercise and I learned to love exercise with the support I received there. I also did aerobic/fitness classes at other gyms and have worked with one-on-one trainers who were very encouraging.
Then in 2013 I was diagnosed with osteoarthritis in my hip and I was told I would need a hip replacement.
I let this define me for a while, but when I decided enough was enough, I stopped letting the hip pain limit my life and joined DSC.
The Saturday after the Fenway Spartan, my friend and I took our first class at DSC.
I was absolutely petrified to walk in the door. I had limited mobility in my hip so I was nervous that I wouldn't be able to keep up with the rest of the class.
Walking in the door was the hardest part!
Instantly everyone (and when I say everyone, I mean everyone!) made me feel at ease.
Did I think I was going to pass out? Yes! Did I love it? ABSO-FREAKING-LUTELY.
I was HOOKED!
My friend and I did the free trial and then I signed up for the Women's Group for the month of December.
Renee was phenomenal!
I couldn't have asked for a better introductory month than to work with such an amazing, motivational coach. To quote a friend and gym buddy, "Every day is better with a little Renee in it."
In January, I decided to switch to the Co-Ed classes and I joined the amazing crazies at 5am.
Again, I went through doubts. Could I hang with the big dogs? Would people look at me and think I didn't belong? Boy, was I ever wrong.
I did already know a few people that went to the 5am so it was comforting, but even if I hadn't, everyone was so welcoming. My childhood friend, Steve Boule, has been a constant at the 5am, and from the moment I started, he has been very supportive of "K-Con".
We are workout-accountability-buddies and constantly support and motivate one another. Never in a million years would I ever have seen myself working out next to guys, but lo and behold, it happens six days a week.
My weights may be smaller, but the men are just as encouraging, helpful and supportive as the women.
That is one of the greatest things about DSC. Everyone works at their own level and supports everyone just the same.
My goals when joining DSC were to get more mobility in my hip, build up my strength, and lose weight.
I wanted to see progress.
I am delighted to say I got so much more than I ever expected. I was not only able to regain mobility in my hip, but I no longer have resting pain.
I continue to make strength goals. My first full year (2016) was a bit of an up and down roller coaster on the scale, and thankfully in January of 2017 I joined the Nutrition Program.
To say this changed my way of life is an understatement. The Nutrition Program taught me lifetime eating habits.
Do I eat unhealthy things at times? Yes, of course I do, but I get right back to healthy eating. The program taught me not to make events be about the food.
It taught me to think before eating.
The Nutrition Program was a key factor for me to get the mind and body working together towards my goals. The one thing I think I was missing all the other times was seeing the progress in myself, both physically AND mentally, that I have seen since joining DSC.
I was missing the total package: exercise, nutrition, and living!
Since joining DSC, I have lost approximately fifty pounds!
Two years to lose fifty pounds may seem slow, but as I am often heard saying, "I am slower than a turtle stampeding through peanut butter uphill." I may be slow, my weight loss may be slow, but it doesn't matter.
It's not a race; it's more of a marathon.
I have no intentions of stopping.
I am only halfway to my weight loss goal, so I was hesitant to tell my story, but no one's story is ever complete. To quote another amazing friend, "It's a journey, not a destination."
Even more amazing than the number on the scale is the way I feel. I have more stamina, lift more weight, and do things at the gym today that I wouldn't even have imagined being able to do two years ago.
Seeing the strength progression is something that keeps me going. I am always making new strength goals. Some take longer than others, but all in good time.
I have gone down at least three sizes in clothes and it is an amazing feeling when you take a shirt into the dressing room thinking there is no way it is going to fit but it does.
Before DSC, it would literally take me a few minutes to go from sitting to standing due to my osteoarthritis. Now the delay in going from sitting to standing is strictly muscle soreness from the AH-MAZE-ING workouts, and not from hip pain.
I had a consultation recently with an orthopedic surgeon and he said my x-rays do not agree with me saying I have no resting pain.
He said to continue doing what I am doing and continue to get stronger. It will only help my recovery down the road when I have a hip replacement. I know there is no "cure" for osteoarthritis, but if I can continue to get stronger, maybe, just maybe, I can defy the odds.
I also recently had a physical and my doctor took "obesity" off my chart as something I was being monitored for, lowered my high-blood pressure medication, and made an appointment to hopefully take me off the medication totally in two months.
This is all due to DSC.
I could not have reached these goals without the support of the amazing coaches and members. I will continue this way of living with coaches and family that have become part of my life at DSC.
DSC is a gym like no other.
My favorite thing about DSC is that it is not just a gym; it is a family.
I have made so many lifelong friends at DSC. You can go to any class and you will have support from all members.
It's such a unique way of working out. I don't think I can pick one favorite part of the workouts, but if I had to give an example of a couple it would be the fun we have working out and the progression you see week to week and month to month.
You have fun while sweating, A LOT!
The coaches are all so supportive but also help bring fun and working out to another level. There are times I need to mentally do a double session and I just get "the look" from the coaches when they see me back for round two, but sometimes it's not about anything more than therapy at that point.
The coaches are in tune to every member. They know who has certain injuries or limitations and are always there to help modify or stop you from doing something you shouldn't.
They often know the members better than the members know themselves.
Another amazing thing about DSC is the in house physical therapist. Jamie Morse of Altitude Physical Therapy has been a key factor in helping me deal with the osteoarthritis and other ailments.
I had been dealing with plantar fasciitis since April and Jamie helped me work through this with cupping, dry needling, and exercises. If it weren't for her expertise, I would not have been able to participate in the Spartan at Fenway. She always knows the most up to date techniques and is very knowledgeable in her field.
My first Spartan at Fenway was the 2015 one. I just completed 2017 and improved not only my time but the number of obstacles I was able to complete.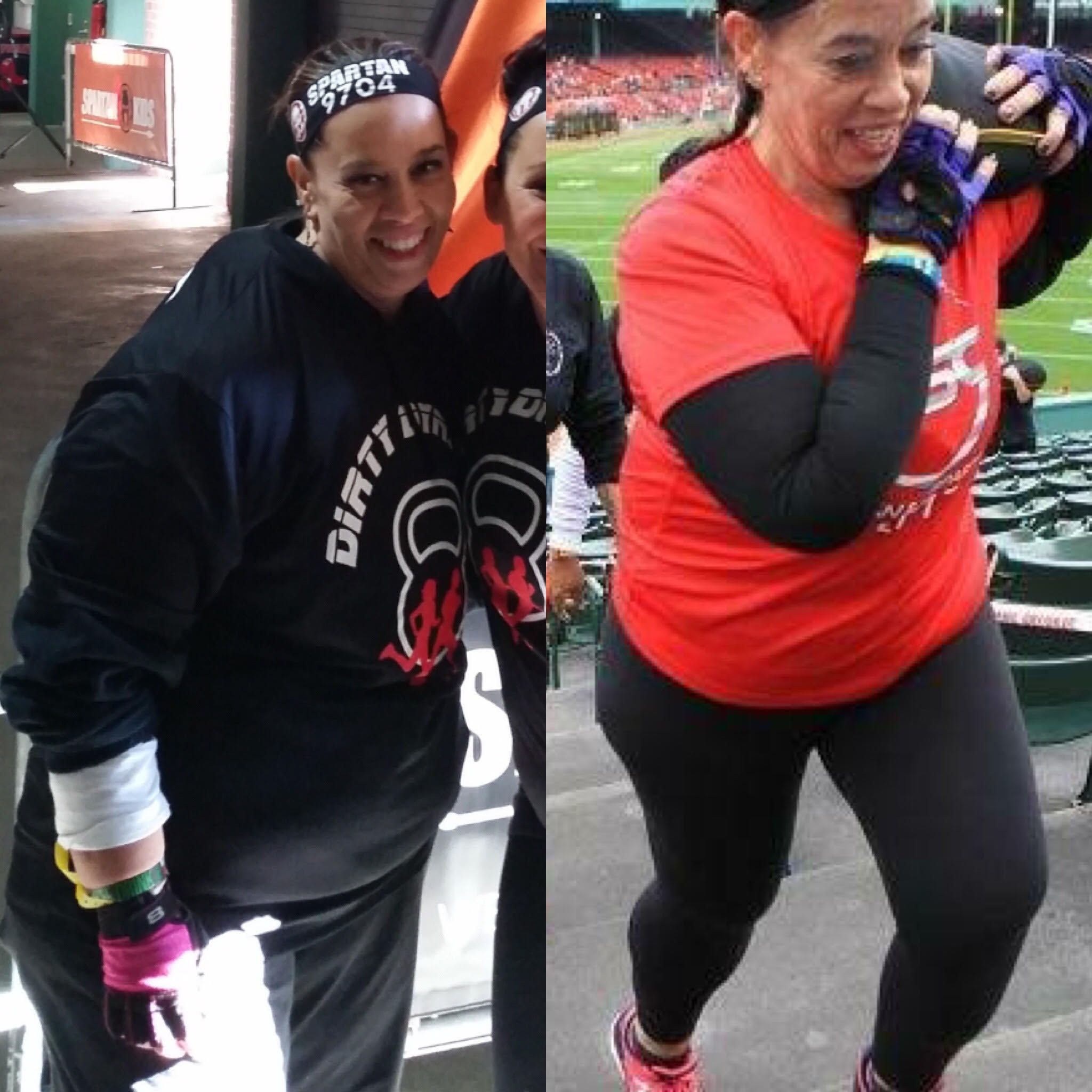 Last year, towards the end, I just wanted to see that finish line so it would be OVER. This year, as soon as I crossed the finish line I was already trying to decide how to improve for next year.
Stay tuned, this is only the beginning of living the rest of my life to its fullest.
If you are someone who has been thinking about trying DSC out, what are you waiting for?
DO IT!
My only regret is not trying it sooner.
Trust me; I understand the fear of walking in the door.
Once you do, you will understand that this is not just any gym; it's a way of life.
Matt, Kurtis, Renee, Chris, Luke, Tommy, Eirikur, Beth, Jamie and Sara thank you, from the bottom of my heart, for teaching me how to live a healthier life and keep reaching for new goals.
We only get one life to live; we need to make it the best we can.
- Karen
Ready to be our next success story?
Claim you free-week trial below!