"Joining DSC has changed my life!"
Before joining DSC, I had tried many different workout regimens.
I had tried doing my own workouts at a typical gym (i.e. Best Fitness or Gateway Hills) involving A LOT of cardio (i.e. treadmill, elliptical, bike), free weights, core exercises, and weight machines.
I had joined Orange Theory Fitness in April 2016 and religiously went 6-7 days per week for 6 months and noticed significant improvement in endurance and cardio but wasn't actually noticing any major change in my physique – no significant change noticed in how I fit into my clothes and was still having trouble "toning".
I then left that gym and started doing the "21 Day Fix" by Beachbody Fitness – which included being part of a Facebook "support group".
I did the workouts and tried really hard to improve my nutrition. I actually finally did notice some major changes in my physique doing this, which was very exciting.
Overtime however, I found it difficult to continue to motivate myself to do the home workouts every day and follow the nutrition changes I had made.
At this point in time, I also moved and no longer had space to do my home workouts so I transitioned to going back to a normal gym and also doing walks/jogs outside.
Come fall of 2017, I was READY for a change.
That's when I starting talking to Joy Smith (fellow DSC member) about my situation and was highly recommended to try DSC --> BEST decision 😀
I was nervous for my first workout at DSC. I was not necessarily afraid of what the workout itself would entail but more so just about being the "new person" in the class.
I was also incredibly excited, however, because I had only heard rave reviews about the gym.
I was hoping to find a sustainable workout regimen for the long-term that I wasn't going to become bored with after say 6 months of being a member.
My goals were to lose weight, gain muscle, tone, improve my nutrition, and overall just feel better about myself.
My first DSC workout was intense, to say the least.
I hit the ground running from the start.
The class itself was great.
Everyone was SO NICE, helpful, and non-judgmental.
The coaches were amazing – not only while I was working out but also when I ended up not feeling too well.
I absolutely love how much variety there is in what we actually do in a workout - day to day and week to week. I never feel bored.
The music is always ON POINT, which is super helpful with staying motivated during a hard workout.
I also appreciate the serious focus on warm ups + stretching (both before and after the workouts).
I almost immediately joined the nutrition program after joining DSC in October 2017.
I have really enjoyed the nutrition group and have definitely learned a lot.
I appreciate the way it actually teaches us "how to eat better" rather than just telling us "what to eat".
It is definitely more sustainable than a typical "fad diet", which never seems to work in the long term.
I feel like I am still able to enjoy eating food, but have just learned how to make better choices.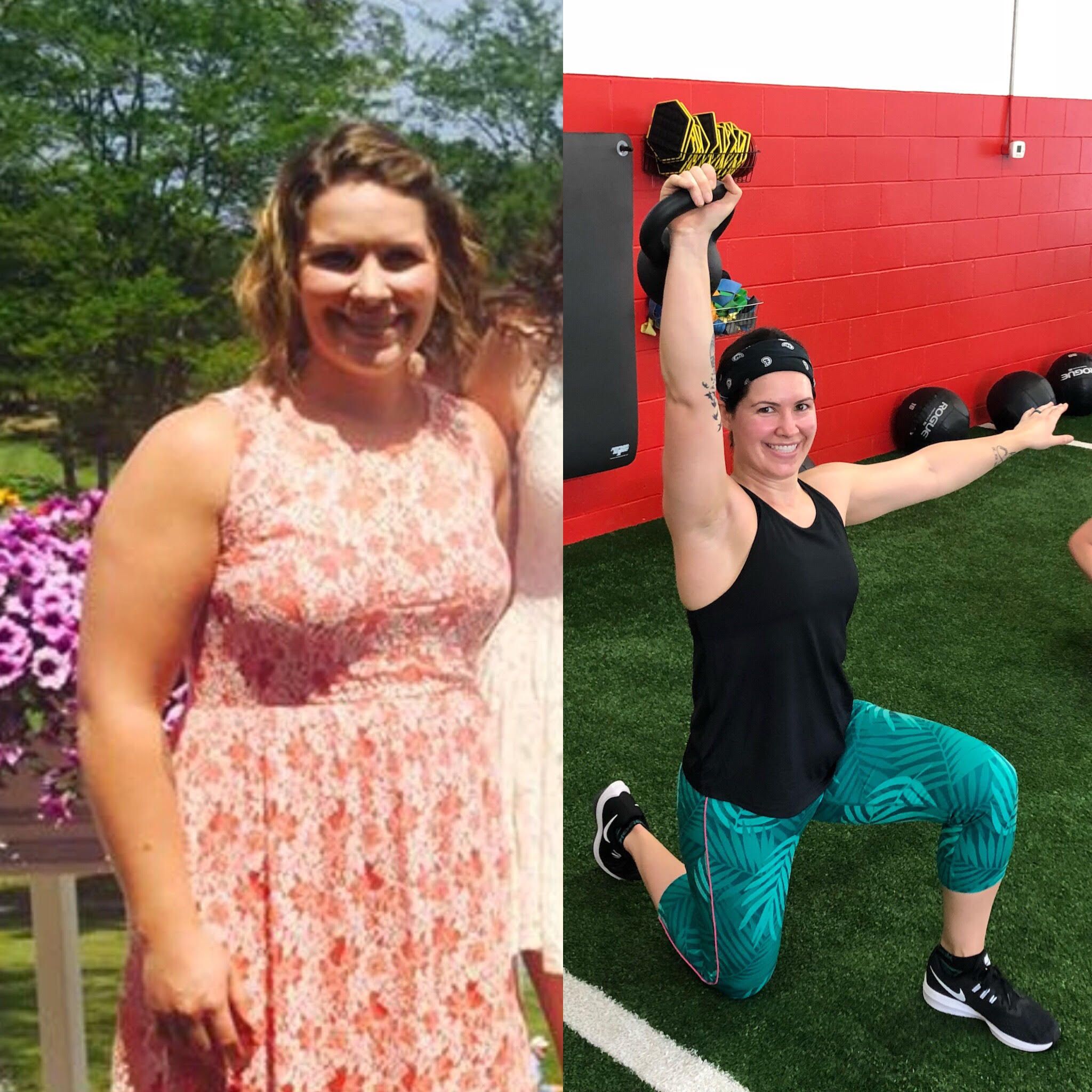 Since joining DSC + the nutrition group, I have lost around 15 pounds, gained at least 6 pounds of muscle (but haven't had body composition testing done since the winter – so it may be more now).
Many of my clothes are too big now, including most of my bathing suits from last summer!
I feel so much better overall – more energetic and much stronger!
I finally feel like I am toning parts of my body that have bothered me for YEARS.
Also, my good cholesterol (HDL) has increased significantly, my bad cholesterol (LDL) has decreased, and my Triglycerides have decreased.
My blood pressure and resting pulse have both significantly decreased.
My advice to any new members thinking of joining is to JUST DO IT!
I promise you will NOT regret the decision to join this gym.
It actually WORKS and is literally ADDICTING!
Everyone is super nice and helpful.
No matter what your experience level is with working out, the trainers at DSC will meet you at that level and go from there.
Joining DSC has changed my life!
- Kayleigh