I've lost 65lbs since starting at DSC!
Before DSC I was dying inside with a smile on the outside.
I have struggled with my weight since I was in third grade, despite being active.
I was always involved in sports growing up and did more aerobics classes than I care to count, but that was sporadic at best when I became a mom.
When my son was older I joined a gym and went to a variety of classes, but I never stayed consistent and eventually just stopped going.
I joined a challenge online to walk 1000 miles and enjoyed getting in miles while trying to make peace with food and lose a few pounds, but I needed more.
My weight had ballooned to a number I never thought possible.
I needed something, but I didn't know what.
I was going through the motions to get through each day, but I was failing myself and realistically, my son.
I needed to get my act together!
I saw an ad online for DSC Women's Group and I was intrigued, so without giving myself time to talk myself out of it I sent Matt a message and he kindly replied.
I signed up despite being self conscious and petrified to go somewhere that I knew no one and didn't know the first thing about strength training.
I remember walking in a bit early the first night with my heart racing, wondering what I had done, but that uncertainty was gone very quickly.
Coach Matt and Renee were amazing!
They made me feel comfortable and by the end of the class confident that they would help me conquer my fears and work toward my goals of weight loss and better health.
The women in the group are fabulous with so much positivity and support for one another.
We entered class as strangers and have become friends and a support system for one another.
I participated in the women's classes for several months and eventually moved to the co-ed class with a bit of a push from Matt.
He said I could do it and maybe I can't do it all, but I try and if any modifications are needed, the coaches are always on it to help.
Some life events, as we all encounter, interrupted my time at DSC but Matt checked in with me and I continued to follow the Facebook page while I sorted a few things out until I got back.
I started back in the Women's Group for another month then moved back into the co-ed class again.
The workouts are hard, but so rewarding and you will never be left to figure it out on your own.
You will be taught and encouraged by all of the coaches and you WILL surprise yourself at all you can accomplish.
I look forward to class and truly miss it when I allow life to get in my way of going.
Any bad day can be turned around by heading to DSC; it's impossible to stay in a funk once you are there!
The coaching staff, the members, and Jamie Morse (PT extraordinaire) are all in our corner and provide everything I need to succeed.
Since starting at DSC I have lost 65 pounds and become a much stronger person!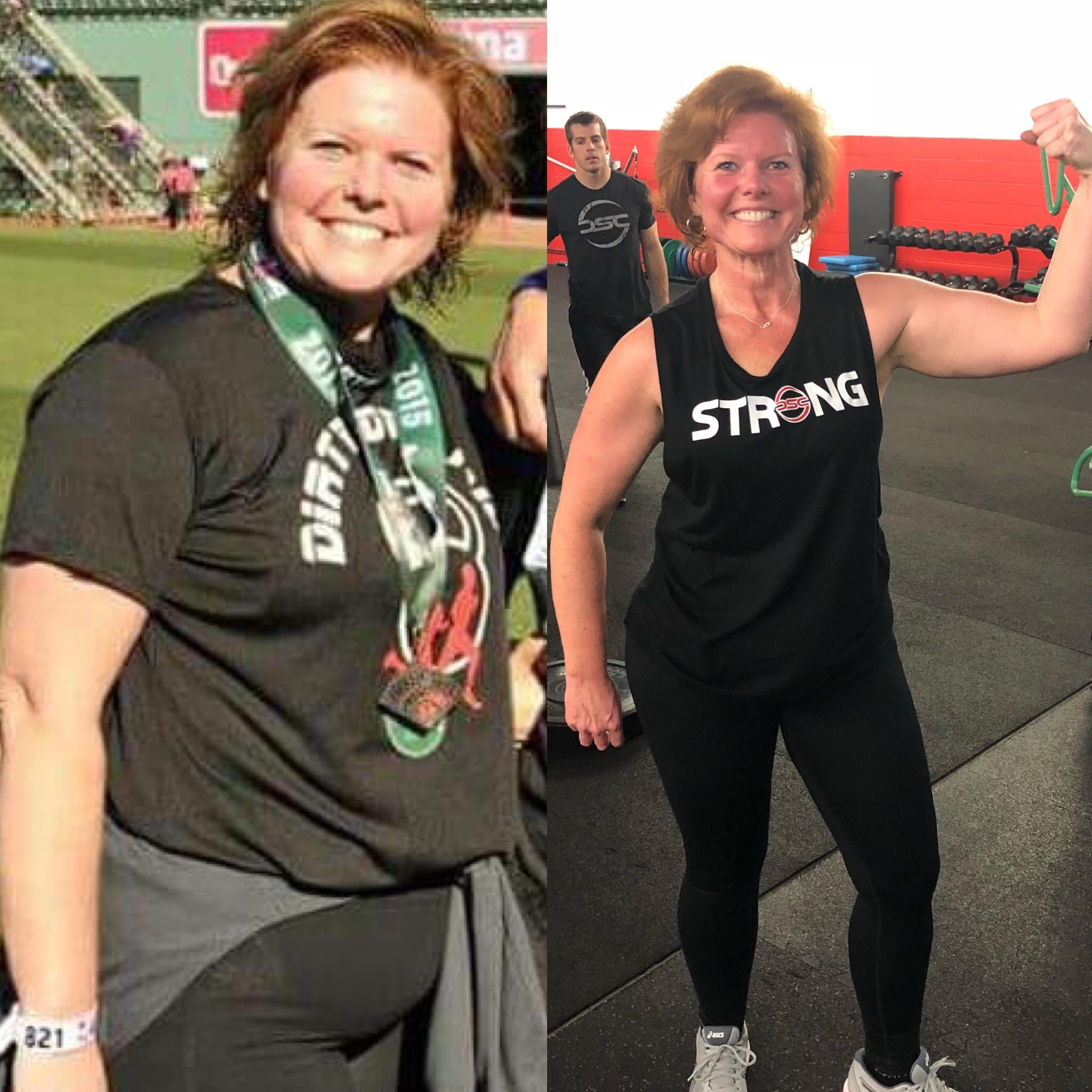 I'm still a work in progress and I look forward to the addition of the Nutrition Coaching Program along with my workouts to continue progressing toward my goals. Now I know that with the help I've found here, I will get there!
It's difficult to describe the overwhelming feeling of support, acceptance, and caring that I feel being a part of DSC. I am truly grateful to all!
If you are considering joining DSC, DO IT! It truly is a family that will help you conquer things you never thought possible!
- Shelley