I joined DSC's Nutrition Coaching Program. Here's What Happened.
Our Next Nutrition Coaching Program starts May 20th! 🍎
Space is limited!
---
I joined DCS the day after I came home from vacation newly engaged.
My friend went there and recommended it.
I paid for a year in advance to ensure to myself that I would be faithful and go at least three days a week with the goal of losing some 30 pounds and getting toned so that I was picture perfect for wedding day.
There was just one thing that I ignored… my diet.
Nine months in I was stronger than when I started, found a gym I absolutely loved, gained a boat load of friends. When DSC started the nutrition program I started the first chance I got!
Honestly, I didn't think my diet was terrible.
I drank water, and ate loads of fruits and veggies! I somehow ignored that I also went out to eat or drink at least once a week, days I wasn't working overnight I would have a glass or two of wine each night with dinner, and ate all the food that was brought in to the hospital I work at.
Clearly I was doing something wrong.
I entered DSC's Nutrition Coaching Program ready to commit.
I made a nutrition goal to lose 10lbs and a fitness goal to do an entire workout where when I do burpees to add in the pushup.
Tommy and Renee were amazing!
They set weekly goals that were completely doable and then added on to it so it didn't feel overwhelming or impossible to do.
I started cooking more at home, trying new recipes and drinking a ton more water. I stopped eating the food that was brought into work, and started trying new vegetables that I would have otherwise never tried.
I noticed some more energy and some pounds falling off the scale. I also noticed that I was getting stronger faster than I had before!
My results were better than I expected!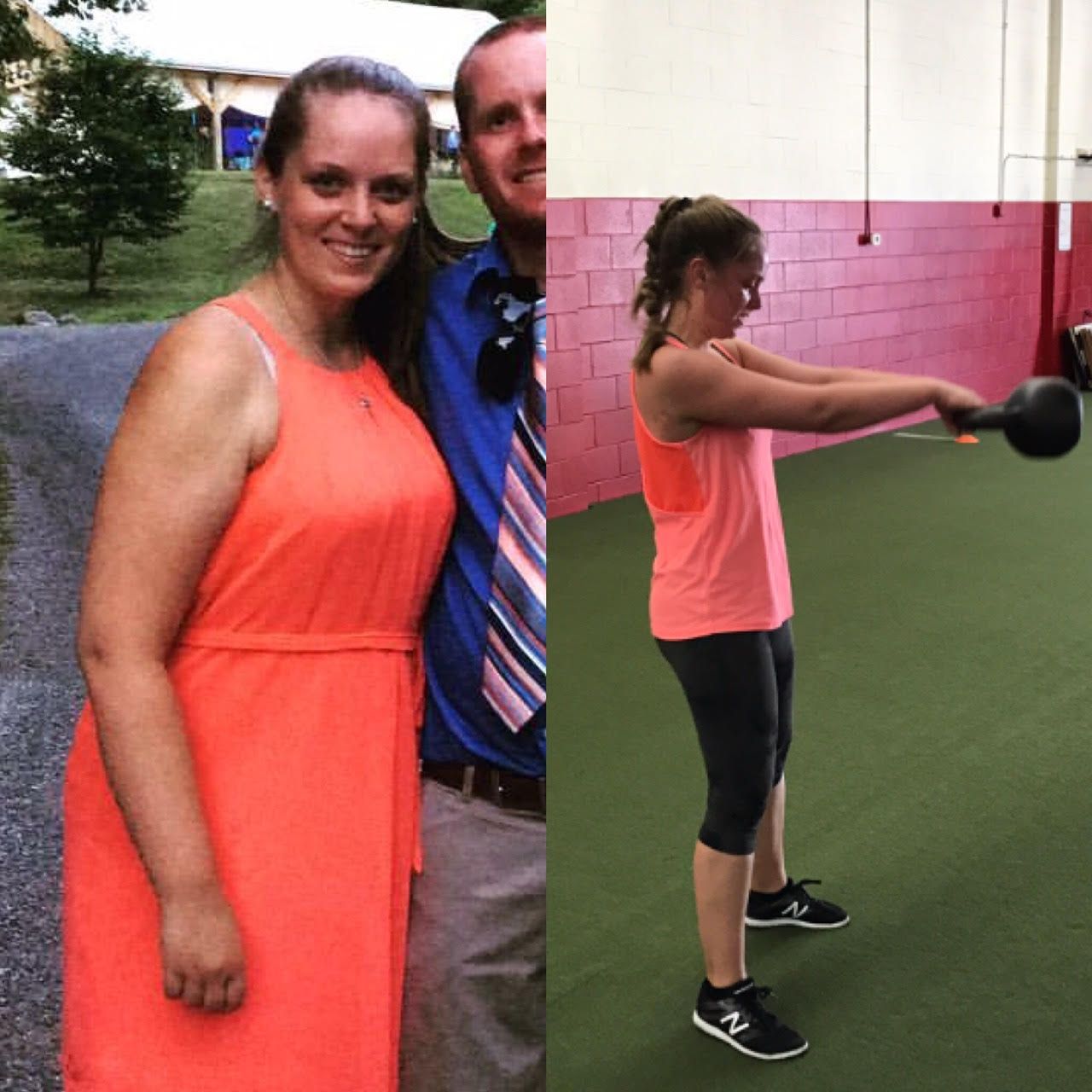 I'm still following the lessons taught in the nutrition group and since I started in January I am down 24 pounds, my body fat percentage is down 10% from starting, and I fit better in my clothes!
Possibly even more cool is how much stronger I am!
I can do inverted pushups, burpees with the pushup regularly, I can do any workout with the 16lb med ball, and I am so so close to farmer carrying my body weight!
Planning healthy foods to eat doesn't feel like a chore and I'm consistently staying within my macro range.
To people on the fence, my advice is to just go in whole heartedly. You get out what you put in!
Engage in the FB chats and messaging.
Do the homework the coaches give. Follow the advice and try really hard to meet every week's goal and if you indulge in some ice-cream on an 80 degree day- enjoy it and move on eating healthy!
You are doing this for you after all!
- Liz
---
Our Next Nutrition Coaching Program starts May 20th! 🍎
Click on the green button below to get started!