I have lost 25 pounds and gained so much strength!
I joined DSC in the fall of 2010.
Before joining, my workouts consisted of the old army, calisthenic workout. I would do things like push-ups, pull-ups, dips, flutter-kicks in a circuit format. I would also swim 4 days per week to prepare for my long distance open water races.
I felt OK, but was missing something and I wasn't as strong as I was when I did group workouts in the army.
I missed being strong and the motivation I gained from training in a group.
I had a friend who trained at DSC. He said the workouts were awesome and it would be great for improving my swimming.
I was initially nervous to get going as I didn't know what to expect.
Most gyms are full of individuals who are doing their own thing. They are not typically a friendly, welcoming atmosphere.
My first day at Dynamic was fantastic!
It was tough but the support of the coaches and other members was motivating and uplifting.
I knew instantly this was the gym I was looking for.
A year later, disaster struck.
A 20 year old Army injury manifested itself requiring surgery. Five years and five surgeries later, I was 30lbs heavier and 5 years removed from working out.
At the time, I felt depressed. I knew working out was a big part of my life and not being able to do so really brought me down.
I felt weak. I had low energy.
Once my physical therapist cleared me I instantly got back to DSC.
Since it had been 5 years since my last workout I was really nervous.
The workout was one of the tougher ones I've done. I remember Matt brought me out a protein drink because I was looking so pale. HA!
Since February I have lost 25 pounds and gained so much strength and endurance.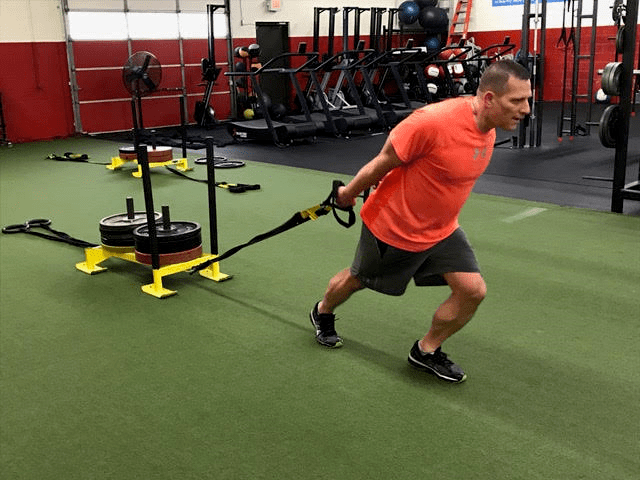 The coaches and members were as I remembered them – constantly pushing me and giving me the motivation to get back into my daily routine.
I would tell anyone who has been out of the gym for a longtime, this is the place to come. The coaches are fantastic and the members are friendly and supportive. It will be the best decision of your life in achieving a healthier lifestyle.
We push one another in a non-intimidating, motivating way. Even after just a few weeks you will notice a huge improvement in your fitness.
Thanks to DSC I'm on my way to getting back into the best shape of my life!
Thank you to all the coaches and the 6am A-Team!
- Jeff