I ditched the scale and here's what happened next
Are you ready for the body you deserve?
Are you ready to never diet again?
Are you ready to have a better relationship with food and get rid of the confusion?
And are you ready for results?
Join our next 8-week Nutrition Coaching Program starting in July!
[Space is limited!]
---
I joined DSC a little over 2 years ago with the single goal of losing weight.
I hadn't really been doing much for exercise on a regular basis. I played softball in the spring and summer and had already cancelled my previous gym membership a year prior due to never using it!
I have always been a smaller person but had reached an all time high with my weight and I was ready for a change.
I started seeing and feeling results pretty quick after I started at Dynamic.
I loved the trainers, the members and most of all the workouts.
I had never enjoyed working out so much.
Within the first 6 months at DSC I had already lost 20 lbs and was feeling better than ever.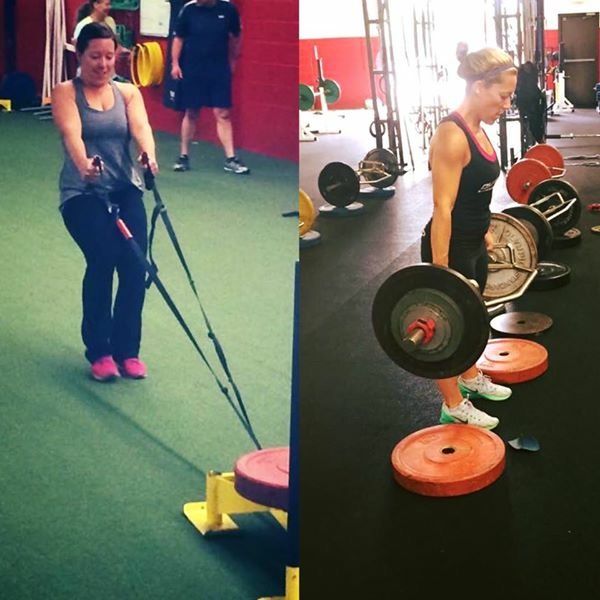 But soon after, I felt like I was hitting a plateau and I wasn't where I wanted to be yet.
I tried a 30-day diet, had some quick results but ended up putting the weight back on due to it's lack of sustainability.
I was training hard in the gym but wasn't quite seeing the results I wanted to see, especially on the scale.
I tried just about everything I could to get that scale to move, thinking if I could get that number down I would feel better.
I honestly thought I was doing the right things to get my weight down, including not eating much at all during the day.
After talking to Renee and Tommy about my plateau, I decided to join DSC's Nutrition Coaching Group.
I had seen people getting amazing results from it and thought 'sure why not?'
I was doing the work in the gym but now it was time to dial in on my nutrition.
I went into the program with a few goals.
I wanted to learn healthy eating habits that were sustainable long term and to have eating healthy be an easy thing and not work. I also was hoping to lower my body fat percentage and get more lean muscle mass.
One thing Renee talked about that really changed my mindset was to spend some time away from the scale.
She got me to understand that your weight, is just one piece of the health puzzle and there are better tracking methods like measuring body-fat.
She told me it is quite possible to lose inches and change your physique without losing much weight at all.
You can lose fat and gain muscle, keeping your body-weight the same or even in some cases gaining weight. This could drive someone crazy if they're only stepping on the scale and this was me!
Before DSC's Nutrition Coaching Program I would drink coffee before and after my workouts, which would fill me up and hold me over through lunch time.
I found most days I wouldn't eat my first bite of food until around 3pm and that would usually be something carb loaded.
I wanted to lose the "bulk". The coaches were extremely optimistic and encouraging, they put me on the best track to work towards my goals.
The part of the program I liked the most was the group support, either through My Fitness Pal, live chats or the group Facebook page. There were always people willing to give advice, ideas, recipes or just a "great job".
Having the group and coach support also gave me the accountability that I needed to stay on track. The coaches were there to chat before or after class whenever I had a question or needed help on something.
At the end of the 8 week program I was extremely happy and surprised with my results.
I had lost 4 lbs, and have since lost another 2.
The best part was that I was able to reach my goal and drop 5% in body fat while gaining 3lbs of lean muscle.
That 5% drop made all the difference!
For so long, I was obsessed with the number on the scale.
I think if you told me a few months ago that I was only going to lose 4 pounds on the Nutrition Coaching Program I would have been discouraged.
Now, I see the whole health picture!
During the program I learned:
how to fuel up for and recover from workouts
how to meal prep for the week
how to make better choices
how to be more mindful about my eating
how to enjoy food
The difference with the nutrition program as opposed to all the fad diets is that it is sustainable.
They teach and give you the tools for long-term success.
I would recommend the nutrition program to anyone that may be at a standstill or have hit a plateau in their fitness journey.
This program will take you to that next level.
Looking to gain more knowledge and acquire the tools for healthy eating, look no further because this program has it all!!!
- Beth
Join our next 8-week Nutrition Coaching Program starting in July!
[Space is limited!]