I completed DSC's Nutrition Program and dropped 26lbs and 3 pant sizes!
Prior to joining the DSC Nutrition Coaching Program in October, my nutrition was terrible!

Hubby and I were both guilty of being "routine", taking the easy route in life with food including take out, fast food, things that were quick/easy to make, and so boring even on the times that I cooked.
When I joined the nutrition group, my goal was to learn more about food.
I wanted to learn about new recipes, understanding carbs/fats/protein (get over all the bad info we read online or see on TV), and help give us more variety at home.
Naturally like any big person, I wanted to lose weight and feel better…but I knew I had to take this one day at a time.
When I signed up, I thought I understood carbs and this wouldn't be any real challenge. I hoped to learn a bit and be held accountable. That was really all I thought I needed.
We've all seen diets like Atkins/South Beach.
Just cut out bread/pasta and lose a ton of weight right? I was wrong!
You want me to have 40% fat in my daily intake while I'm doing a weight loss journey?
Um do you realize I'm plus size…shouldn't I be cutting out the fat in my life?
What the hell are macros? I have to log everything into an app? I have to be accountable for everything I put in my body?
It was a complete shift in thinking for me.
I decided to embrace the experience, accept what I didn't know, and absorb what I could.
Thankfully with this program, I had amazing support!
Not only via the nutrition coaches but more importantly the participants themselves.
I learned quickly that I wasn't in this alone, and that was exactly what I needed!
I learned the questions I had about food weren't stupid ones because others had them too. I wasn't the only boring cook either, what a relief!
Through our private group Facebook page, we were able to be cheerleaders for one another, especially when someone was struggling.
Through weekly lessons we were able to learn new things, and overcome our obstacles. We got to celebrate success, either our own or each other's.
Even things like water intake, what to eat before/after a workout, even getting more sleep…all became easy topics to understand thanks to this program. Through passing in our food logs, we learned success and how to overcome challenges/make changes.
Our coaches were always there for us, no matter what we needed! This program made food fun again and through so many people sharing recipes I even embraced cooking. Now I go food shopping every Sunday morning with my shopping list ready based on the menu for week.
Even my husband has embraced the experience and our new routine is going through recipes/cook books every Saturday to make the menu/list. HUGE VICTORY IN MY HOUSE!
My experience with the nutrition program was absolutely life changing!
I learned so much, but never felt it was overwhelming due to how it was all presented. One topic a week, awesome articles, live Q+A broadcasts…they truly made it an interactive experience!
Now I don't fear food and have learned so much about variety and balance! All those years of fattening easy convenience foods are gone…I'm worth the effort now!
Regarding workouts, I started with 2x a week in women's group to adjust after taking several years off, and now attend several times a week, even bumping up to the harder co-ed adult group on Saturday mornings.
In the past I would just focus on the gym time, but never had my nutrition on point. Why do so much great work in the gym just to ruin the effort with bad nutrition? NOT THIS LADY ANYMORE!
Through the nutrition program, I am now fueling up correctly before work outs, and being able to push myself so much more than I did when first joining DSC in September!
I joined DSC in September 2017, and started nutrition program a month later.
Since that time I am now down 26lbs (mainly due to the nutrition program, game changer).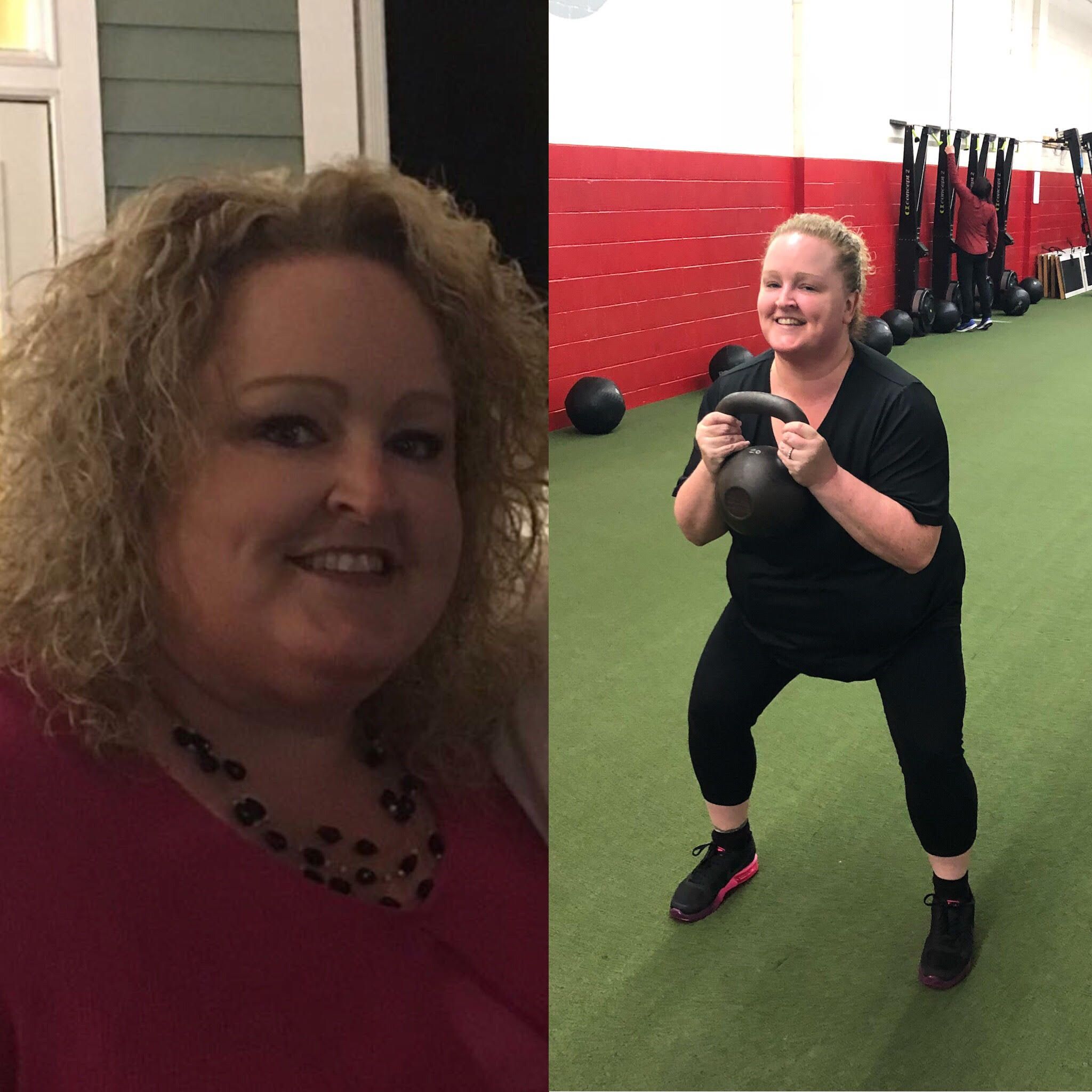 I am down 3 sizes so far and the recent one is already getting roomy again!
I just finished the Phase 1 program this month, and knew I had to keep this journey and success going.
When we were presented with Phase 2, I didn't even have to think about it and immediately signed up.
2018 will be the year I pull off some amazing things with my supports at DSC!
If you are thinking of joining the DSC Nutrition Program, the biggest advice I could give is BE INVOLVED!

Don't just sit on the sidelines doing things behind closed doors. ENGAGE! I made a name for myself quickly in the group due to my positivity and wanting to not only have success for myself but also others (how I was raised).
I asked questions, I got involved, I offered help to those that needed it any time.
I know not everyone is as outgoing as I am, but this program is like anything in life….IT'S WHAT YOU MAKE OF IT!
This 8 week program will show you that YOU ARE WORTH IT.
For everything we give to those around us…it's time to give ourselves the gift of health and happiness!
- Stacy
Need help making 2018 you healthiest and most fit year yet?
Join our Nutrition Coaching Program starting January 15th!

[click below for more information]