I am now 30lbs lighter, healthier, stronger and happier!
Ready to make 2017 your healthiest and happiest year yet?
Click on the "green button" below to get started!
---
It was June 2015, and I had just turned 49.
I was overweight, had very little energy, was not very active, and did not feel good about myself.
This was not where I wanted to be when I turned 50 the following year.
So I thought about it all summer – how was I going to change this?
It had been years since I belonged to a gym, but I knew that's what I had to do. However, I didn't want a place where I walked in and was left on my own to workout with machines that I was never quite sure of. Or a place that had group classes where I felt I could never keep up.
Then I saw an advertisement for DSC.
It looked different from anything I had ever tried.
I then joined DSC's Women's Group.
The goal I set for myself was simple: I wanted to increase my energy level.
I found myself with a group of women who were just like me – unsure if we could do this but willing to give it a try.
Renee is amazing and so inspiring.
Two days a week, Renee gently (yet firmly) nudged me out of my comfort zone. She clearly explained each exercise and watched over us carefully, correcting us when our form was wrong, and let each of us know when we were ready to move to the next level/weight.
While waiting for my Women's Group class to begin, I would watch the Adult Class finisher in complete awe of everyone. After three months with the Women's Group and consulting with Renee (could I really do that?), I decided it was time to"graduate."
I was so scared, but I never felt alone.
The trainers are always there explaining, modeling, watching, encouraging, and guiding. There were modifications to the exercises which helped a newbie like me.
As the months went on, I found myself watching others and not getting frustrated because I couldn't keep up or lift as much -- I was inspired by them.
I wanted to be like them. And the amazing thing – everyone was encouraging, cheering each other on, wanting you to be like them as well. It was a camaraderie I had never experienced before at a gym, and it was motivating!
I had achieved my goal of increasing my energy and had lost some weight (without really changing my eating habits), but I also knew that physical activity is only part of the healthy equation.
Enter the DSC Nutrition Program!
Through this 8-week program under Tommy's and Renee's guidance, I learned about food.
This wasn't a diet – this was changing the way you eat, creating good eating habits, and making better eating choices.
I added more/new vegetables to my diet, meal prepped (hello kitchen!), and learned about fighting fat with good fats.
During this program alone, I lost 18 lbs. of fat and gained 9.2 lbs. of muscle!
I am now 30 lbs. lighter, healthier, stronger, happier and more confident.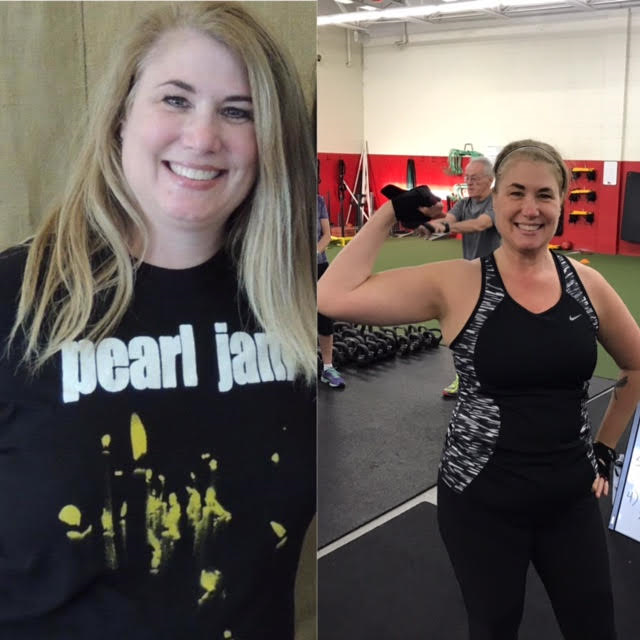 I wake up each day looking forward to going. I plan my day and appointments around my gym time. I am eating healthier and smarter.
DSC has been a lifestyle change.
If you are looking for such a change, you should definitely give DSC a try. You will not be disappointed!
As for turning 50, I rocked it DSC style!!
- Karin
Ready to make 2017 your healthiest and happiest year yet?
Click on the "green button" below to get started!