I am down 20lbs in just 9-weeks!
Ready to make 2017 the year of fitness commitment?
Our next Women's Group starts in January! 💪
---
Meet Priscilla.
Before DSC, I was a January to March, gym hopping member.
I would start out great then, due to lack of support, encouragement, and feeling like I didn't fit in, I'd stop going altogether.
Coming into DSC, I had many fears!
Being in my mid-fifties, out of shape and overweight, I didn't know if joining DSC would be different from my previous experiences with gyms. So a monthly commitment was something I was willing to chance since I wasn't sure if success would come this time around.
My thought initially was, how silly is it for a fifty year old to be doing a bazillion squats and pushing a weighted sled across the gym?
Not silly at all because I conquered that silly fear!
I wanted to be motivated and develop a love of working out. I had heard that in order to make exercise a regular routine, you need to do something you love.
I have found exactly that at DSC. I LOVE every workout and look forward to Tuesday and Thursday nights!
On September 21, 2016 I finally decided I needed to get serious about my health.
I began to eat healthier and started looking for an activity I would love and a routine I would stick to.
I saw a post from a friend (Kim Taylor) about DSC and how fun it was. So I asked her about the program and she recommended I try the Women's Only Beginners Group, so I did.
I joined in October and couldn't believe the support, camaraderie, encouragement and non-competitive environment this place offered.
DSC and trainers (Matt, Renee and Michelle) are wonderful motivators!
I am down 20lbs in just 9-weeks! I am more determined than ever to be strong and build endurance through their guidance.
My cholesterol is down 15 points, I am stronger and I am confident that this is where I belong!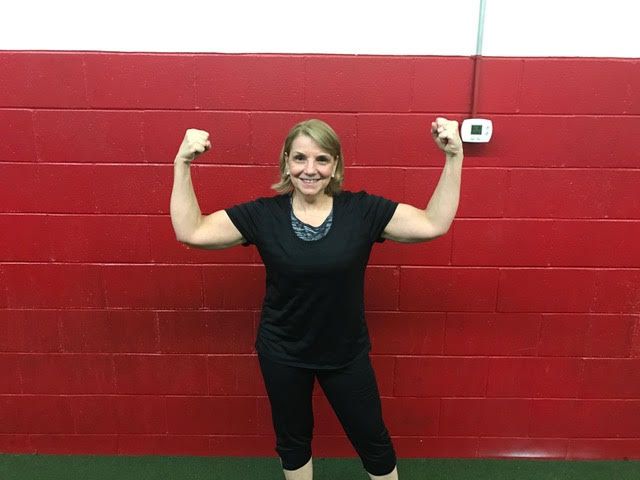 I have another 15-20lbs to go and I will reach my goal!
My experience has been nothing but positive! The women's Group is amazing!
From the friendships I've made to the wonderful trainers, I feel truly fortunate to be part of this place.
First impressions are everything, right? Well, the second day I walked into DSC I was greeted by my name and by a person! That, my friend, made a significant difference to me. I was a person with a name and not just another membership fee with an electronic check-in.
To any women thinking of joining the women's group -- give it a try! You will be hard pressed to find another place that truly cares about you as an individual, your health and your progress!
You may doubt your ability when Matt, Renee or Michelle tells you to use a heavier weight, or places a weighted disk on your back while holding a plank position, but let me tell you, the satisfaction of completing the move is sweeter than any dessert!
- Priscilla
Ready to make 2017 the year of fitness commitment?
Click on the green button below to register for our next Women's Group Training!