"I Wish I Had Joined Sooner!"
Before DSC I wasn't doing much at all in the realm of working out.
I've had gym memberships before, places likes Gold's Gym, and Work Out World but I never went consistently and inevitably always stopped going.
I used to be very active though; I had a job that kept me on my feet all day, and ran the trails at my local park.
I found out about DSC from a coworker and friend.
We had gone to our work gym together for a few months, then she started some spin classes but eventually started going to DSC.
I wish I had joined sooner when she first went but I waited for about a year, really just making up excuses for myself about why I couldn't go.
It was after seeing how much progress she was making I just decided to go and sign up!
I wanted to feel strong and confident again.
I wanted my body to be in better condition for when I have kids.
Knowing how much muscle I had lost, and how much my endurance had suffered by becoming so inactive was really starting to hit me.
I wanted to go into my 30's looking great, feeling great, and just being healthier overall.
I definitely had some fears about joining.
When I used to work out it was usually just hit the treadmill or elliptical and trying out a few machines but I knew from talking with my friend that this wasn't a typical gym.
I was nervous about messing up surrounded by all these super fit athletes.
That ended up being a non-factor once we all started working out because I realized everyone is working so hard no one is paying attention to anyone around them!
I felt nervous coming into that first Adult Group class but I also felt excited.
The gym had this great vibe, everyone seemed super friendly and excited.
I got a little sneak peek at the workout watching everyone doing the finisher and saw the variety of members, each trying their individual hardest.
After my first workout I felt great!
I had never worked out that hard in my life!
I knew I had plenty to learn but I was already hooked.
I loved the sleds and having so many different stations and trying so many new things here.
I signed up for 3x a week classes and then a few months later upgraded to Unlimited classes.
My experience with the training at DSC has been great. I have learned so much there and I know I can go to any of the trainers if I have a question about form or alternative exercises I can do.
I feel the trainers really help to create such a comfortable workout environment but at the same time they are always pushing you to try a little more weight, or run one more lap.
That constant positive energy and encouragement is really part of what keeps me coming back. I know if the trainers didn't push me I wouldn't have progressed as much as I have.
Since joining DSC, my tops are now all too big for me and I've given away most of my old jeans.
I feel comfortable wearing more fitted clothing, and fit into all of my "motivation clothes"!!
Also my cholesterol, glucose, and blood pressure have all improved!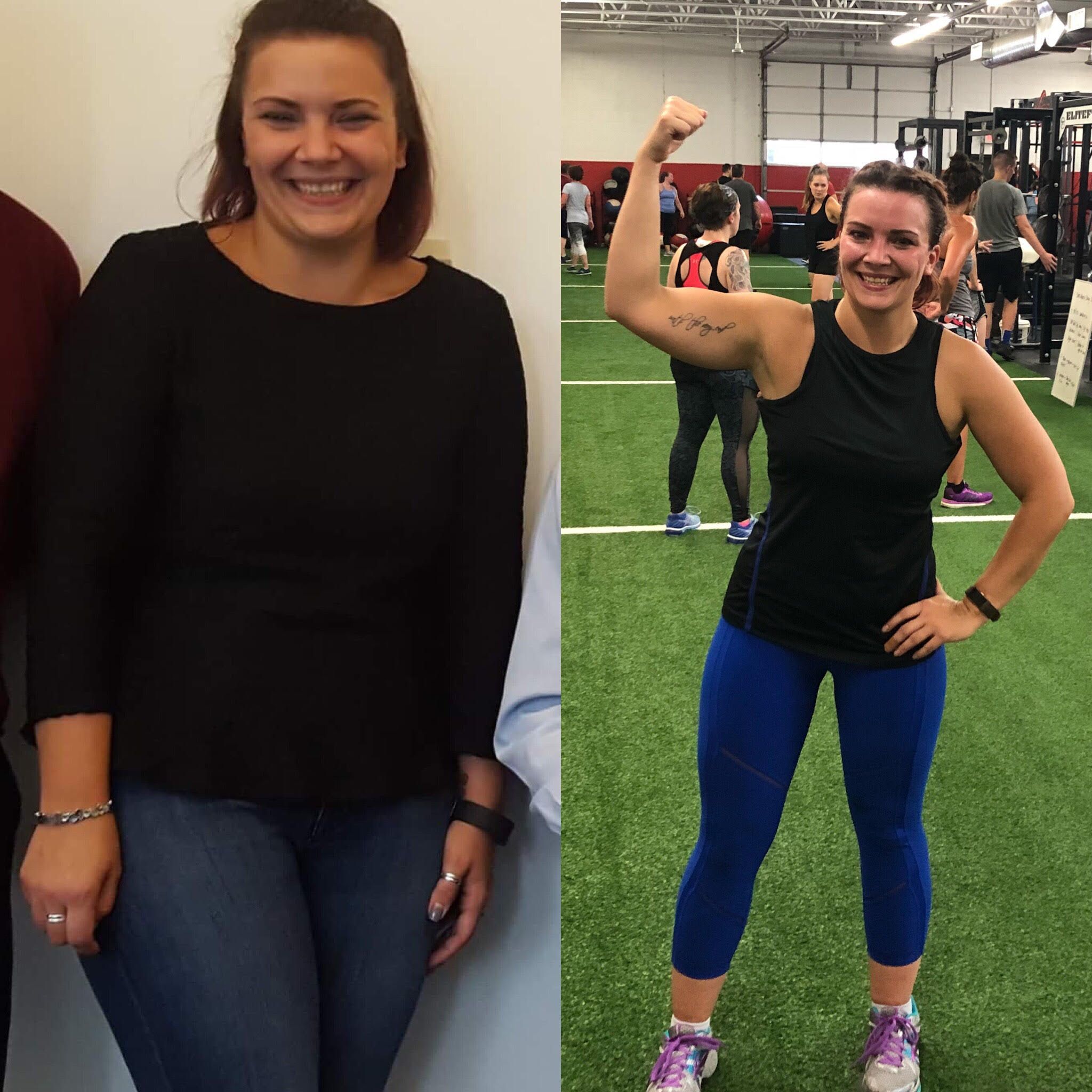 I am down 20lbs and I have lost 4 inches in my waist. My body-fat is down 9% and I have gone from a size 8 in pants to a size 4-5.
I have gone from a medium/large in tops to a small.
One of the smartest things I have done when I started was to create a spreadsheet to keep track of my workouts and the weights I've been using. It has helped me to see how far I've come. I have gone from barely being able to lift weights at all to a 135lb deadlift, 105lb Bench Press, 28kg Kettle Bell Swing, and 30lb dumbbell bench press.
My favorite part of DSC?
It is definitely is the community and vibe there!
Everyone is there because they want to be there.
I also love the variety of exercises and how often things change. It gives you enough time to improve before you start on something new.
My favorite workouts are always the strength ones now where we are doing deadlifts and bench presses. I also used to hate doing Bear Crawls and now they are one of my favorites.
My advice to someone thinking about joining would be to stop giving yourself excuses now for why you can't do it... in the end, once you start, you'll only wish you'd joined sooner!!
It is such a fun environment, and you'll learn so much about exercising and yourself!!
- Tiffany