I Spent My Summer Training at DSC for College Basketball (here's what happened)
Prior to becoming a DSC Athlete, my typical workout consisted of a daily basketball practice followed with our "team lift" that took place two times per week during the season and four times per week during post-season.
On average, these lifts would consist of a general activation warm-up -- practically poking yourself with a stick to "activate your muscles" while sitting/lying on the floor, followed with a circuit lift, and then ten minutes on the bike to fulfill our conditioning for the day.
The workout was difficult and it made us work; however, I am not the kid who can do just the minimum amount of work to get by.
In many cases, the so called "natural talent" was never something that was on my side.
In other words, a lot of times, the quick movements athletes at the Division 1 level can make in their sleep, I had no chance of making after 15 times of trying.
Nonetheless, all I am trying to say is that I have always and will always be the athlete who has to work just a little bit harder than the players standing next to me.
If they do five reps, I have to do seven.
If they get up to 155 pounds for deadlift, I have to get to 165.
If they can hold a plank for 30 seconds I have to hold it for a minute. (I am sure you get the point).
Basically, I realized that my typical workout was not enough to get me ahead.
I would have never seen my situation looking like this five months ago.
But now? Now, I see the way I am pushed at DSC and no other program comes within measures of the DSC family's commitment to make you into not only a goal setter, but more importantly, a goal achiever.
And now, I am no longer JUST the walk-on.
I am a DSC Athlete who is a player for Fairfield's Division 1 Basketball program.
In joining DSC I simply wanted someone to hold me accountable.
I always trained at different strength and conditioning gyms in the area, but after walking into Dynamic I could automatically feel the the energy and excitement of the atmosphere DSC brings to the table.
It was simply unlike any training gym I have ever set foot in.
I remember looking at Coach Matt and immediately asking, "I'm in! When can I start?" I came in to start my training not even twelve hours later... 6AM I was ready to go.
Matt asked what my goals were, and I knew right away that my main goal was to look and feel like a Division 1 athlete. I wanted to become faster and stronger.
And, in all honesty, I want my coaches to turn their heads the first time I walk into that gym and no longer look at me as the freshman walk-on.
Overall, my experience at DSC has been unlike any experiences I have had at other strength and conditioning gyms.
I have been given the opportunity to be a part of the DSC family and getting to know this group of amazing trainers has been the highlight of my summer.
On any given day, I know that once I set foot into Dynamic, someone is going to immediately say good morning. (It's the little things, am I right?)
Besides the community at DSC, I have learned so much. From the proper way to stretch before starting the workout, to advancing my plyo ability from the start of the summer up until now, to learning the proper sprinting form and the mechanics needed to become a faster and stronger athlete. I have overall improved my performance as a student-athlete.
I constantly notice how DSC has improved my daily lifestyle. Dynamic is an environment that helps athletes, like myself, notice the importance in health and fitness.
I have found my routine within my workouts and I have learned how to maintain a healthy eating style through the support given by the DSC coaches and trainers.
My top 3 favorite things about DSC are: The people. The energy. And the mentality of everyone who sets foot in that gym.
First off, the people at DSC is what makes this gym so unique.
Believe it or not, people from all over the city know what Dynamic is. I had one woman ask me at Verizon, "Oh, I saw you had one of those stickers on your car. Is that the high intensity gym all my friends are talking about?"
I was stunned at this random question, but then again, I wasn't. Why? Because of the reputation DSC has built for itself.
We talk about the amazing training we receive, the equipment we are able to use, and most importantly of the trainers who have made this gym into what it is today.
The DSC Family then creates this amazing and energetic atmosphere that makes working out fun.
Lastly, the mentality I mentioned before is rooted in the fact that every single person who signs up for Dynamic has a goal. Whether it is weight loss, getting stronger, an athlete's initiative to improve in their sport, or even just to get one's self up and going in the morning, we all have a PURPOSE.
And having a purpose for doing something is the greatest way to succeed and accomplish your given goal.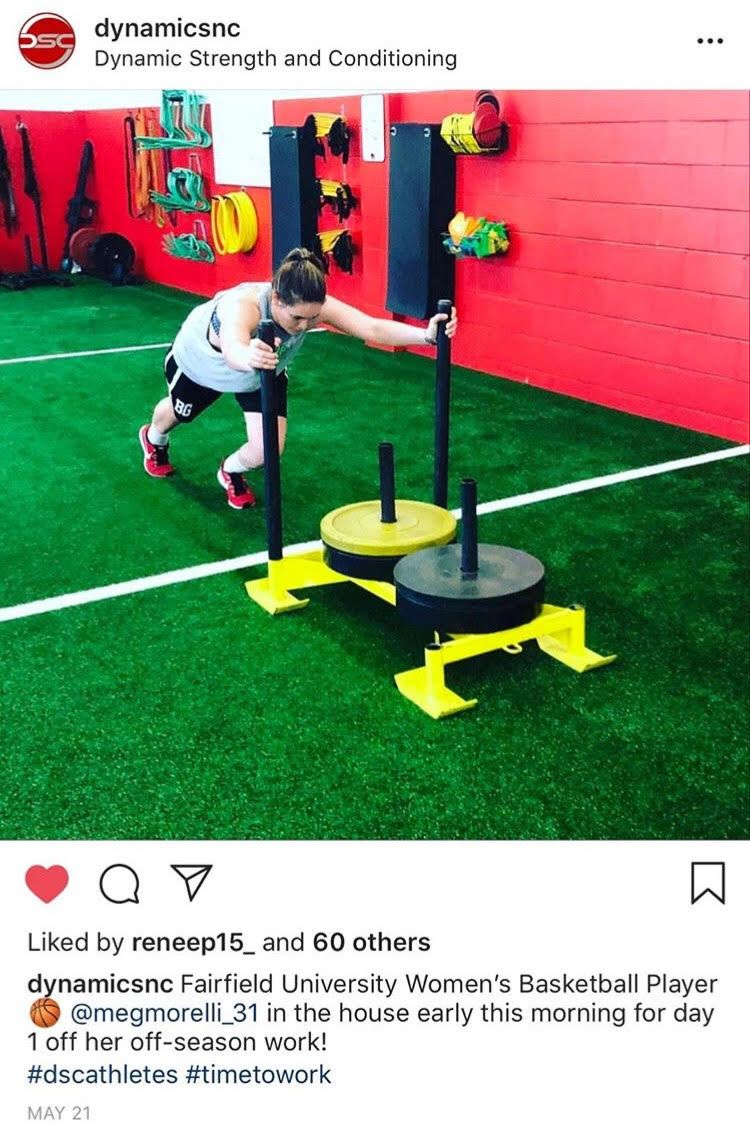 Throughout my time as a DSC athlete this summer, I have noticed drastic changes with how I am affected as a basketball player.
My ability to change direction is quicker, the conditioning I've done has given me the ability to stay on the floor longer without getting winded, and I feel stronger and more toned than ever before.
My overall quality of life as a student athlete has improved tremendously ever since becoming part of DSC.
Join today. Not tomorrow, not next week, and not next month.
Once you succeed at the first step of joining DSC Family, then don't forget to hold yourself accountable to going. No one here is going to give you a wake up call at 530AM and remind you the workout starts in thirty minutes.
If you want to make a change in your own fitness and health, you need to hold yourself accountable. Also, ask questions!
If you are not sure on how to do an exercise ask a coach because they are more than willing to help you out. That's what they are here for and they each are so knowledgable! The better your form, is the more your body will get out of it.
And lastly, your energy and willingness to improve will carry you through the high intensity workouts DSC has to offer. You can do it!
- Meagan