I've never felt better at age 59!
Ready to get into a consistent routine?
Looking for a fun and supportive workout environment?
Join our Women's Group Training today!
[click the green button below for more info]
---
Before I started on my journey at Dynamic I was probably like most woman my age , I really didn't work out consistently.
I would follow the latest fad -- Jane Fonda , Richard Simmons the latest and greatest, whoever was popular at the time.
I'd buy the tapes and later on their DVD's, pop in my player and workout in front of the TV.
Of course it was also conditional, if I had something special happening in my future or an event I wanted to look good at and wear that special outfit to I'd want to but otherwise wasn't motivated.
That soon became monotonous; I would end up knowing the whole routine by heart and go through the motions never really trying to add more intensity and never really showing much improvement.
This cycle became really boring so I would just stop doing it all together.
Then Planet Fitness started opening up all over the place.
Great! I thought this would be another option for me.
They were located in many locations making it really convenient.
I went down to my local one and signed a one year commitment thinking this was going to be something I would really enjoy. There was so much equipment and these great tv's you could watch when you were working out. I thought "how perfect is this... I can jump on a treadmill or elliptical in front of a tv that had a show I was interested in and work out."
I never ventured beyond that because I didn't know what the other equipment was for or how to use it.
There was no one really walking around helping you or asking if you had questions.
After a couple of months I still felt like it was "okay" but was not really seeing any results so just stopped going.
I knew about DSC because my son-in-law Matt is the owner.
My daughter Laura and Matt thought I would like the Women's Group and were encouraging me to attend. I was very hesitant to join since I didn't want to start going then stop like I had so many times before.
The turning point for me was a vacation to Disney with some of my family members. I was so excited for this vacation and knew shorts were in my future. So I went down in my basement pulled out my dvd's and started working out.
Then it happened: I did something wrong and hurt my ankle.
I stopped working out and took it easy. Once we got to Disney my ankle was really messed up. As I was hobbling behind everyone was when I made up my mind that I was going to start taking better care of myself.
My mother became very immobile with age and I didn't want that to happen to me.
My biggest fear about joining DSC's Women's Group was that I couldn't keep up or I wouldn't be able to do it. Everything was so foreign to me and not one TV in sight!
My first class I was a nervous wreck!
Renee and everyone was so welcoming. The workout was so different than I was used to and thankfully everything was explained thoroughly! The coaches actually demonstrated the proper techniques every time before we did them.
The other women in the group were also very encouraging. The positive feedback from everyone made the class less scary. I left that first class feeling like I could do this and knew I was on the right path to become a healthier and stronger me.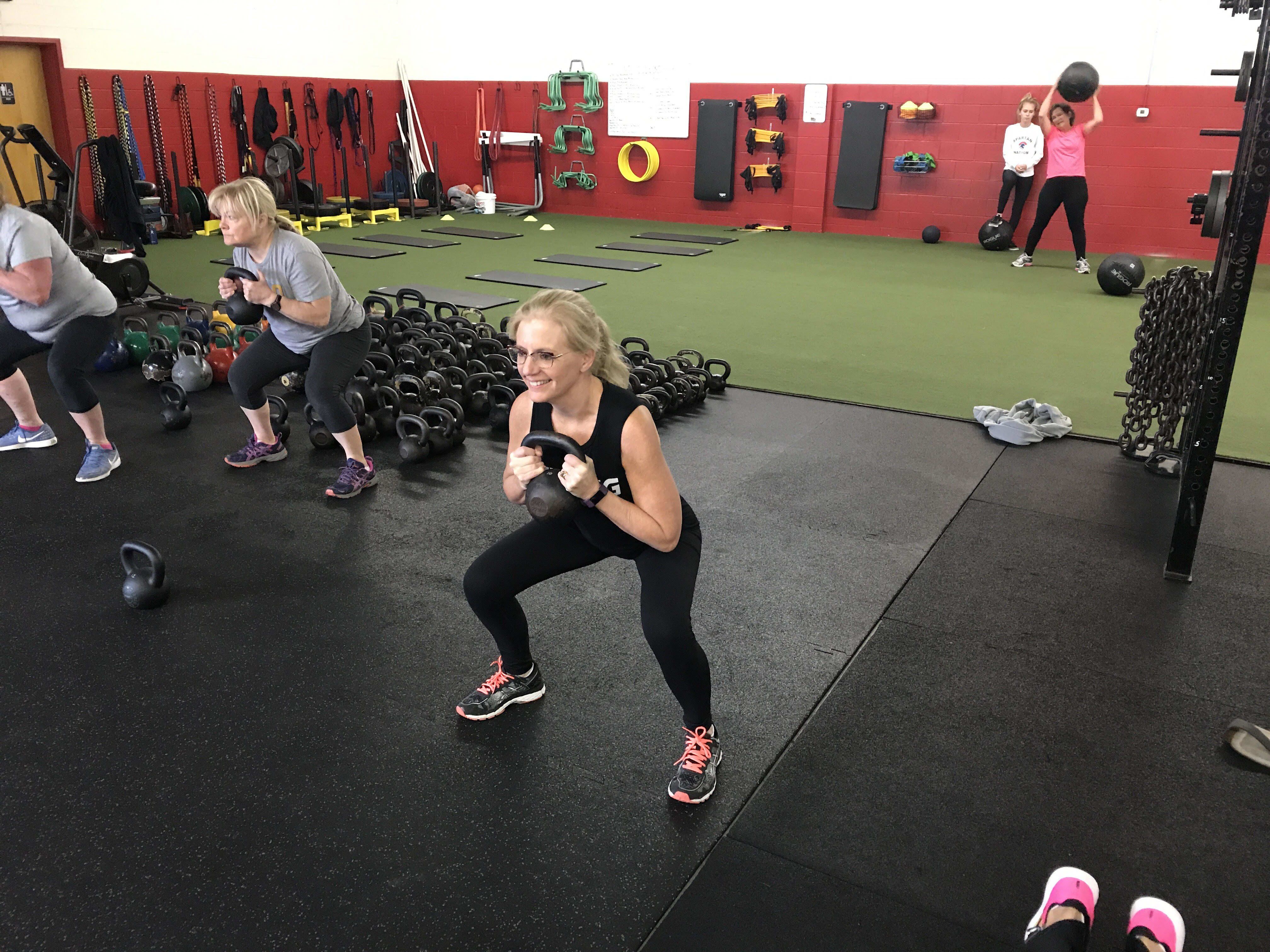 DSC and the Women's Group became my favorite part of my day! I actually looked forward to class and working out.
As I progressed I noticed that I was getting results but I started to want more. Similar to my sporadic workouts in the past, I also tried whatever new diet idea was out there and popular.
My family has very serious cardiac issues which I was trying to prevent. I heard about the nutrition program and decided to join with my daughters.
When I met with Renee and Tommy we talked about my goals. For me it was not really to lose weight but to get stronger and gain muscle (I really was under the impression I was eating healthy).
They had given me my macros guidelines to log and not calories.
This was shocking! My goals were 40% carbs 30% fat and 30% protein!
EAT CARBS !!! What !!! I ate little carbs and little fat! I really ate low calories meals.
So after they saw my first food log they informed me I was not eating enough especially on my work out days.
I had to change my mind set and start to understand that there are good carbs and good fats.
I started to follow their advice and was thrilled with the results. I felt like I could accomplish so much more in my work outs. I had so much more energy! I also started to drop weight which I never expected; I was eating carbs now, how could this be happening?!
I honestly was eating more then I ever had! I am becoming stronger and have much energy! :)
I started my journey with DSC a year ago in September, never expecting the results that I am experiencing.
I would like to encourage any woman who feels like she is not able to do this to just try.
I think once we become mothers and grandmothers we forget about taking care of us.
We accept the changes that life brings and think that this is our new normal. I am telling you it's not true.
I never thought I could do push ups ( ON the floor ) burpees, ropes, push a sled, and love doing them (maybe not love doing all of them but still able to do it).
This is possible because you are working with coaches who love what they do and forming great friendships with wonderful women who are working on similar goals.
DSC is a place where you can begin a new chapter in your life. A healthier and stronger you where everyone is welcoming and willing to help you reach your goals!
- Terry