I'm already down 20lbs with DSC's Nutrition Coaching Program!
I have been a member of the DSC gym for 6 years, but last year was a horrible time for me.
After almost losing one parent in April, I lost my stepdad in October to a stroke.
I wasn't exercising or eating with any consistency and was basically just going through the motions.
I wasn't sleeping, put on weight and felt horrible.
I knew I had to hit the reset button and in April began working out every day and eating mindfully.
I was starting to slowly lose weight when the nutrition program was starting up again in May.
I talked to Renee before joining because I didn't want to count calories or points, but to generally improve my nutrition in a way that I could make permanent.
After joining I saw great improvements on the scale and was feeling more energetic and sleeping better.
What I was most surprised at was that I wasn't necessarily eating poorly before, but in the wrong proportions of fats, proteins and carbs and I wasn't eating enough.
Making simple changes in portions of food and when I ate them made a huge difference.
Renee and Tommy gave great suggestions of pre and post workout foods too.
I can honestly say I was never hungry or felt deprived of anything.
Although I am not a huge fan of social media, the facebook posts and videos were very helpful with good suggestions on meals. The comments from others in the group were inspiring and funny.
Half way through I found out I needed to have hand surgery.
I was nervous that it would interfere with the progress I was making. The first day back as the workout was being introduced all I could think was how much I wouldn't be able to do, but Renee immediately came over to me and gave me modifications for the workout. Matt and Renee were so incredible at helping me get through those first few weeks.
My weight loss during the 8 week program was 15 pounds, but to date I have lost 20 pounds and gained 2.5 pounds of muscle. My BMI is 24 and my body fat is 23%.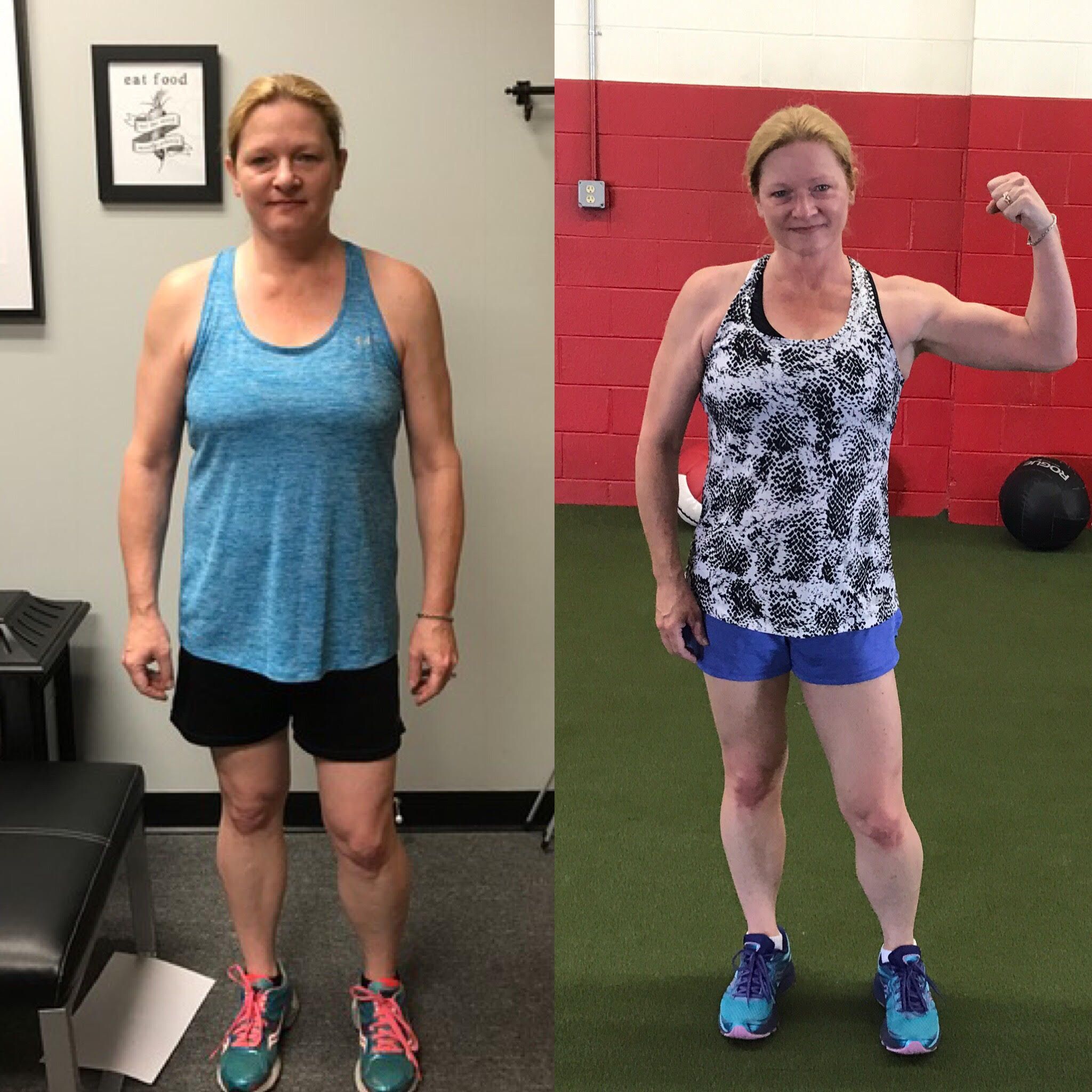 The biggest physical change is my arms and I have received a few compliments on how lean and muscular they are.
I have much more energy throughout the workout and the day.
I haven't tried on any of my fall clothes yet, but had to replace a lot of my summer clothes for smaller sizes. I am scheduled for my physical in a few weeks and am very excited to see my laboratory results.
If you are not a DSC member, I would encourage you to reach out to Matt and come in for a trial.
There is no gym like this.
Matt has created such an amazing culture that is fun and encouraging.
The trainers are so knowledgeable and their unique personalities just add to the culture. No one is ever going to say these workouts are easy, but the trainers are incredible and the results speak for themselves.
If you are thinking about joining the nutrition group, I would definitely recommend it.
It is exactly what I wanted, something that I could make permanent.
I am not done with my weight loss, but feel very secure that I will get there.
Thank you so much Matt, Tommy, Curtis, Chris, and Luke for providing amazing workouts and making me laugh the whole way through. A special thanks to Renee for all your help with my hand surgery. You guys are truly the best!
- Linda
Are you ready to look and feel your best?
Are you ready to never diet again?
Join our next Nutrition Coaching Program starting October 16th!
[space is limited!]