How we raised over $4,000 for charity in two hours!
If you ask our members to describe Dynamic there is one answer you'll hear time and time again.
"It's so much more than just a gym!"
Over the past 2 years Dynamic has grown quite a bit.
In fact, the amount of DSC members, or what we call DSC family members has quadrupled in that time.
In two years we have grown a vibrant, strong DSC community.
Which is a huge part of our mission at Dynamic.
We are not in the business of gaining memberships. We are in the business of changing lives, helping our members reach their goals and building relationships that help and support those in our community --- because together we can do so much!
Yesterday, was a great example of that as it marked our second annual DSC 50 Legs Charity Workout.
50 Legs is an organization that helps amputees gain the proper prosthetics and care they would not otherwise be able to afford.
Our morning started at 8:30am with 200 DSC members, friends and family members filling the gym to hear Celeste Corcoran, speak about her journey since losing her legs in the Boston Marathon bombing and her experience with 50 Legs.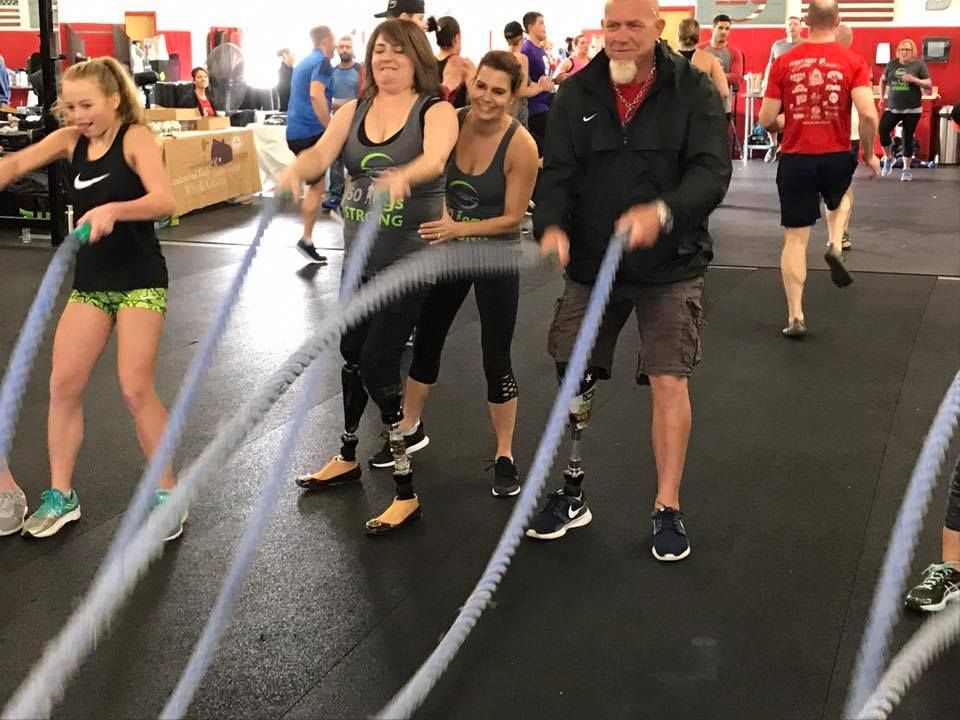 (Celeste, left with 50 Legs founder, Steve Chamberland during yesterday's charity workout)
You can see her incredibly inspiring LIVE Facebook talk by clicking, HERE!
Celeste's message about her journey with 50 Legs was powerful, inspiring and moving.
Celeste goes into more detail on the issues surrounding the availability of today's prosthetics in WMUR's interview at DSC below.
Each workout began with a group warm-up to get everyone ready to rock!
We then split into four stations, utilizing a variety of equipment like our sleds, medicine balls and ropes.
The energy, environment and amount of support during both workouts was just incredible.
Celeste and and another 50 Legs prosthetics recipient, Colin Cook who lost his leg a few years back to a shark attack jumped in the workouts as well.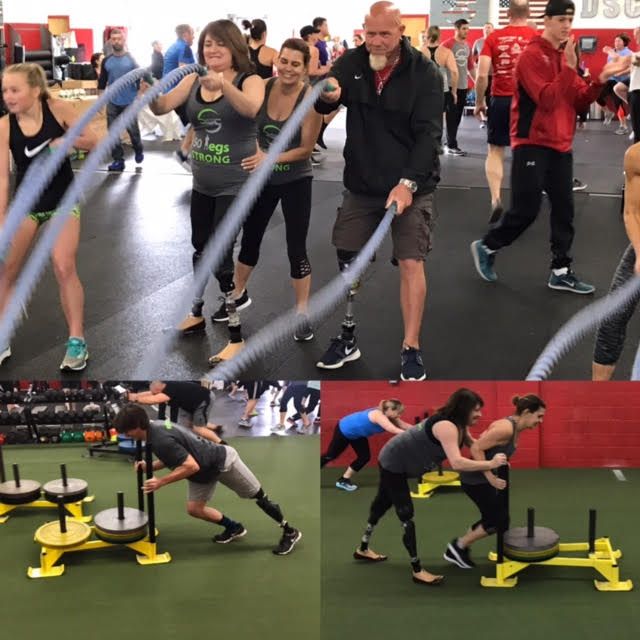 Click on the video below to see our participants in action!


Here are some images of our amazing day!
Over the course of two workouts and close to 300 participants, we were able to raise over $4,000 to support the 50 Legs organization.
We want to thank everyone who made our day so AMAZING!
To read more about our day, check out the Nashua Telegraph article by clicking HERE!
#DSCfamily