How one couple lost 45lbs with DSC's Nutrition Coaching Program!
Are you ready for the body you deserve?
Are you ready to never diet again?
Are you ready to have a better relationship with food and get rid of the confusion?
And are you ready for results?
Join our next 8-week Nutrition Coaching Program starting in July!
[Space is limited!]
---
In my thirties, I was a weight watchers (WW) leader, and also worked for WW corporate, writing meeting guides used in all meetings.
Both my husband, Phil & I were lifetime members.
So, we thought that we were old hands at this stuff.
But as middle age set in, we both gained weight even though we thought that we were eating healthy.
In truth, we were following antiquated one-size-fits-all nutrition advice that just wasn't cutting it anymore.
We weren't tracking what we ate, and dessert was a regular part of our diet.
We'd occasionally try to lose the weight by cutting calories, but the weight came back on almost immediately. We have medical issues that behoove us to be as lean as possible; in my case, two prior cancer diagnoses, and in Phil's, a heart condition.
So, our goals were to trim down, and more importantly, reduce body fat as much as possible.
We had the fitness piece figured out with DSC workouts, but the body fat issue was a problem and needed to be addressed. In addition, we were coming up to our 30th wedding anniversary, and we wanted to feel and look good for this milestone!
To be honest, going into the program we were really baffled as to what we were doing wrong, since we both worked out regularly.
We were starting to chalk it up to growing older.
Our biggest hope was to try to solve the puzzle as to why we weren't getting results doing what we'd done before.
When you research this stuff, there's tons of conflicting advice, but how do you choose?
As I've grown older, I've realized that weight management is not a one size fits all issue. It differs for each person, and is dependent on so many things: gender, age, current weight, exercise routine, hormone status, etc.
Our hope was that the DSC nutrition program would look at all of these things in a more holistic way than other programs we'd tried in the past, thus personalizing the nutrition program to each person's needs and goals.
The program was a home run from the onset.
The initial intake testing included a measurement for body fat (exactly what we needed!), and a discussion of goals.
The first video was all about how to tailor those goals to the macro nutrient percentages eaten (carbohydrate/protein/fat).
This was THE key to success for us.
We used MyFitnessPal to monitor our macros, and it was a useful way to plan meals. I think that it really helped that we did it together.
Passing in food logs ensured accountability and the feedback was really helpful, with great suggestions.
Tommy & Renee introduced a different goal weekly, which really helped to both build knowledge and mastery without being overwhelming.
The Facebook group was another great way to connect with others in the program and to ask questions.
Honestly, the best part of my day was looking at photos of what everyone else was eating.
Being successful with the program has also benefited our workouts.
We're not as tired, and can do more and work harder during the workouts (burpees on the floor! more comfortable bear crawls!).
DSC workouts are challenging, and carrying less weight feels much better. Plus, you get the added benefit of seeing muscle definition as the weight comes off!
We saw success almost immediately.
In Phil's case, the weight literally melted off, much of it in the heart health belly area, and in 8 weeks, he got down to the weight that his doctor recommended.
He has lost 30lbs since starting the program.
His fat percentage went down to the "excellent" range, and he was so much smaller that all of his suits were too big and needed to be replaced.
He filled and donated 5 huge trash bags of too-big clothing. He doesn't feel exhausted any more during workouts, and he feels great.
I have lost 15 pounds so far, and incredibly, ALL of it is in body fat mass, not lean mass.
My body fat percentage went from over 33% (high range) to 26% (good range).
Interestingly, clothing that I wore previously at this lower weight is now way too big, which is probably due to a much lower body fat percentage than before.
I feel like I'm 20 years younger, working out is much easier and more fun, and I'm in a smaller clothing size than I've ever worn.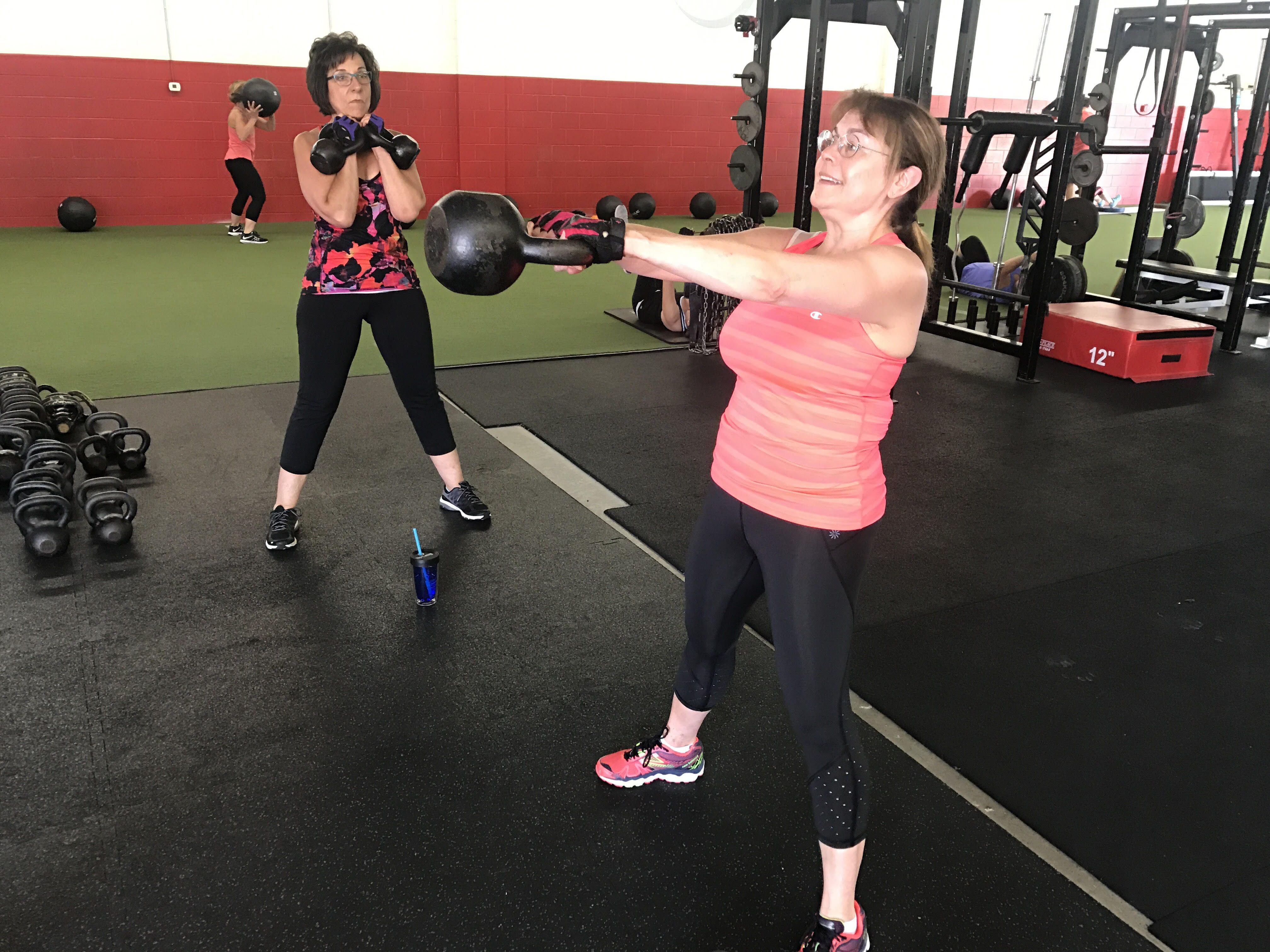 This program works well for DSC members because it's run by and speaks the language of people who know and value fitness.
Thus, for example, the topic of what to eat before and after working out is a serious question that warrants discussion in the broader context of goals, and how and what to eat.
Eating too much, and eating the wrong foods can seriously derail fitness goals.
It may not be difficult to eat the right thing, but you need a framework of HOW and WHAT to eat.
Looking at your individual circumstances and goals and then applying correct nutrition advice can make a huge difference in the way that you look, feel, and progress in your training.
The program is fun, there's lots of positive camaraderie, and the trainers are always there to answer questions.
I am so glad that we did the program, and so grateful for the results!
- Carolyn


Join our next 8-week Nutrition Coaching Program starting in July!
Click below for more information!