How a N.H. high-school baseball player earned a Division 1 scholarship
Before working out at DSC I would do the traditional cardio and standard lifting, stretching and jumping rope.
I didn't really know what I was doing.
I was introduced to DSC by the pitching coach at St John's University. I was 15 years old, 6' tall and weighed 160 pounds.
I was hoping to get bigger, stronger and work on techniques that would help me with pitching so I joined Dynamic's Athletic Development Program.
The first workout was intense and it has opened a whole new world to me and they helped me realize that this was my passion.
I bought into the DSC system completely.
I changed my whole diet and exercise routine.
I have gained over 40 pounds in muscle, increased my flexibility, and I'm stronger than I could have ever imaged.
This has increased my pitching velocity by almost 10 mph, enabling me to get interest in schools around the country.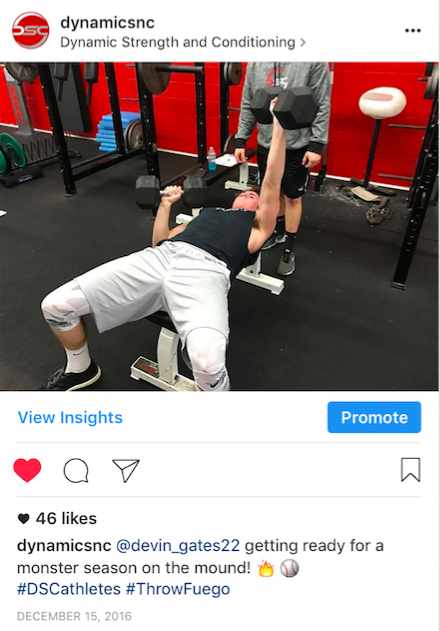 I am happy to say that I have committed to UMass Lowell and will sign my Division 1 letter of intent in April. There, I will work towards my Doctorate in Physical Therapy.
Lastly, I had been suffering with back pain for about a year before coming here and after one session with Matt, he realized that my hips were the cause and he corrected the problem, relieving me of pain.
Ever since I have joined DSC, I've told everyone that I come in contact with that if you are a serious athlete and want gains you should check out DSC and see what a real work out should look and feel like.
My routine changes every 4 weeks which keeps my workouts interesting and my results are increasing with every session at DSC.
- Devin
---
For more information on our Spring Athletic Camps, click on the green button below!