How Ora lost 50lbs with DSC'S Women's Group!
This started as a New Year's resolution to start living a healthier lifestyle. Over the last few years I had just let life get in way and forgot to take care of myself, gaining a lot of weight to the point of being over 200 lbs.
I actually don't know what my heaviest weight was since I avoided the scale and doctors, but I know was very unhealthy and having lots of issues from bad skin to constant aches and pains.
I am sure I probably had many other more serious issues developing but I wasn't even going to the doctors just to avoid the dreaded lecture I knew would accompany a visit.
I was very uncomfortable in my own skin, finding myself wearing my husband's t-shirts all the time and getting frustrated when I needed to go clothes shopping. I decided that 2018 I was going to change things and become healthier.
I had said this many times before however, especially in the last couple of years since turning 40.
The end of 2017 came and beginning of 2018 was starting so I needed to start putting a plan in action to start living healthier.
But I knew I needed to take it baby steps; I couldn't tackle everything all at once or it would just be too overwhelming and I would not be successful as all the other times I tried.
For the month of January, I just focused on healthy eating and I cut out processed foods.
I have been always told that it takes 21 days to develops a habit so for 21 days I just focused on eating healthy.
I didn't worry about going to a gym yet but I knew I would need to start developing a workout routine soon.
My group of close friends decided we were going to do a Biggest Loser Challenge together, to help all of us become healthier and hold one another accountable. The challenge would go through July when we all go away for girl's weekend which was 26 weeks away.
We started to get together once a week for a healthy dinner and to share our experiences. It was our own support group.
At one of these dinners someone suggested we go check out DSC to see what's it all about and to see if they could help with our workouts since we all didn't really have experience or like going to the gym.
Before DSC my typical workout was non-existent for many years.
I had previously pretty much tried everything such as: Zumba (but would get frustrated because I could not keep up and got lost, and looked foolish trying to keep up), Private Training (but got too expensive and I found myself chatting too much doing the session with the trainer), and going to a box gym trying to do 30 minutes on either the treadmill or elliptical (but this just bores me and there was no motivation to go).
I had heard about DSC 2 or 3 years ago from friends that were posting/checking in on social media about it but there were a couple of reasons why I hesitated in checking it out:
1) The close friends that I knew went here were in great shaped and worked out all the time so I thought DSC was for more experienced individuals and I knew that was me at all.
2) I knew it would be hard to stick to going due to my crazy work schedule, including long hours and traveling occasionally, so I thought why start something that I couldn't be consistent with.
Prior to really making the decision to check out DSC, my biggest fears were that it would be too challenging and I would look like a fool in front of strangers.
I had thought going to DSC would be too far out of my comfort zone and something I would not do on my own.
Honestly, at the time of joining I didn't have too many expectations or goals other than going to work out with my friends during our challenge and try to have fun with them, especially since money was at stake with our challenge.
But as time went on I found myself going more and more; even on nights that my friends were unable to go, I still went!
Joining with friends really helped with my fears of starting and not worrying about looking foolish, because trust me they had seen me at my best and worst.
Looking back, I am sure I would have been fine even if my friends didn't show up that first night.
Sara at the front desk was very inviting and could see that I was a little nervous walking in and that it was my first class.
We had been emailing back and forth earlier that day because I had lots of questions ranging from billing/pricing, to if I was locked into a specific day to workout, to what to expect during class. I am full of questions when I am out of my comfort zone.
Fast forward to today, the story is very different from that of six months ago - I workout at DSC typically three times a week! The days that I don't go to DSC to workout I will actually go to the gym and do a 30 minute workout to keep up momentum!
I have come such a long way. I am not quite ready to run outside (kind of clumsy and might hurt myself) but I will go for a walk during my lunch hour at work and I no longer dread working out.
My husband and I actually hiked Mount Wachusett a couple of weekends ago and I felt great. Since I did such a good job we are even planning other hikes and outdoor activities to do together this summer!
Last October in comparison, we went on a hike and I complained the whole time so he/we cut the trip short and left. I was just so uncomfortable in my own skin, my feet and knees hurt because I was so out of shape and carrying so much extra weight.
Throughout the Challenge, my friends and I all started to see results by going to DSC!
The scale started going down, clothing started fitting loosely, I was feeling stronger, and had more energy!
We were all excited and didn't expect to see such awesome results!
At the end of the challenge 3 of us were down over 40lbs!!
I have personally lost 50lbs!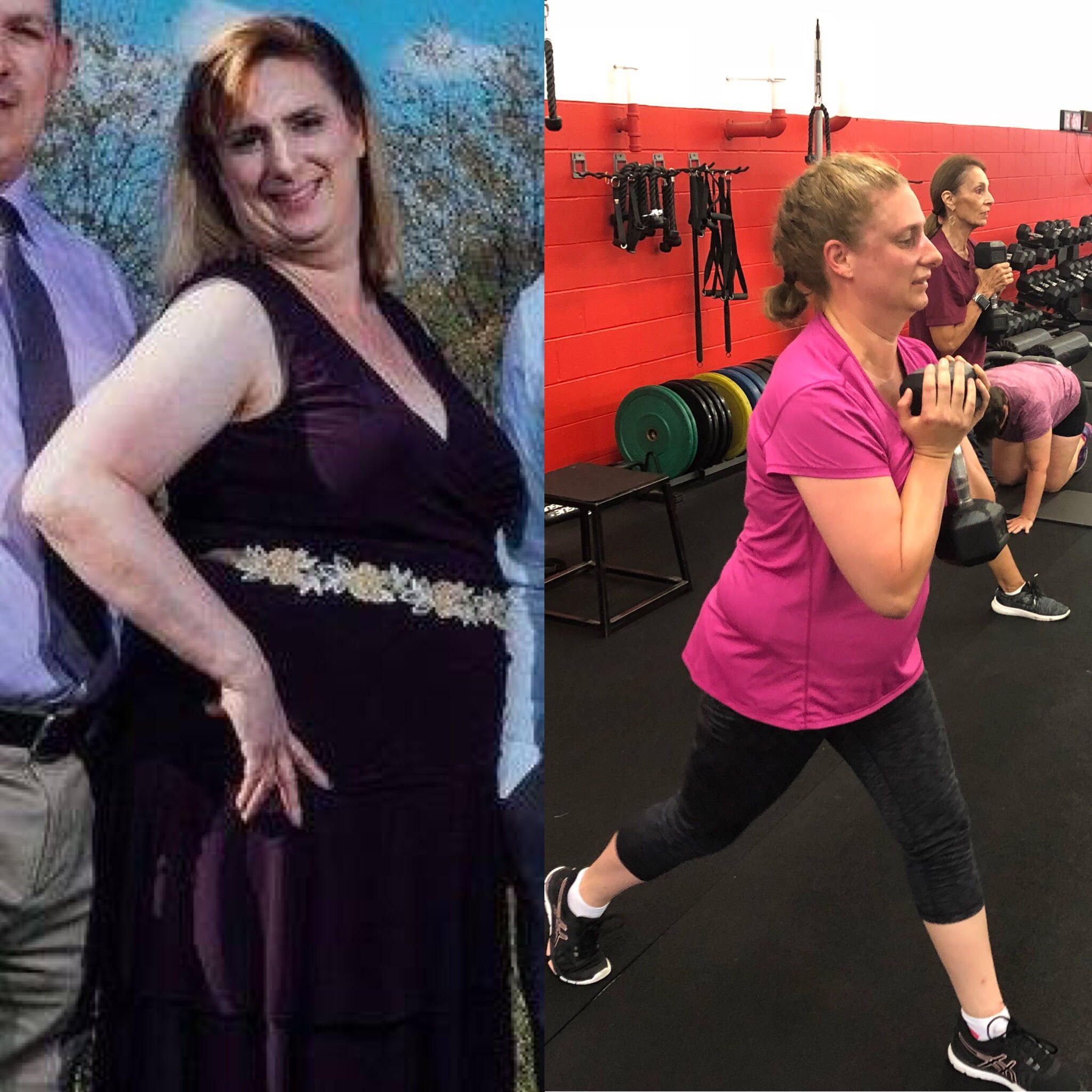 I am down several pant sizes.
I am feeling stronger (my 80lb dog can no longer pull me to the ground, when she sees a cat during our walks), and my energy level has increased full fold.
Just because the Challenge is over, my journey to a better and healthier me is not over.
Now that I have found DSC and this healthier lifestyle I am excited to keep moving forward!
My favorite part of DSC would be the people and all the support the coaches give during the workouts.
Everyone is so supportive during the workout, especially the sled push finisher everyone is clapping and cheering each other on.
From day one everyone was very welcoming during workouts, probably because everyone remembers their own first time walking in to DSC and how far they have come since.
So because of this I try to do the same, even though it has only been 6 months since the first time I walked through doors of DSC for the first time myself. We all start somewhere!
Even that is outside my comfort zone since I am usually more of a watcher in new situations and takes me a little while to become part of something. The community here encourages your involvement though.
So not only is DSC helping my journey in being healthier, it is also helping me step outside my personal comfort zone and get involved.
Another thing I really enjoy is that the weekly Women's Group workouts repeat for 4 weeks.
I think this made the difference for me sticking with it versus other workout programs that I have done at gyms in the past because the workouts there would change every time I went so I would get overwhelmed and frustrated because I couldn't keep up.
Lastly, even though I might complain the whole time when the coaches suggest increasing my weights, I actually really appreciate the extra push to challenge myself (again helping me come out of my comfort zone).
My advice would be to try it before you make any assumptions, because it is definitely not what you think!
DSC is a different experience than other places and you need to check it out for yourself before you come to any type of conclusion.
Everyone will make you feel comfortable and the coaches will walk you through every step of the first class and make sure you that you are comfortable!
Good luck!
- Ora
Ready to get started?
Join our next Women's Group Program starting August 6th!
Click below to register!