How I went from not going to the gym in 27 years to crushing it at DSC!
Before DSC, I had not belonged to a gym for 27 years.
My workouts consisted of walking on my home treadmill 3 days a week for 30 minutes at a time.
Although I didn't think I was in bad physical shape, I was.
My heart beat out of my chest and I would get out of breath just walking up a flight of stairs.
I wanted to enjoy outdoor activities with my 25 year old daughter but when I climbed Blue Hills (635 feet) six months before joining the gym I seriously thought I was going to die!!!
What finally prompted me to join DSC was a lost bet.
My "punishment" was participating in a Fenway Spartan Race and I knew I wouldn't be able to complete this in the shape I was in. I had to do something to avoid ending up in the back of an ambulance!!
With my daughter's encouragement I signed up for DSC April 1st and gave myself 7 months to get into better shape.
My first class was so fun, not intimidating at all.
Everyone was so welcoming. I started the same time as my new gym friend Amy did. We were newbies together!!
I immediately loved Renee, she's awesome!
I was a bit nervous coming in but figured I would give it a shot.
I LOVE the Women's Group!
No judgement.
We're all different ages and sizes and that's what's great about it!
It wasn't long before I noticed that I felt better, stronger.
My overall experience in the Women's Group has been very positive.
The women are wonderful, supportive and friendly. We've even become friends outside of class.
My results have been amazing!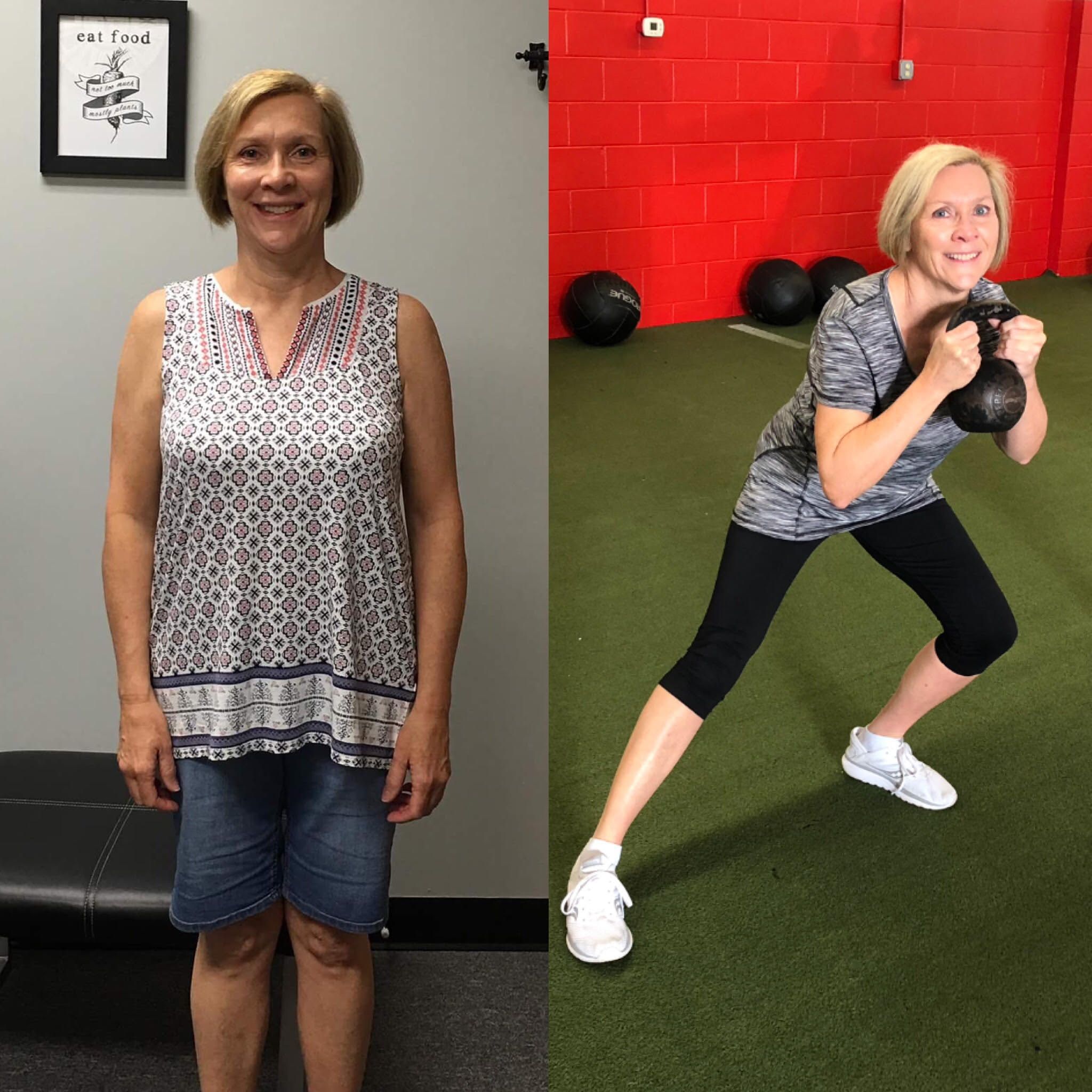 Between working out and joining the Nutrition Program, I've lost 13lbs and some serious body fat!
My initial goals were more about feeling healthier (strength and conditioning ) and surviving the race than anything else.
I not only finished the Fenway Spartan race but I voluntarily signed up for another one in April!
I also climbed TWO 4,000 foot mountains with my daughter last Fall. We can finally do these things together and it makes me so happy! I can definitely walk up stairs without struggling now.
I feel much stronger!
The people here have made the biggest impact on me though.
The women I work out with are fun; we laugh a lot and encourage each other.
The coaches are also extremely supportive and helpful!
I like that they are always there to correct my form if I'm doing an exercise incorrectly and if needed, they will modify an exercise for you.
It's not "one size fits all".
I love the program format they have... exercises change monthly so there's variety and we always work different muscles.
The advice I would have for someone thinking of joining is to do it!
- Cheryl
Are you ready to get into a consistent routine?
Are you ready for the support and results you deserve?
Our next Women's Group starts in May and we'd LOVE to have you!
Click the "green button" below to get started!