How I lost over 40lbs at DSC!
My typical workout before DSC was around a 60 minute, boring workout.
I would do a cardio warm-up, stretch for about 10 minutes, and hit the weights for about 40 minutes.
I found it hard to motivate myself to be consistent at the gym.
When I initially started at DSC my goals were basic (and not well-defined); get in better shape and lose weight.
Back in December I weighed nearly 250lbs.
That was the heaviest I had ever weighed in my life and I wanted to lose 20 pounds.
Another goal of mine was to complete an unassisted pull-up. This was something I haven't been able to do in 20 years.
Back in April pull-ups were part of the workout and I was able to do a couple unassisted and smiled to myself afterwards. That was a big win for me.
Before joining DSC I found myself putting off giving it a try for over a year.
I'd tell myself things like, "I don't have the time" or "my shoulder is sore" or "my hamstring isn't 100%."
I had plenty of excuses but when I was ready to hold myself 100% accountable I made trying out DSC a priority and joined the following day.
I wasn't sure what to expect from my first workout but other members were very friendly, certainly made me feel welcome. They even offered to help me when I was having difficulty with certain exercises.
From day 1 Coach Kurtis was there to demonstrate exercises and movements and made sure my technique was correct.
Renee, Tommy, Chris, Luke and Kurtis have all been great coaches and have helped me tremendously.
A special thank you is in order for Matt, the owner.
He has continually pushed me, coached me, to achieve results repeatedly that I never thought would have been possible 6 months ago.
A few months into my training at Dynamic I joined their Nutrition Coaching Group.
This was extremely beneficial to me.
Almost every week I'm in class 6 days a week and I knew I could get a lot better with my diet.
I knew with my workout regimen and proper diet I would see more results and feel better overall.
The nutrition program gave me a solid foundation of what I should be eating without any gimmicks, analyzed my macro ratios and offered support throughout the entire program.
The community aspect of sharing challenges, successes and recipes was great too!
The combination of awesome workouts and DSC's Nutrition Coaching Program I have crushed my 20lb weight-loss goal and have lost over 40lbs!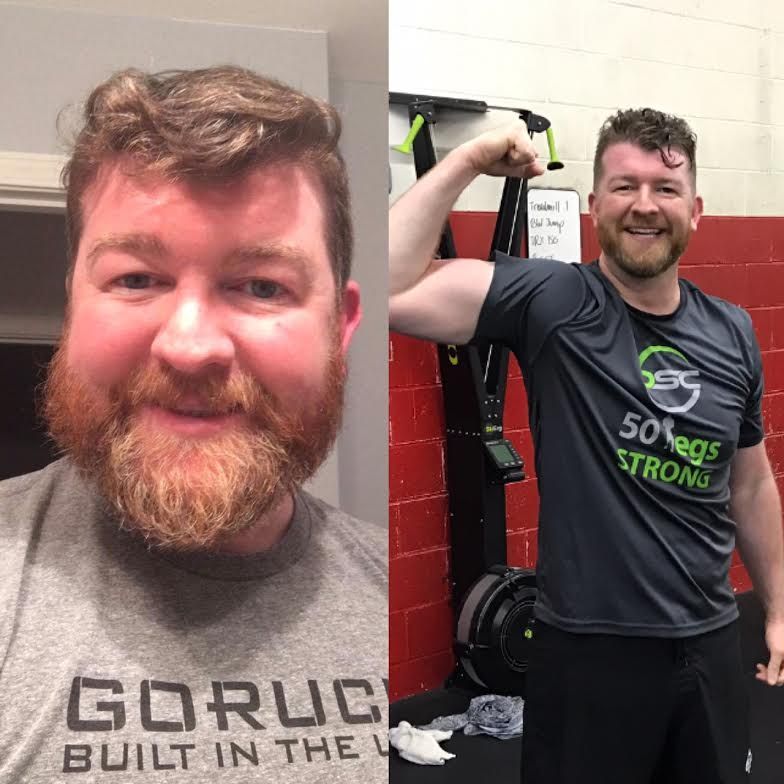 The best part is that I have only gotten stronger!
Never did I think I could weigh under 200 lbs again but it is a real possibility at this point.
Just over the course of the 8-week Nutrition Coaching Program, I was able to lose 11lbs and 4% body-fat!
If I were to give advice to someone thinking of joining DSC the question I would ask is, "what do you have to lose?"
The coaches are exceptional, the workouts are challenging but they are able to scale workouts based on your ability.
If you have an injury they are able to tailor workouts to your needs.
Most of all the community component is awesome!
The comradery of members cheering each other on and pushing one another is one of the things about DSC that I love the most.
If you're nervous about your first class or don't know someone at Dynamic, come to the last class of the day. I am usually in the 5:30 or 6:30pm class.
My name is Jeff, I will be your first friend of many at DSC.
- Jeff