Prior to joining DSC I never had a consistent workout routine.
Other than being on my feet all day at work, the most exercise that I got was going on walks with the kids when the weather was good and coaching little league baseball.
Some of the trainers from DSC were customers of mine at our bakery and after getting to know them over time I decided it was time to check it out for myself.
My main two goals were to lose weight and lower my blood pressure.
I didn't have a specific weight loss goal but I did want to get my blood pressure low enough to no longer need medication to control it.
Coming in I absolutely had fears of joining!
I was afraid I would hold up the rest of the group.
I was afraid I'd aggravate old injuries and I was afraid I wouldn't have the self-discipline to make the time to go on a regular basis.
All of those fears were put to rest after the first week when the trainers showed me how to modify the exercises so that I could keep up and most importantly stay safe.
Now there are no worries about coming on a regular basis because it's a place that I love to be and our family believes so strongly in what DSC is all about that my wife, son and mother are all members too!
I joined DSC on January 2nd of 2017 and I joined the Phase 1 Nutrition Program March 18th.
When I joined DSC I weighed 316lbs and had over 44% body fat.
Joining DSC's Nutrition Coaching Program opened my eyes to a whole new way to look at what, when and why I'm eating food.
I certainly still enjoy food and I love to cook and be creative in the kitchen but I now know how to use food as a tool for success in other parts of my life rather than a comfort or reward emotionally.
Getting a handle on and learning how to build my daily calories in proper balance, and how to correct the balance of my food throughout the day to achieve my daily goals, has literally changed my life.
It has given me so much power and control over my daily food intake and it has empowered me to make better decisions and I feel so much better now!
In March when I joined the Nutrition Program, I was already down to 300lbs and 41% body fat just from my workouts at DSC
After the 8 week nutrition program I had lost another 21lbs and 3% body fat!
By the end of 2017 my weight was down to 255lbs and body fat was down to 34%!
That's a total loss of 61lbs and 10% body fat for the year!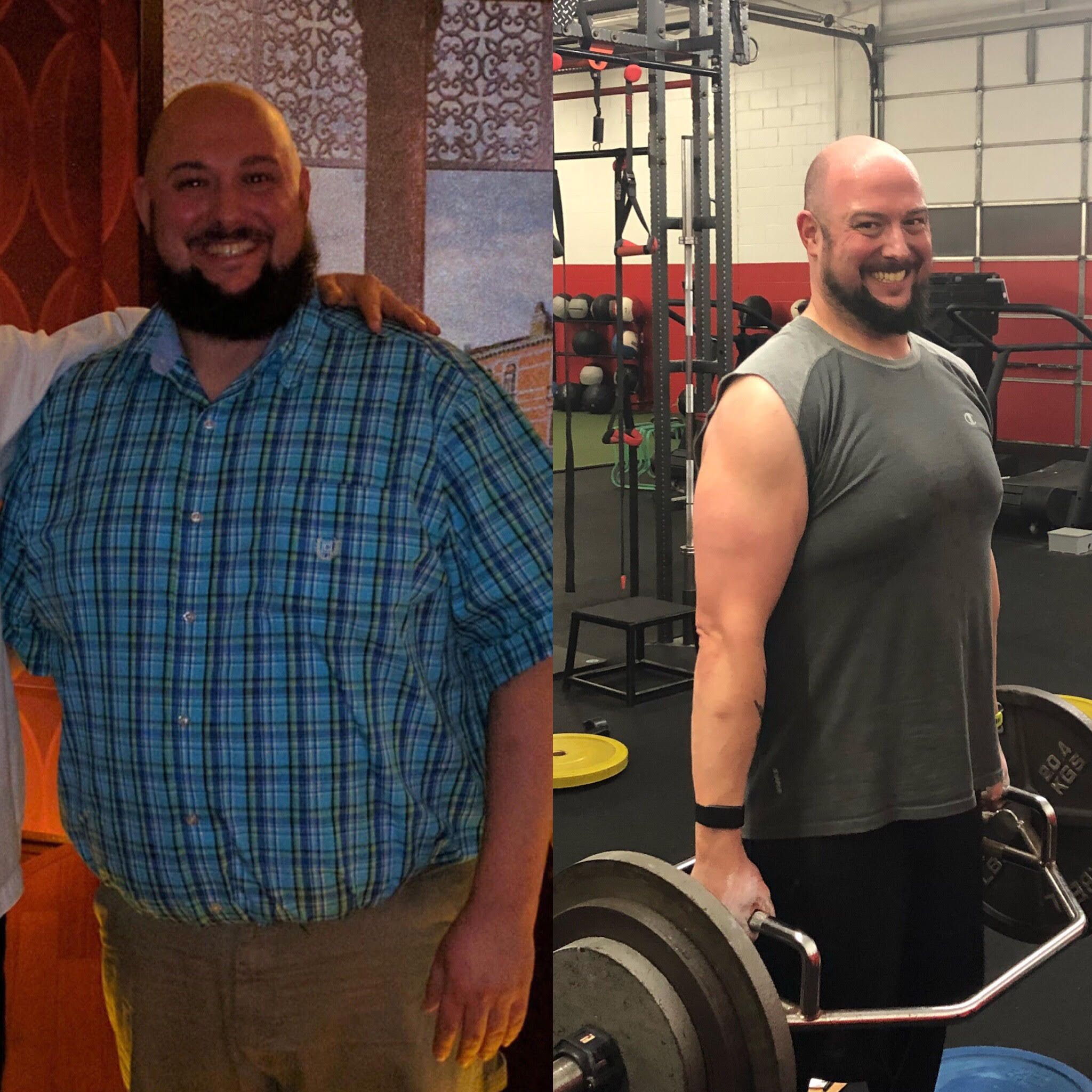 I've gone from a size 44 in pants to a 38.
I just got my blood work results back as well!
Total cholesterol:
Before: 245 mg/dL
Now: 204 mg/dL
LDL:
Before: 176 mg/dL
Now: 143 mg/dL
Triglycerides:
Before: 154 mg/dL
Now: 62 mg/dL
I'm stronger, faster, have more stamina, my blood pressure is down to 130/80, and I'm off the medication!
Last year I also ran over a dozen 5k's, 2 5-milers and a Spartan Race. I NEVER thought I'd be able to do any of those things prior to DSC.
The support and coaching made the biggest impacts for me.
When I wasn't able to do an exercise the coaches were always there with a modification to make it work for me within my limitations so I could still get stronger.
Because of my past injuries, my work with Jamie Morse at Altitude Physical Therapy at DSC was also crucial to my success.
She was always there when I needed her for work on my knees and ankle, making sure I was using the proper form and letting the coaches know when i had limitations to watch out for.
The entire team at DSC has made all the difference and along with the support of the DSC Family of members, I felt so empowered and confident!
The community at DSC is unlike anything I've ever seen or heard of at any other gym or fitness facility.
There is endless support and motivation from the coaches and the other members. I've never seen more high 5's than I have at DSC!
The trainers and other members lead both by example and verbally with support and encouragement at the gym and on the DSC Family Facebook page.
Being able to openly communicate with everyone about struggles and successes physically, mentally and nutritionally has been a huge help to overcome my own personal struggles.
We've had at least 3 people join DSC as a result of our family being members and telling them about how amazing DSC is.
We told them the same thing I would tell others --- JUST SHOW UP!
Coach Matt will tell you that your short term and long term goals WILL be achieved with consistency.
My advice is just to show up consistently and give it your all and the trainers will take amazing care of you to make sure you are getting everything out of it.
This is the friendliest and most supportive group of sweaty people you could ever hope to meet and we LOVE DSC!
- Jeremy