How I lost 22lbs with DSC's Nutrition Group Coaching
Our Next Nutrition Coaching Program starts May 20th! 🍎
Space is limited!
---
Before starting DSC's Nutrition Coaching Program I had no real plan. I figured I was doing okay.
I knew I needed to eat more veggies, I knew I needed to portion my meals better, I knew I needed to provide better nutrition to support my workouts, I knew I needed to make adjustments
I figured I was doing okay overall, but at some point, okay is not good enough.
This is the most important part of the program for me.
I've written this response a few times, I never liked how it read. I sat today to draft another response.
I attended the funeral services for Watertown, MA Firefighter Joe Toscano who died in the line of duty on March 17th while working at a 2-Alarm house fire.
When I was trying to figure a way to explain what I was looking for from the Nutritional program, I was at a loss for words. What I was looking for is not something that can be easily explained. I was (and am) looking for life…as in I was looking for a way to live a longer life.
I've been a firefighter for 20-years, it's a great profession.
But, the job takes a toll….physically and mentally.
As I stood with my brothers on Main Street in Watertown, Watertown Engine 1 passed with FF Toscano's casket atop, I had tears in my eyes.
I knew that behind the Engine would be a car containing the Firefighter Toscano's wife (Maurren) and five children (Alyssa, Patrick, Mary Cate, William, and Michael). They lost their husband and father to the same job, to the same stress, to the same "love" of a job that I have.
I've been part of too many of these funerals over my career and each one drive home to me how important it is that I am as prepared as I can be for my job….for my wife and my kids.
In a round-about way, these are the factors I discussed with Tommy and Renee. I basically said, I'm getting old…I need to take my health to the next level and I needed to provide my body with a better nutritional base so I can prevent as much of the bad stuff that comes with my job as I possibly can.
They both said, we can help.
Coming into DSC's Nutrition Coaching Program, I knew I needed to adjust my nutritional habits.
I needed a system of accountability and I wanted it to be from people I knew and trusted.
From day one, I felt like my concerns and desire for success was taken seriously.
Though the DSC Nutritional Facebook group included everyone from the Winter Program with different goals, I felt like the program was developed for me. That is how much attention Tommy and Renee offered.
From week 1, it was about SMART objectives and goals that built upon the previous week. Each session was "the next step" in a process. That was key for me.
From a workout perspective, I dedicated myself to a more structured workout program. I knew I would make the improvement in the nutritional part if I dedicated myself to them gym part.
They are supportive of each other.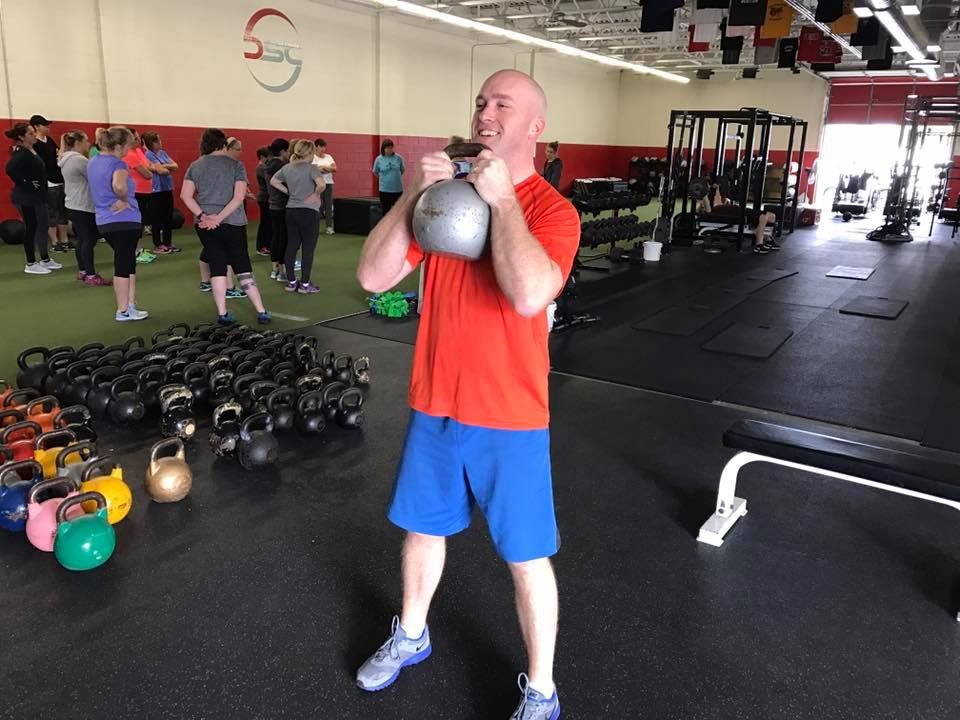 At my official pre-program weigh-in with Tommy and Renee, my weight was 209 (was 215 in Dec), my body fat was about 18%.
We talked a lot about what each number meant and about setting good goals for the next 8-weeks and beyond.
Within a couple weeks of starting I noticed changes.
And the pounds started to disappear.
All of a sudden, I was at 204, then 202, then 199…I could not believe it.
I don't talk about myself too much, but I was excited to tell the coaches about my progress.
And I think they could tell I was excited! I finished the program at 196 LBS with 2 inches taken off my waist.
I have continued to lose a few pounds since the program ended brining my total to 22lbs! 💪
For those thinking of joining the program:
Set a goal and go get it.
Everyone's goals are different in some regards, yet we all share the same goal of wanting to live life, to be happy, to be successful.
Does anyone get up in the morning and say, I want to be mediocre today…Hell no!
Set your goal and find your motivation!
Motivation comes in so many ways. For me, motivation is my family -- Kelli, Patrick, and Paige.
It's about setting the bar high because I know my son is watching everything I do.
It's about pushing myself outside my limits so my daughter knows there is nothing she can't accomplish if she stays focused on her goal. And my motivation is for my wife, who allows me to be me and encourages me to do what I do.
"Perfection is not attainable, but if we chase perfection we can catch excellence"- Vince Lombardi
- Mark
---
Our Next Nutrition Coaching Program starts May 20th! 🍎
Click on the green button below to get started!